The latest issue of Food and Wine Magazine arrived on my coffee table last Saturday and the meal on the front cover, Jacques Pepin's Beef Stew in Red Wine Sauce was on our dinner table the next night.
This meal brings a whole new meaning to the clever quote "I love cooking with wine and sometimes I even put it in the food". One full 750ml bottle of a full-bodied red wine is the only liquid used to slow braise the beef for this stew.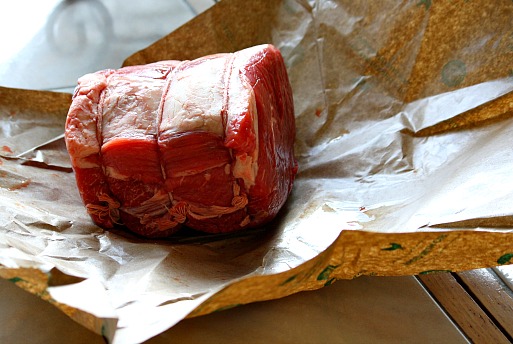 The recipe calls for two pounds of flatiron or chuck roast. I used this round roast that was on sale. Jaques instructs to cut the meat into eight pieces.
The meat is browned, then dusted with flour and seasoned simply with sauteed chopped onion, garlic, fresh thyme and salt and pepper. Add the bottle of red wine and it's ready for a braise in the oven. We used Henry's Drive 2009 Pillar Box Red, an Australian Shiraz, Cabernet, Merlot blend.
Incredible dish. The end result is tender fall apart chunks of beef and a wine reduction sauce that is a thick, opulent and rich treat.
Wisely cooking the vegetables separately with some pancetta, and adding them at the end, keeps the carrots sweet, the mushrooms earthy and the pearl onions crunchy.
The lead in paragraph to this recipe reads:
This is the quintessential beef stew. Jacques Pépin's mother served it at her restaurant, Le Pélican, where she made it with tougher cuts of meat. Jacques likes the flatiron—a long, narrow cut that's extremely lean but becomes tender and stays moist. He doesn't use stock, demiglace or even water in his stew, relying on robust red wine for the deep-flavored sauce.

Jacques Pepin's Beef Stew in Red Wine Sauce…It's What's for Dinner.