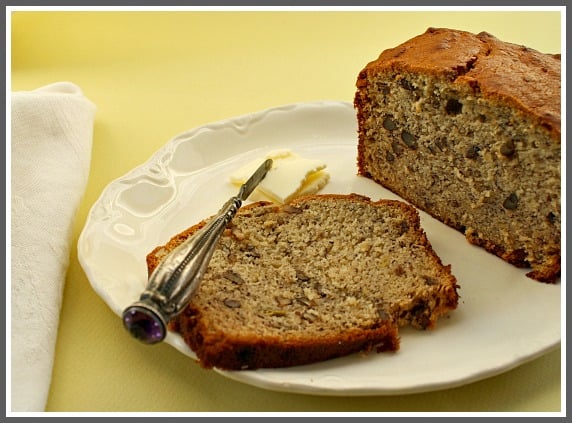 Tis the season for baking so I'm posting my mom's Banana Nut Bread recipe. Nothing new, nothing special, just a reliable, moist and old-fashioned quick bread using good old Crisco. This recipe uses the creaming method where the shortening, sugar and eggs are creamed together before the bananas and dry ingredients are added. Creaming adds air, and affects the volume and texture of the bread. And no, I've not become an overnight baking expert, I Googled it.
This recipe has been in our family for a very long time. Banana Nut Bread made a regular year-round appearance when I was growing up. Served with butter most of the time, then sometime in the 70's, my mom came up with the idea of spreading room temperature cream cheese over a  warm slice.
However you slice it and serve it, it's my favorite.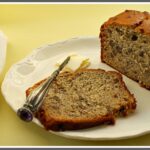 Old Fashioned Banana Nut Bread
Moist and full of flavor. A perfect banana nut bread recipe.
Ingredients
2

cups

flour

1

teaspoon

baking soda

1/2

teaspoon

salt

1/2

cup

vegetable shortening

Crisco

1

cup

sugar

1

cup

banana -- mashed

1/2

cup

buttermilk

2

wholes eggs

3/4

cup

pecans -- chopped
Instructions
Sift flour, soda and salt together. Cream shortening and sugar, add eggs and beat until fluffy. Add dry ingredients and mashed banannas and buttermilk. Add 3/4 cup nuts. Turn into greased loaf pan. Bake 350 degrees 60 minutes.
Old Fashioned Banana Nut Bread…It's What's for Baking.
From The Kitchen Of Lea Ann Brown