Pumpkin Cider-brined, Mustard Glazed Pork Loin Roast Recipe is easy and impressive for entertaining. Pork Loin Roast is brined in Pumpkin Cider and then Glazed with mustard and maple syrup.
I must confess. I was looking for yet another pork loin roast recipe.
Something edgy.
Something new.
One that I didn't think I'd ever make.
Something unpredictable, like those rhinestoned cowboy boots I bought last May and pronounced them to be my Mother's Day present.
I was hosting a dinner party last Friday. Prep and make ahead recipes are so important to entertaining sanity.
You don't want to be rushed, serving slightly over or undercooked food. Timing can be tricky if not well planned. You don't want the crowd to have an excessive amount of time for cocktails…no slurring at the dinner table.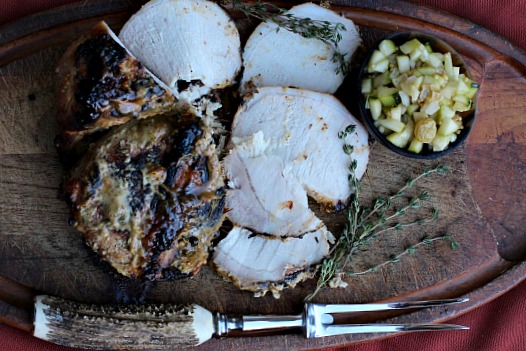 Oven braised meats seem to fit that category very nicely.
How about a pork roast. Is there really such a thing as a bad pork roast recipe?
Probably not…but this one is a great pork roast recipe. This Pumpkin Cider brined, Mustard glazed Pork Loin Roast became my selection for entertaining the seven guests at my Fall dinner party.
Last month, Sprouts Farmer's Market sent me some of their pumpkin products to sample. I decided to make poblano pepper mole for my sponsored post for them, but couldn't resist finding a use for the pumpkin cider they sent.
This recipe is flexible, easy to get along with.
Serve it either warm or at room temperature.
But one hard fast rule is to serve it with this quick pickled cucumber relish. A fabulous combination of flavors that makes that mustard-slathered pork even more exciting than it already is.
Large biscuits or rolls for sandwiches, and Mashed Potato Casserole are excellent accompaniments.
Pumpkin Cider-Brined Mustard Glazed Pork Loin Roast Recipe
I hope you give this pork loin roast recipe a try, and if you do, please come back and give the recipe a star rating. And leave a comment about your experience with the recipe.
And if you have a favorite pork loin roast recipe, let me know, I'd love to give it a try.
Pork tenderloin is one of America's favorite choice for an easy and delicious pork dinner. Take a look at my recipe for Spice Rubbed Pork Tenderloin. It's a "how to" and a tasty recipe all in one post.
Pumpkin Cider-Brined, Mustard-Glazed Pork Loin Roast Recipe.
Ingredients
For the brine:

1/3

cup

kosher salt

1/2

cup

light brown sugar

packed

2

tablespoons

black peppercorns

2

tablespoons

coriander seeds

lightly crushed

2

tablespoons

mustard seeds

12

thyme sprigs

2

leaves

bay

4

cups

pumpkin cider

divided

1

5-pound

boneless pork loin

tied if desired

For the pork:

1

teaspoon

kosher salt

1/2

teaspoon

freshly ground black pepper

2

tablespoons

vegetable oil

1/2

cup

country Dijon mustard

1/3

cup

light brown sugar

packed

2

tablespoons

maple syrup

2

tablespoons

thyme leaves

2

cups

pumpkin cider
Instructions
Bring salt, brown sugar, peppercorns, coriander seeds, mustard seeds, thyme, bay leaves, 2 cups apple cider, and 2 cups water to a low boil in a medium saucepan over medium heat. Cook, whisking, until sugar and salt dissolve, about 4 minutes. Transfer brine to a large bowl and add remaining 2 cups cider and 2 cups ice. Let cool to room temperature.

Place pork and brine in a large resealable plastic bag; turn to coat. Seal and chill at least 8 hours.

Roast the pork:

Remove pork from brine and pat dry with paper towels. Let sit at room temperature 1 hour.

Place rack in lower third of oven; preheat to 400°F.

Season pork all over with salt and pepper. Heat oil in a large skillet over medium-high. Sear pork, turning occasionally, until browned on all sides (including ends), 10–12 minutes.

Meanwhile, combine mustard, brown sugar, syrup, and thyme in a medium bowl.

Pour cider into a large roasting pan or glass baking dish. Transfer pork, fat side up, to pan. Brush all over with mustard mixture. Roast pork, basting every 15 minutes, until an instant-read thermometer inserted into the center registers 140°F, 50–70 minutes.

Transfer to a cutting board and let rest at least 15 minutes before slicing.

Do Ahead

Pork can be brined up to 24 hours ahead. Keep chilled in plastic bag.
Nutrition Facts
Pumpkin Cider-Brined, Mustard-Glazed Pork Loin Roast Recipe.
Amount Per Serving
Calories 200.89
Calories from Fat 41
% Daily Value*
Fat 4.59g7%
Cholesterol 0.06mg0%
Sodium 4158.84mg181%
Potassium 264.9mg8%
Carbohydrates 40.64g14%
Protein 1.81g4%
Vitamin A 155.68IU3%
Vitamin C 6.08mg7%
Calcium 74.46mg7%
Iron 1.62mg9%
* Percent Daily Values are based on a 2000 calorie diet.
Looking for more Pork Roast Recipes?
Rosemary Braised Pressure Cooker Pork Roast Recipe
Pumpkin Cider brined, Mustard glazed Pork Loin Roast …It's what's for Dinner.