Old Fashioned Fudge Recipe. This Award Winning Fudge Recipe has been in our family for generations. This fudge recipe won a Division Sweepstakes at the Kansas State Fair and made our NaNa very proud.
My mother made batch after batch of this chocolate fudge every single Christmas that I can remember. For box after box of gifts to give to friends, neighbors, school teachers, mail delivery guys, … bus drivers.
Actually fudge wasn't the only candy style recipe on the menu for Christmas gifts. There was cinnamon candy, Boston Cream, popcorn balls, divinity … Christmas cooking was full of candy recipes.
Hard Ball, Soft Ball Stage for Candy
I remember watching her with intent, due to the precision of getting the sugar mixtures at just the right temperatures to make candy recipes work. She'd drop a small teaspoon of the boiling sugar into a glass of cold water. If the sugar formed into just the right ball consistency, the candy was ready to form.
I've tried that method and it's difficult to get just right. And a great skill to know … if you know how to do it. Owning a candy thermometer can be a very valuable tool when it's time for candy making. And an easier method for precision. Candy thermometers aren't expensive and a valuable tool to have around the holidays.
Most candy thermometers display the different temperature stages, but if you have one that doesn't, jeere's a list of temps to help you out.
Candy Temperature Chart
Thread – 230 – 234
Soft Ball – 234 – 242
Firm Ball – 243 – 249
Hard Ball – 250 – 269
Soft Crack – 270 – 294
Hard Crack – 295 – 319
Light Caramel – 320 – 325
Dark Caramel – 326 – 350
The recipe has been passed down from my great great grandmother, to my grandmother, and to my aunts. Now it's up to us kids to keep this recipe alive and well. It's an old fashioned fudge recipe, using evaporated milk and marshmallow cream. It's easy to make and always a crowd pleaser.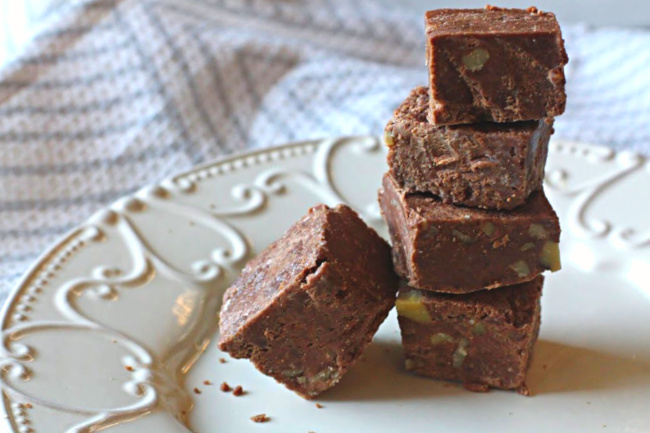 My cousin Brooke even entered this Christmas Fudge recipe in the Kansas State Fair when she was 11 years old and ended up winning the Junior Division Sweepstakes.
The recipe was published in "A Century of Good Cooking, Kansas State Fair" cookbook, and she won 30 pounds of sugar. 🙂
So with all of that said here's that award-winning recipe.
Recipe for Old Fashioned Fudge
I hope you give this old fashioned fudge recipe a try. And if you do, please come back and give the recipe a star rating. And leave a comment about your experience.
And if you have a homemade fudge recipe, or a favorite Christmas Candy Recipe let me know, I'd love to give it a try.
Award Winning Old Fashioned Fudge Recipe
Ingredients
1

stick butter

4 1/2

cups

sugar

1

can evaporated milk

1 12

ounce

bag semi-sweet chocolate chips

1 12

ounce

bag milk chocolate chips

14

ounces

marshmallow creme

2

teaspoons

vanilla

1

cup

chopped walnuts
Instructions
Mix butter, sugar and milk in saucepan. Turn heat on high. Continually stir and bring to rolling boil. Continue stirring for about 5 minutes or until it gets to a "soft ball" stage. Remove from heat; stir in the vanilla, chocolate chips, and marshmallow creme. Mix until well blended then add nuts. Pour into a buttered 9 x 13 inch pan. Cool and cut into squares. I don't have a candy thermometer, so "soft ball" stage means that when you drop a small amount of the candy liquid into a cold cup of water, it will form into soft ball
NaNa is Brooke's name for her grandmother, and my Aunt, Lois.
Nana's Old Fashioned Fudge Recipe …It's What's For Christmas
I also like to make this at the Holidays, another family favorite: