Take that weekend breakfast to a new healthy level. Swiss Chard with preserved lemon, smoked paprika and cumin make a wonderful side for fried eggs. Swiss Chard with Fried Eggs = incredible with flavor.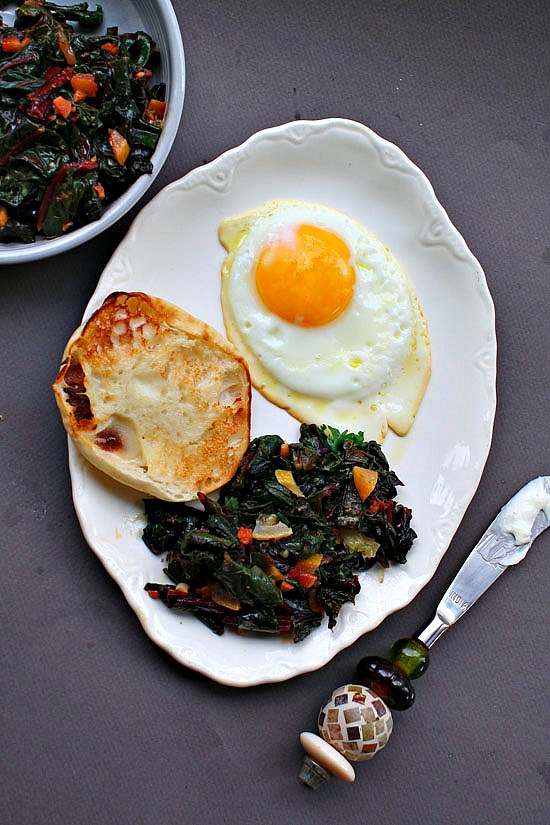 I think everyone would agree that with St. Patrick's Day and Spring on their way, March is undeniably a green month. And right on cue, green food coloring starts making an enthusiastic appearance in foods that…well…just shouldn't be green. Even though I can put up with a green beer (but why do it?), I put my foot down at green bagels (nuclear?), green chocolate chip cookies (moldy?), green eggs and ham (just wrong?). I'm thinking green food coloring should be reserved for butter cream frosting on cupcakes to take to the office.
With that said, can I have a Shamrock Shake from McDonald's please?
In the spirit of March our #SundaySupper theme for today is Eat Your Greens…Celebrating Greens And Sharing Recipes For Them. And if you're not familiar, the #SundaySupper movement was started by Isabel over at Family Foodie as a project for "bringing back Sunday supper around the family table." Who can argue with that??? A special thanks to Foodie Stunt Man over at Crazy Foodie Stunts for hosting this week's green event.
For this event, I chose a Moroccan-themed idea because I have this $8.00 jar of preserved lemons that I refuse to let go bad like I did with the last $8.00 jar. The two beautiful bunches of chard that I brought home from the market came alive with flavor after a sauté in olive oil and seasonings. This healthy breakfast with eggs is earthy with smoked paprika, sultry with cumin, and lively with red pepper flakes and chili powder, we savored every bite.
And with a sunny side up egg nestled alongside, what a delightful way to go green. Swiss Chard Breakfast Recipe, give it a try. If you're looking for healthy breakfast recipes for weight loss, this one is right up your alley. So healthy.
Looking for more fun fried egg breakfast recipes? Take a look at this one for Sherried Mushrooms with Fried Eggs on Toast. Totally delicious.
And don't miss my Breakfast Category. You'll find plenty of fabulous recipes to start your day. Including the most popular breakfast recipe on my site for Hatch Chile Smothered Breakfast Burritos.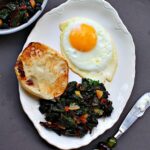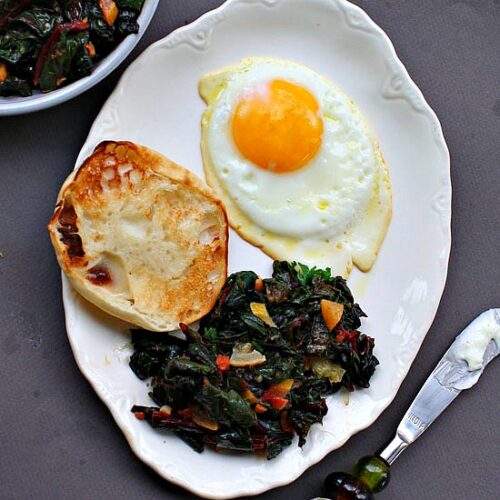 Swiss Chard with Fried Egg Breakfast
Ingredients
2

bunches chard

red stems removed and rough chopped

2

T

. olive oil

1/2

t

. cumin

1/4

t

. smoked paprika

1

pinch salt

1/4

piece

preserved lemon

chopped

1

T

. olive oil

1

pinch crushed pepper flakes

2

cloves

garlic

fine chopped

1

T

. fresh parsley

chopped

1/4

t

. chili powder
Instructions
Wash the greens well and pat them dry with paper towels. Heat the olive oil to medium in a large fry pan. Add the greens and cook stirring frequently. When they start to wilt, add the garlic and cook until fragrant. Add the cumin and paprika.Cover tightly, and turn down the heat. Let it steep and simmer for 5 minutes. Add the preserved lemon and parsley. Stir to combine all flavors, cover and cook for 5 minutes. Plate the greens, drizzle with a little olive oil and sprinkle with chili powder. Serve alongside a sunny side up egg and some bread.