Absolutely delish Mexican Breakfast Casserole recipe. It's pretty much guaranteed that if it's served at a bed and breakfast it's going to be delicious. Eggs Ole' is one of those classic Mexican Egg Casseroles that will have your breakfast crowd asking for seconds. From the famous Arizona Bed and Breakfast, Ramsey Canyon Inn.
Before we get to this wonderful Mexican Breakfast Casserole recipe, let's talk a little bit about birds and how I found this recipe. Bob and I are avid bird watchers.
Wikipedia says:  Birdwatching, or birding, is the observation and study of birds with the naked eye or through a visual enhancement device like binoculars. Birding often involves a significant auditory component, as many bird species are more readily detected and identified by ear than by eye.
Well…accurate, but also birds are detected and identified by habitat, behavior, location, elevation, weather systems, food supply and even by patterns of flight.
That's what makes it so interesting and never boring. Always something to learn. Did you know that around 1,000 different species of birds can be seen north of the Mexico border?
Birdwatching has taken us to remote Alaskan Islands, to swamps in Florida, prairie pot holes on the Great Plains, pelagic trips in Monterey Bay,  and dense forests in the Northeast.  It's not all glamorous, did I mention a sewer pond or two…or three? All in all, I've visited more State and National Parks that I never knew existed, seen parts of our country that I never would have seen, met some diverse species of humans that I would have never met…all due to bird watching.
One of our favorite destinations is Southeast Arizona.
A sought after birding destination and one the most biological rich areas in the United States, Southeast Arizona hosts a unique variety of birds, mammals, reptiles and butterflies. These habitats draw flocks of migrating birdwatchers from all over the world to scour the Huachuca, Santa Rita and Chiricahua Mountains for species that can found no other place in the United States. The canyons that share habitat with bordering Mexico welcome birds that cross the border so that we can add them to our list of  birds seen in the United States. Did I mention that fourteen species of hummingbirds can be seen here?
One of our favorite spots is Ramsey Canyon in the Huachuca Mountains.  Here, the Sierra Madre of Mexico, the Rocky Mountains, and the Sonoran and Chihuahuan deserts all come together. The abrupt rise of mountains from the surrounding arid grasslands creates "sky islands" harboring rare species and communities of plants and animals.
Nestled in the floor of the tall canyon walls and near the pond where the unique leopard frog whistles underwater, javalinas wallow and coati roam,  hummingbirds buzz, Spotted Owls hoot, and Elegant Trogons tease us with their elusive flight and calls, and at the mouth of one of the most famous birdwatching trails sits a charming bed and breakfast, The Ramsey Canyon Inn.
It's a perfect place to fill up on a hearty breakfast before you set out on the long arduous hike up the canyon on the Hamburg Trail. It also welcomes you home in the evening to a counter full of fresh-baked homemade pies.  There's nothing like relaxing on the patio overlooking the gardens and the hummingbird feeders while listening to the spring-fed creek and recounting with fellow birders the exciting finds of the day.
On one of our visits to the Inn, I brought back this recipe for Eggs Ole', a Mexican Breakfast Casserole.   Shirlene Disantis was the owner of the Inn at the time, served this up for breakfast and was kind enough to pass along the recipe.  Let's take a look at this crowd friendly breakfast casserole:
Start by frying fresh soft corn tortillas in oil to soften. You'll use these to line the casserole dish for the "crust". Which ends up being soft and wonderful in texture. Then fry up your Mexican chorizo. A note about chorizo, I'm not a fan of the mushy style of chorizo you find in tubes. They contain too much sauce filling that cooks away and you're left with not much meat. I buy chorizo in a package that has been ground like hamburger.


After you've fried fresh corn tortillas to soften, line them in a casserole sprayed with Pam. As you can see, I've turned them all different directions to make them fit evenly. Then sprinkle on the cooked chorizo, and a generous topping of the grated cheeses.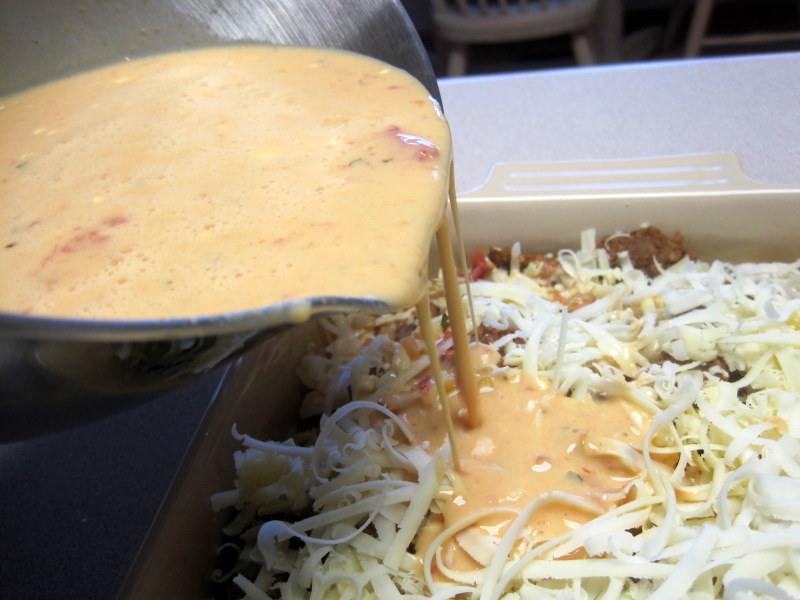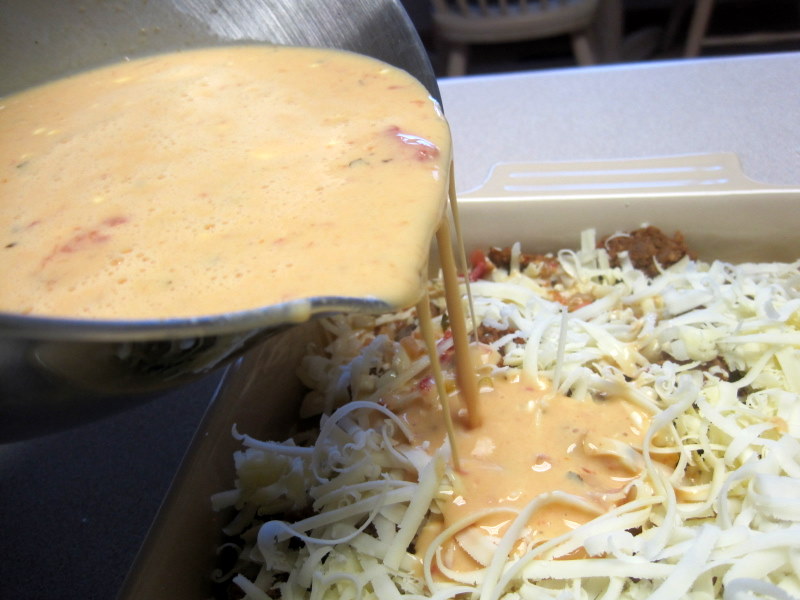 Then pour in a wonderful combination of eggs, salsa and sour cream. You're ready to pop it into the oven.
Out of the oven, let is rest for about 10 minutes before slicing.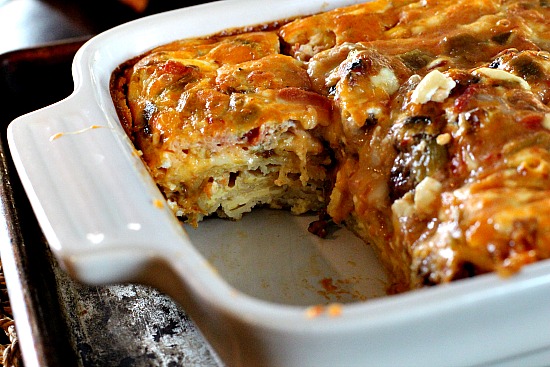 Just look at those layers of this Breakfast Casserole with Corn Tortillas. The corn tortillas making a great platform for layered structure adding flavor and texture.
To serve, drizzle with the Velveeta  sauce and top with some sliced black olives and ole'…You've got a tasty southwestern breakfast casserole. Add some fruit or fresh tomatoes and you've got a wonderful breakfast, and easy to make for a crowd. I've fried the corn tortillas, topped with sausage and cheese the night before. Covered tightly in the refrigerator you can add the egg mixture the next morning for a quicker turn around time.
Recipe for Eggs Ole, A Mexican Breakfast Casserole with Tortillas
I hope you give this Mexican Breakfast Casserole Recipe and try, and if you do, please come back and give he recipe a star rating. And leave a comment about your experience with the recipe.
And if you have a favorite Mexican Breakfast Casserole with tortillas, let me know, I'd love to give it a try.
More Mexican breakfast recipes? You won't want to miss:
Shirlene Disantis' Eggs Ole'
A wonderful and easy Southwestern Breakfast Casserole
Cuisine:
Mexican, Southwestern
Ingredients
1/4

cup

canola oil

1

dozen corn tortillas

1

pound

chorizo

cooked

1

cup

cheddar cheese

1

cup

Monterey jack cheese

16

eggs

12

ounces

of your favorite salsa

1

cup

sour cream

For the sauce:

12

ounces

Velveeta

8

ounces

of your favorite salsa
Instructions
Preheat oven to 350 degrees.

Cook chorizo in a fry pan, remove to paper towels and set aside.

Heat oil in large skillet. Place tortillas,one at a time, in skillet and with tongs turn quickly just to soften. Just a few seconds per side. Transfer the tortillas to paper towels as you cook them.

Spray a 9x13 casserole dish with Pam.

Line bottom of the casserole dish with tortillas. Top with the chorizo and grated cheeses.

Mix eggs, sour cream and salsa together; pour over the casserole.

Bake at 350 for 30 - 40 minutes or until set.

Serve with Velveeta sauce and black olives for garnish..
Looking for more Mexican Breakfast Casserole ideas?  You won't want to miss this one with egg noodles:
Eggs Ole'…It's What's For Breakfast!
All non-food photos are courtesy of Ramsey Canyon Inn Website.