Albondigas soup is a traditional Mexican meatball soup…most always loaded with vegetables and full of flavor. For this Chorizo Albondigas Bean Soup I made meatballs with Mexican Chorizo and added Mayocoba Beans for the soup. Let's take a look:
September and October are my favorites when it comes to food, and my favorite gold cardigan for that matter. Ninety degree temperatures peter out and we welcome highs in 70's and delight when those crisp Fall evenings have us grabbing for a sweater. Chile roasters are in full swing, and Chile Ristas make an appearance at our markets. Bins of fresh Colorado peaches are replaced with all kinds of fancy squash and my Dutch oven gets front and center for soups, stews and chili's.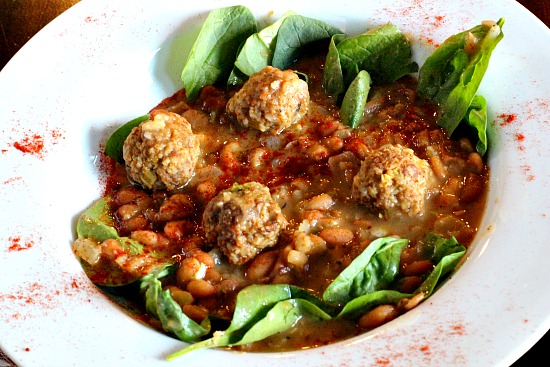 I found a bag of Mayocoba beans on our last trip to LuLu's Farm in Brighton. I can't resist a bag of beans that offers a new adventure with a variety that I've never tried.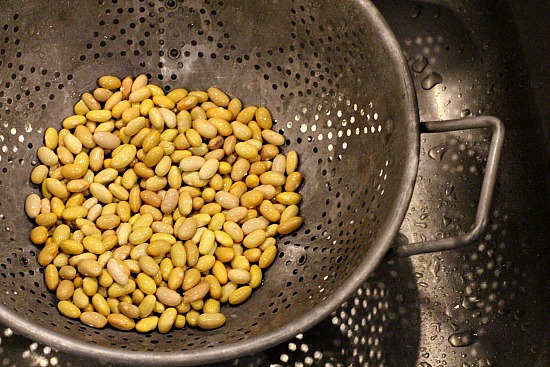 A classic bean from Peru, the Mayocoba is also known as Canario or Peruano. It's a small but meaty thin-skinned bean that will take on all the flavors you can throw at it, and still hold its shape.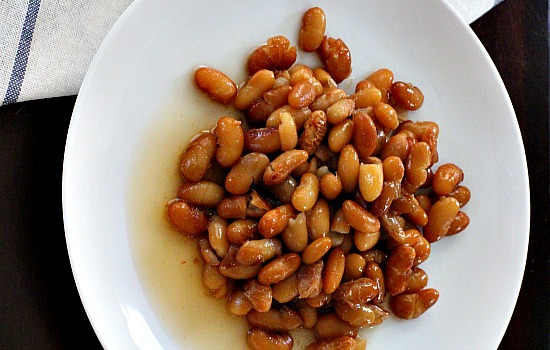 Great as a substitute for Cannellini, or great Northern beans, but unique in their own right. After they're cooked, they turn a slightly darker color. The texture is soft and flavorful.
Of course, if you can't find these beans, you can substitute any white dried bean.
This is a beautiful soup in appearance and flavor. A couple of reasons: mustard in the meatballs and a dusting of smoked sweet paprika.
And if you're looking for more meatball soup recipes, don't miss this one for Mexican Meatball Soup with Ancho Chili.
Chorizo Albondigas White Bean Soup
Ingredients
For the meatballs:

1

pound

bulk Mexican Chorizo

1

small onion

fine chopped

2

stalks of celery

fine chopped

1

tablespoon

mustard

1

egg

slightly beaten

1

cup

Panko bread crumbs

salt and fresh ground pepper to taste

For the Soup

2

tablespoons

olive oil

divided, plus more for drizzling

2

cloves

garlic

finely chopped

1

sprig thyme

1

cup

dried white beans

rinsed and misfits removed or 2 15 ounce cans white beans, drained and rinsed.

1

small onion

chopped

2

cloves

garlic

minced

1

sprig thyme

2

cups

chicken broth

1

bay leaf

salt and freshly ground pepper

5

ounces

baby spinach

about 10 cups

Smoked paprika for dusting
Instructions
Preheat oven to 350 degrees. For the meatballs. In a fry pan, heat oil over medium high heat. Add the onions and celery and cook until tender. About 5 minutes. Let cool slightly. In a large bowl, add chorizo, onion and celery mixture, the egg, Panko bread crumbs, salt and pepper. Blend and then shape into balls. Place meatballs on a sheet pan and bake for 25 minutes.

For the soup: Place Mayocoba beans and three cups water in a crockpot. Cook on low for 7-8 hours or until beans are tender.

In a Dutch oven heat the oil and cook the onion until tender, about 5 minutes. Add garlic and cook until fragrant, about 1 minute. Add chicken broth, the thyme, bay leaf, and the cooked beans. Simmer for about 20 minutes. Add in cooked meatballs and gently stir until meatballs are covered in the soup mixture. Remove bay leaf. Add the fresh spinach just before serving.

Spoon into bowls and garnish with a good sprinkle of smoked sweet paprika.
Looking for a lighter version of Mexican Albondigas Soup? How about
Chorizo Albondigas Bean Soup…It's what's for a Fall Dinner.