This Chocolate Tart Recipe is so easy you'll want to make it all the time. 4 ingredients and a hot oven. Done!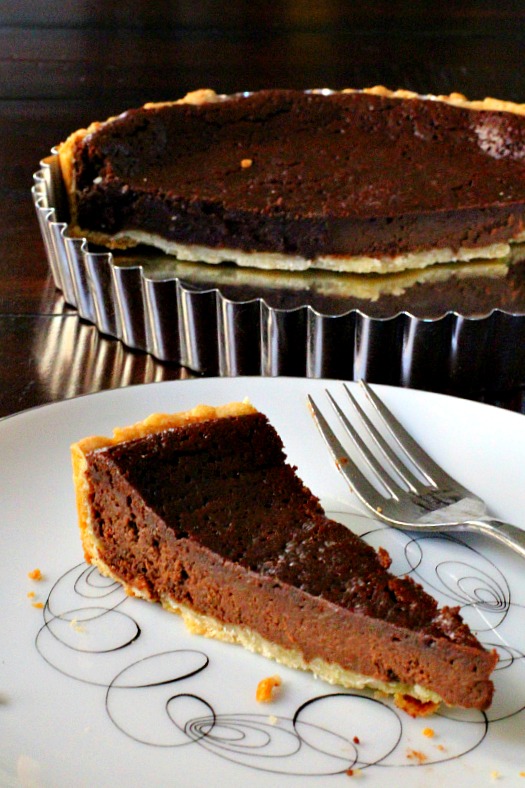 Three ingredients, chocolate…cream…eggs…BOOM. I've been attending Sur la Table cooking classes at the Streets of Southglenn once a month and I'm loving every minute of it. Chef and teacher Mark Kalix is engaging in personality and with twenty years experience as a professional chef, a wealth of knowledge. A couple of months ago at our gnocchi class, he surprised us with this Chocolate Tart for dessert.
One bite of this and I went weak in the knees. When I asked for the recipe he surprisingly rattled off the three ingredients.  And said "That's it!." "That's it?" I asked? "That's it!" he replied.
Don't let this one fool you, this simple and unassuming little dessert is decadent and celebration worthy. And please take the time to make your own tart crust (Pate Brisee). It's a skill that every home cook should master. So much better than store purchased.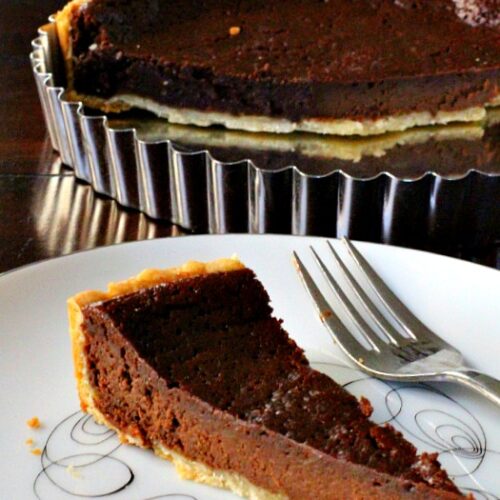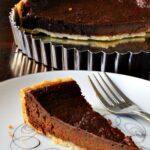 Chocolate Tart
Three ingredients make this wonderful little chocolate tart.
Ingredients
1

cup

heavy whipping cream

6

ounces

semi-sweet chocolate chips

2

eggs whipped

1

pie crust
Instructions
Preheat oven to 375 degrees. Form pie crust into an 8 inch tart shell.

To make the filling: Heat the heavy cream in a pot over medium-low flame, until it simmers slightly around the edges. Remove from the heat; add the chocolate chips and stir until melted and smoothed out. Beat the eggs in a small bowl until blended and add them to the chocolate mixture, stir until completely blended. Pour the filling into the tart shell and bake at 375 degrees for 30 minutes until the filling is set and the surface is glossy. If you see any bubbles or cracks forming on the surface, take the tart out right away - that means it is beginning to become over baked. Cool before cutting.
Are you a chocolate dessert freak like me? You won't want to miss these cupcakes:
Chocolate Tart …It's what's for Dessert.