Beet soup with horseradish dumplings. A beautiful in color and creamy in texture German Soup. Great for a starter or a light meal.
Cooking School in Germany. Traveling to Europe has always been a dream of mine and throw in a professional cooking school and it's time to pinch myself to see if it's all real. I'm recently home from a trip to Germany and France led by my friend Michele  Cooking with Michele. Ten days of touring, wine, shopping, cooking schools and lots of sausage. Does it get any better than that? I have to say, the Palatinate region of Germany with its food, architecture and landscape is something I fell in love with.
Our first stop took us to Heidelberg and cooking school, where Chef Thomas Dippel spent the afternoon with us at his cooking school  Cookst Du. Each of us was assigned a different station where we made a wonderful smoked trout on creamed potatoes with caper aioli appetizer, beet soup with horseradish dumplings, roast beef braised with fresh rosemary and thyme, broccoli with almonds, and apple fritter with vanilla sauce.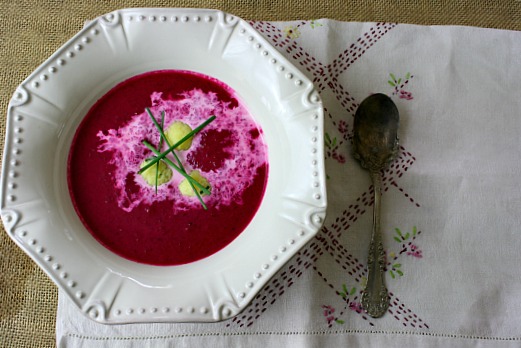 The beet root soup with cream and horseradish dumplings was so memorable, I wanted to make this at home as soon as possible. Diced beets simply sauteed with onion in butter and olive oil, thickened with flour, and tart with a good white wine and lemon juice made for a special treat. Add some cream and the easy to make horseradish dumplings and you've got a great first course starter or an impressive light meal. Chef Dippel topped the soup with a leaf of chervil, I used the last of the chives from my garden before Winter takes them. The original recipe served the twelve of us in attendance at the school. I've scaled it down to serve 2-4.
Before we get to the recipe, let's take a little tour of the school.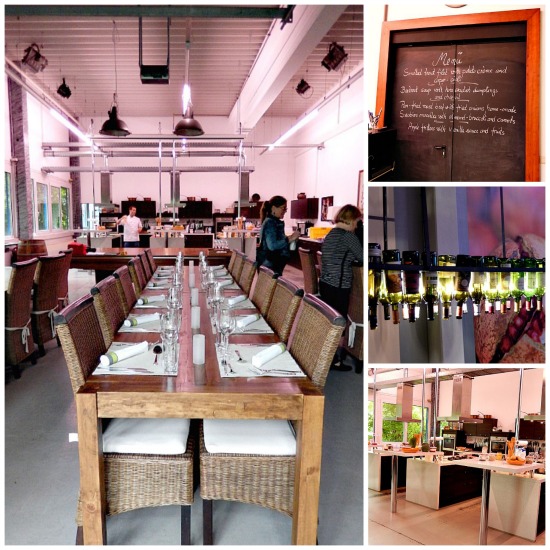 The large photo is of the main room as you walk in the front door. Our table is set and the kitchen area where we'll have class and prep our food sits directly behind the table. Top right, the menu we are about to prepare is written on the large chalkboard doors. The next photo is of a chandelier that I fancied, made from wine bottles.  The bottom photo is of our kitchen prep area.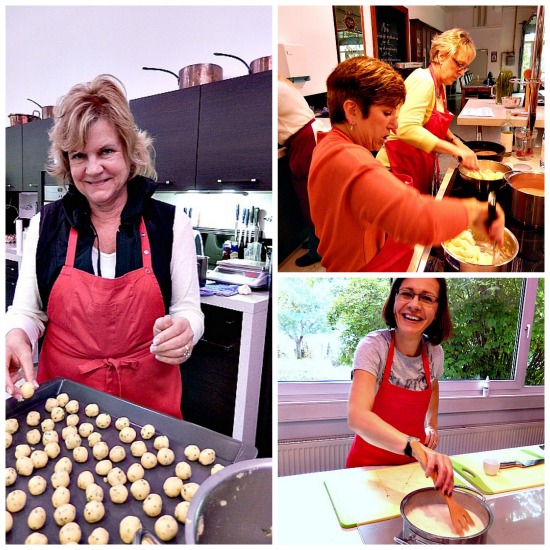 The students. I was charged with making the horseradish meatballs. Top right is Michelle and Kathy stirring up mashed potatoes for the trout appetizer, and Kristin is preparing the vanilla sauce for the apple fritter dessert. Behind Kirsten and through the windows is the courtyard where there's fig and olive trees, herb gardens and two pet rabbits.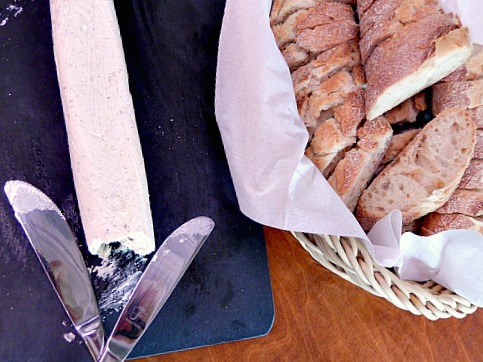 While we were cooking they sat out a basket of bread with soft creamy butter that had simply been flavored with fine chopped olives. A great idea that you'll find in our house soon.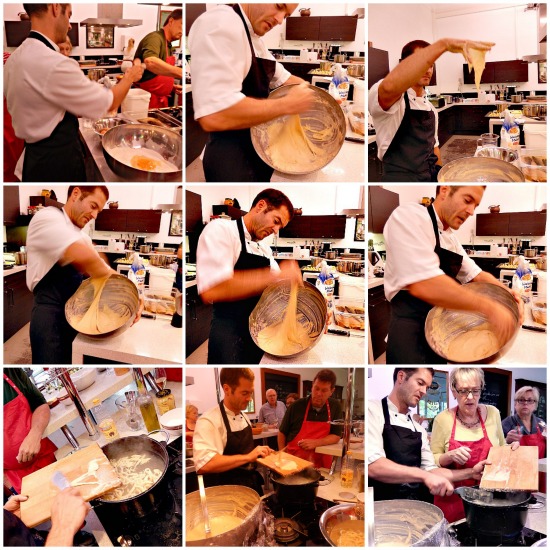 Chef Dippel gave us a demonstration in the art of making spatzel. At first it seems innocent enough as he simply added eggs to a big bowl of flour. But then things got physical. With a lot of muscle power, he beat the tar out of that dough for what seemed like a more than ample amount of time. He then took some of the dough in his hand and let gravity demonstrate the result of his efforts. It looked fine to me, but Chef Dippel returned the mixture to bowl and continued to slap and shape that dough until it was perfect.  I'd say the whole thing was a good fifteen minute workout. With a boiling pot of water standing by, he transferred the dough in small batches to a cutting board, flattened it out on end near the water, drenched the dough with hot water, and then with a knife sliced small sections into the boiling pot. At this stage, we were trusted to participate. The whole process made my dumpling project seem like child's play. I don't think I'd attempt this at home.

The food we prepared and plated. The beet root soup, the incredible smoked trout appetizer and the main course beef, spaetzel and broccoli.
Enjoying our accomplishments, we toasted to hard work, precision teamwork and new friends.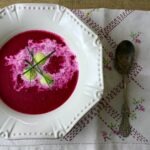 Beet Soup with Horseradish Dumplings
Ingredients
1

medium onion

peeled and chopped

2

medium beets

peeled and chopped

1

T

. unsalted butter

2

T

. olive oil

1

tablespoon

heaping flour

1/2

C

. white wine

2

C

. chicken broth

Salt and pepper to taste

Juice of 1/2 lemon to season

4

T

. heavy cream
Instructions
Heat the oil and butter in a saucepan. Add the onions and sweat them for 3 minutes. Add the chopped beets and sweet for another 3 minutes. Sprinkle the flour over the onions and the beats and cook for two minutes, stirring. Add the white wine and cook for 1 minute, stirring. Add the chicken broth and simmer until beets are soft. About 30 minutes. Blend the soup with an immersion hand blender.

To serve, ladle soup into bowls, add a swirl of heavy cream to each bowl and drop in hot cooked Horseradish dumplings.
Recipe For Horseradish Dumplings: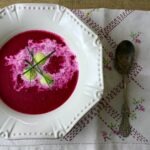 Horseradish Dumplings
Ingredients
2/3

cup

water

1

tablespoon

butter

1/2

teaspoon

salt

1/2

cup

semolina durum flour

1/2 - 1

teaspoon

prepared horseradish

1

egg

lightly beaten

1

tablespoon

chopped chives
Instructions
Bring the water, butter and salt to boil over a moderate heat. Add the semolina, and stir until the semolina is well mixed starts to come away from the sides of the saucepan. This will take only about 15 - 30 seconds.

Transfer to a bowl and with a wooden spoon stir in the egg, horseradish and chives and stir firmly until the mixture is smooth. When cool enough, form into small balls.

Bring a pot of salted water to a simmer. Drop the balls of dumplings into the water and cook until they float. About 4 - 5 minutes.
Beet Soup with Horseradish Dumplings …It's What's For Abendessen.