Thick slices of rustic white bread, topped with Hatchamole, scrambled eggs, extra sharp cheddar cheese, pico de gallo, a dollop of sour cream and a sprinkle of chopped cilantro.
Hatchamole is a simple guacamole recipe with chopped roasted Hatch Green chiles stirred in. In our parts, Hatch chiles have somewhat of a cult following. Hatch pepper refers to varieties of peppers which are grown in the Hatch Valley of New Mexico, an area stretching north and south along the Rio Grande River.
These green chiles are not Poblanos, nor are they Anaheims. They are a special breed that have their own names and range of flavors. Most of the varieties grown in the Hatch Valley have been developed at New Mexico State University. They range in heat from very mild to some which are much spicier than Jalapenos. The soil and growing conditions in the Hatch Valley contribute greatly to the consistent and superior flavor of a Hatch chile.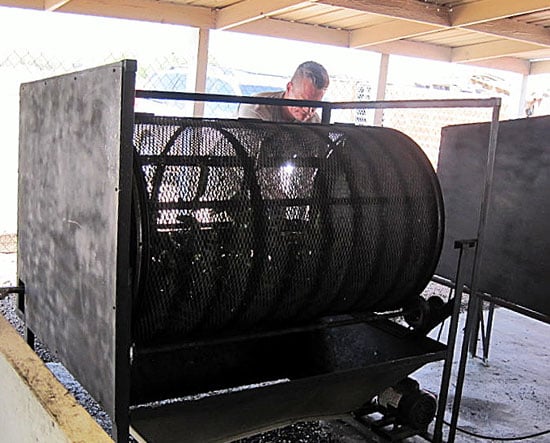 Early fall we obsess and evangelize over the arrival Hatch green chiles. Grocery store parking lots, roadside stands and farmers' markets set up huge rotating drums over flames to roast off the thick skins. The aroma finds us standing in lines to stock up on bags of these roasted chiles to bury in our freezers to make warming, comforting and delicious meals all winter long.
Before New Mexico decided to share the chile love, I remember jumping in the car and driving south into New Mexico until we came to the first pickup truck on the side of the road that was filled with gunny sacks full of fresh chiles.  I'd spend the next day roasting and packing them into freezer bags.
After a season of making their appearance in Green Chili's, Tortilla Soups and Chile Rellanos, my stockpile is sadly depleted. So, I turn to Hatch Chile Company,  canned fire roasted chopped green chiles. With the brand name "Hatch", the ingredient list simply reads New Mexico Chiles. Whether they're chiles from Hatch Valley or not, I don't know, but I do know they pack a great flavor.
Let's build that sandwich.
Hatchamole and Scrambled Egg Breakfast Sandwich
Ingredients
Rustic French Bread

thick cut into 4 slices

5

eggs

2

teaspoon

milk

1/2

Tablespoon

olive oil

or butter is even better

garlic salt

Sharp cheddar cheese

Hatchamole

Pico de Gallo

Cilantro

Sour Cream
Instructions
Preheat oven to broil. Slice the bread and place slices on a baking sheet.

Meanwhile, in a bowl, whisk the eggs, the milk and garlic until blended. Heat a medium skillet until hot, add oil and when it shimmers, add the egg mixture. Turn to medium heat and cook eggs until just ready to set.

Spread the bread with a healthy layer of Hatchamole. Divide the eggs to place over each sandwich. Top each with a heathy grating of sharp cheddar cheese.

Place under broiler and heat until cheese is melted.

To serve, top each sandwich with pico de gallo, some chopped cilantro and a dollop of sour cream.
Hatchamole
Ingredients
2

ripe avocados

2

small tomato

chopped

4

ounces

Hatch Green Chiles

tops removed, seeds and vens removed, chopped

1/3

cup

cilantro

chopped

3

tablespoons

finely minced onions

juice of 1 lemon

1

clove

garlic

minced

1/2

teaspoon

salt
Instructions
Mash the avocado, leaving a few rough chunks.

Stir in the remaining ingredients.

It is best to make just before serving, but if you have to hold longer, place plastic wrap directly on the surface of the guacamole and refrigerate to keep from darkening.
Pico de Gallo
Ingredients
2

tomatoes

diced

1/4

Red onion

diced

1

jalapeno

seeded, deveined and diced

1

tablespoon

minced garlic

Juice of 2 limes

2

tablespoons

cilantro

plus extra for garnish

Salt and pepper
Instructions
In a bowl combine all ingredients.
Hatchamole and Scrambled Egg Breakfast Sandwich…It's Whats for Breakfast.
This is another Colorado inspired recipe compliments of the Mariposa Lodge Bed and Breakfast, Steamboat Springs, CO, and featured in the new cookbook Tasting Colorado.