Many years and many tostadas later, I'm still hooked and think they're about the best Mexican food going. But what makes a tostada a really great tostada?
It starts with a good tortilla…corn of course…that's cooked just chewy enough not to crumble in your hands and one that stays crisp for the duration. I've had hit and miss results from frying soft tortillas, seems they can easily end up heavy and soggy. I like to bake them 400 degrees for 8-10 minutes. Just lay the soft corn tortillas on a baking sheet. Lightly brush them with vegetable oil, sprinkle with light dusting of salt and chile powder.  Slide them into the oven for about 3 – 5 minutes, turn them over, repeat with oil, salt, and chile powder and cook a few minutes longer.
A great tostada is piled high with texture and flavors. Start with something soft and creamy, beans or avocado for example. Savory seasoned meat of any kind. A crunch of fresh vegetable…raw onion or radish come to mind. Usually topped with crisp lettuce. A dollop of sour cream or Mexican crema adds a cool tangy finish. And, of course, shredded cheese or crumbled cojita are standard. I've gotten in the habit of serving any tostada with a wedge of lime. A quick squeeze will send it over the top.
Easy enough, right? And this formula leaves us with an endless lineup of combinations.
Flavoring the lettuce will bring any tostada to a new level of excitement. One I prefer is the chopped Romaine tossed with red wine vinegar and olive oil that's part of the Rick Bayless recipe featured in this post. Try it sometime.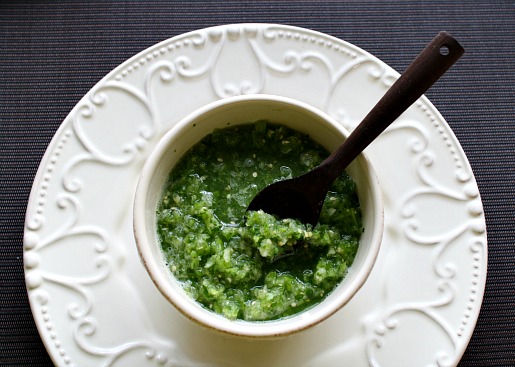 And, of course, a good salsa is a must. This is tomatilla salsa, which Bayless recommends for his Black Bean-Chicken Tostada with Tangy Romaine.
To make this recipe ultra easy,  I used a purchased rotisserie chicken and canned black beans.  This tostada meets all of the criteria for greatness.

Black Bean-Chicken Tostada…It's What's for Dinner.
From the Kitchen of Lea Ann Brown, A Denver Area Food Blog, recipes with Western flair