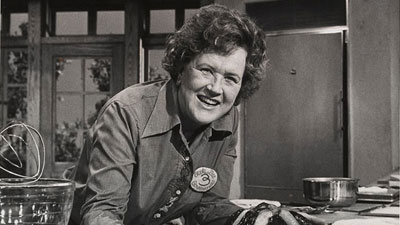 Icon and legend Julia Child would have been 100 years old today.  I remember as a child my mom and me watching her pioneering show The French Chef on our black and white television. Even as a young girl I was completely entertained by listening to her warbling voice, watching her wrestle a raw chicken or large fish, gasping when she practically cut her finger off or even dumping whole plates of food in the trash if she wasn't pleased.
It was real, it was passionate and great drama ending with her cheerfully serving up beautifully plated meals to a perfectly set table in a nearby dining room…and with no guests present. I used to imagine her family and friends gathered around that table enjoying her beautiful meals. I adore her, she's my idol and inspiration. And of course I'm not alone, she forever changed the way we all think about food.
So much to say about the grand Julia. But Julia had so much grand to say. I've included many of her insightful and delightful quotes below. If you take the time to read them I'd love to know your favorite.
But first, one of my favorite moments from the movie Julie and Julia. At the beginning of the movie and while discussing her plan to cook and blog her way through "Mastering the Art of French Cooking", Julie creates a simple tomato bruschetta, which ironically is not part of the 574 recipes from the cookbook.
Julie's Bruschetta
Cut fresh tomatoes into chunks, tear a few basil leaves into medium-small pieces, place in a bowl and toss with olive oil. Let marinate for a while.
Season with salt and pepper about a half hour before serving. The salt makes the tomatoes release their juices and you don't want that happening too soon.
Buy a rustic baguette. For the movie, she fried the bread in olive oil but I have always just toasted it on a cookie sheet pan with oven heated at 350 degrees. Either way, try to get it crunchy on the outside while retaining some softness in the center.
Rub the bread with a whole garlic clove (the garlic will disintegrate into the bread since the coarse bread will act like a grater) and drizzle with the best extra-virgin olive oil you can afford. Sprinkle with kosher salt and freshly ground pepper. Slip it into the oven and it will toast quickly..
Top bread with tomato mixture. If the bread is really crunchy, let the tomatoes sit for a few minutes before serving to soften the bread.
Julia Child Quotes
"I was 32 when I started cooking; up until then, I just ate."– Julia Child
"The only time to eat diet food is while you're waiting for the steak to cook."– Julia Child
"The best way to execute French cooking is to get good and loaded and whack the hell out of a chicken"– Julia Child
"How can a nation be called great if its bread tastes like Kleenex?"– Julia Child
"You don't have to cook fancy or complicated masterpieces – just good food from fresh ingredients."– Julia Child
"If it's so beautifully arranged on the plate – you know someone's fingers have been all over it."– Julia Child
"Always start out with a larger pot than what you think you need."– Julia Child
"Everything in moderation… including moderation."– Julia Child
"I think every woman should have a blowtorch."– Julia Child
"In France, cooking is a serious art form and a national sport."– Julia Child
"Once you have mastered a technique, you barely have to look at a recipe again"– Julia Child
"Just like becoming an expert in wine – you learn by drinking it, the best you can afford. You learn about great food by finding the best there is, whether simple or luxurious. The more you savor it, analyze it, and discuss it with your companions, and you compare it with other experiences."– Julia Child

"No one is born a great cook, one learns by doing."– Julia Child
"Just speak very loudly and quickly, and state your position with utter conviction, as the French do, and you'll have a marvelous time!"– Julia Child
"The only real stumbling block is fear of failure. In cooking you've got to have a what-the-hell attitude."– Julia Child
"If you're afraid of butter, use cream."– Julia Child
"Life itself is the proper binge."– Julia Child
"This is my invariable advice to people: Learn how to cook – try new recipes, learn from your mistakes, be fearless and above all have fun!"– Julia Child
"I don't think about whether people will remember me or not. I've been an okay person. I've learned  a lot. I've taught people a thing or two. That's what's important."– Julia Child
"Moderation. Small helpings. Sample a little bit of everything. These are the secrets of happiness and good health"– Julia Child
"Fat gives things flavor."– Julia Child
"It's fun to get together and have something good to eat at least once a day. That's what human life is all about – enjoying things"– Julia Child
"Non-cooks think it's silly to invest two hours' work in two minutes' enjoyment; but if cooking is evanescent, so is the ballet."– Julia Child
"Drama is very important in life: You have to come on with a bang. You never want to go out with a whimper."– Julia Child
"The measure of achievement is not winning awards. It's doing something that you appreciate, something you believe is worthwhile. I think of my strawberry souffle. I did that at least twenty-eight times before I finally conquered it."– Julia Child
"Find something you're passionate about and keep tremendously interested in it."– Julia Child
"Tears mess up your makeup."– Julia Child
On this day..