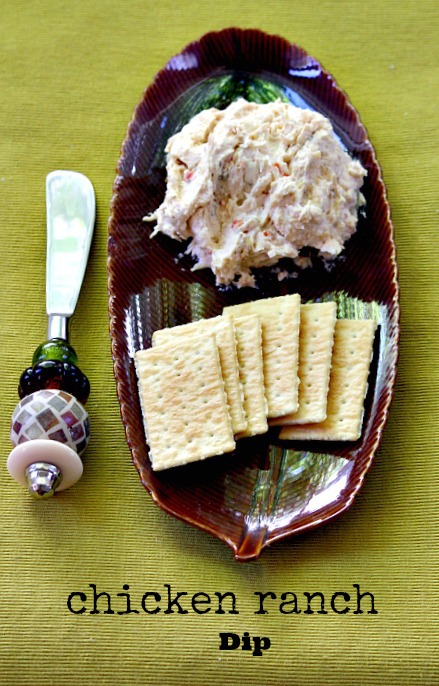 This Chicken Ranch Dip appetizer is a crowd pleaser.  I can attest to that because it pleased the crowd when Larry et al were here for our back yard BBQ.  Almost everyone commented on how good it was.  Cream cheese, shredded chicken, Ranch dressing and salsa, isn't that a  a great lineup of flavors?
As soon as the cream cheese comes to room temperature and soft enough to stir everything up, it's ready in about 5 minutes.  It's easy because it's made with a can of white meat chicken, a package of Hidden Valley Ranch Dressing and bottled salsa.  I used my home made salsa recipe, but use your favorite brand.  Done…really, it's that easy.
Right before serving, sprinkle with Chimayo Chili Powder. Omit if you don't have Chamayo, most chili powders are pungent strong and would change the light and perfect flavor of this dip.  Serve it up and be ready to share the recipe.  Everyone will ask for it.
Browsing for crowd pleasing dip and appetizer recipes, Hatch Green Chile dip served with blue corn tortillas is always popular.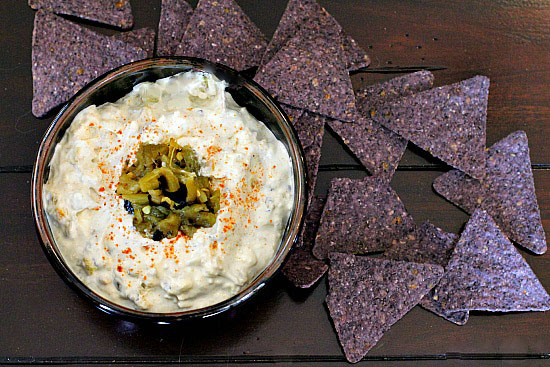 And now for this incredible Chicken Ranch Dip:

Chicken Ranch Dip…It's What's For An Appetizer