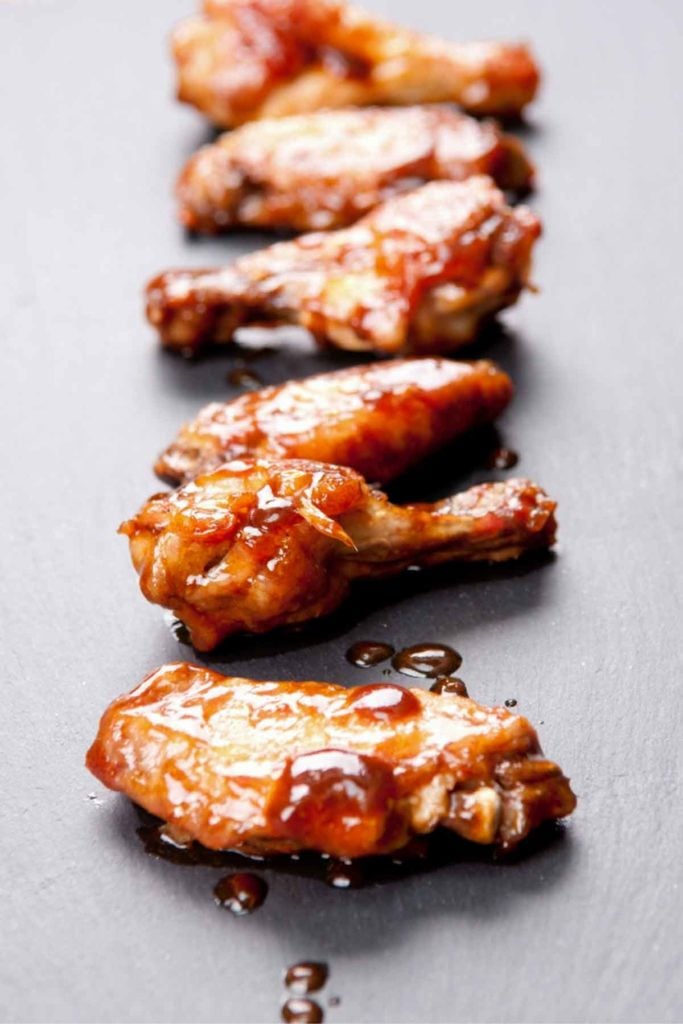 I really enjoy trying to recreate dishes I've ordered at restaurants. Heather and I ordered Limoncello Chicken Wings as an appetizer over at Marcos Coal Fired Pizza in Inverness. After our first bite we said in unison "I'll have to try and make these".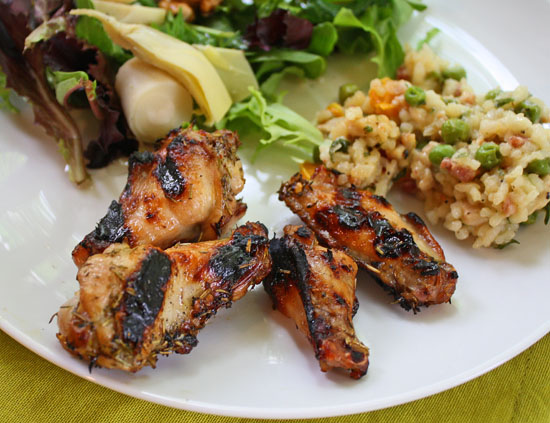 The marinade is some sort of combination of Limoncello and herbs; rosemary, thyme, oregano, red pepper flakes, some olive oil, lemon juice. The combo turns out a very flavorful wing. Since I don't have a coal fired pizza oven like Marcos, I grilled these wings and we loved every bite. I just served them as a main course with a salad and risotto as sides.
Here's the photo that I took with my phone at Marco's. I wish I had referenced this for styling ideas. The wings are sprinkled with parsley and cooked onion and surrounded with toasted pizza dough wedges. If you've not been to Marcos, you should stop in for their pizza. Westword Magazine named them best pizza in Denver this year, and 5280 Magazine awarded them the same honor for 2012. Maybe it's because they import Antico Molino Caputo '00' flour, San Marzano tomatoes and their cheeses from Italy. They have two locations, one in Downtown Denver and the one we visited at Villagio in Inverness. Always a great atmosphere and always good food.
Mine were a bit more lemony than what I had at Marco's, and that's probably due to the few drops of Boyajian Pure Lemon Oil that I added to the marinade.  Here's what I came up with for their Limoncello Chicken Wings.

Limoncello Chicken Wings
Author:
www.highlandsranchfoodie.com
Ingredients
⅛ t. pure lemon oil, or ¼ C. Lemon Juice
¾ C. Limoncello
1 t. Rosemary
1 t. Oregano
1 t. Thyme
⅛ t. Red pepper flakes
sea salt
2 T. olive oil
10 chicken wings which had been cut apart (20 pieces)
Instructions
Mix all ingredients together and pour into a gallon Zip Lock Bag. Rinse and dry the chicken pieces and add them to the mixture. Marinate 4-8 hours. Remove wings from marinade and grill on medium high 6-8 minutes per side. I turned several times during cooking to insure even browning.
Limoncello Chicken Wings…It's What's for Dinner.