This Prosciutto Parmesan Arugula Sandwich is the perfect sandwich for a picnic. So perfect it was the picnic sandwich featured in the Movie Sideways.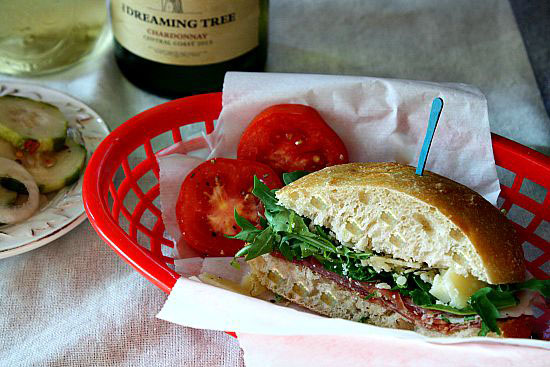 Happy Summer everyone. The skies are blue and the sun is hot and the 'livin is easy…well not really. Around this time every year, we're starting to hear the phrases like "back to school" and "where has the Summer gone" and we start feeling the crunch to invite everyone over that we've not invited over yet. There's still Summer entertaining to complete before those evenings turn to crisp, cool sweater weather. But it's hot and turning on the oven or standing out in the sun over a hot grill doesn't sound all that much fun. Enter no-cook Summer entertaining without a flame or a pot of boiling water in sight.
And what a perfect project for our August Blogger's Clue event. Happy 2nd Wednesday to all, and that means we're joining in the Blogger's Clue fun. Blogger's Clue is a monthly party created by Liz over at That Skinny Chick can Bake. For each assignment, we're given a clue, and a blog and we're to take that clue and find a recipe to make. This month that clue was Beat the Heat!
I was assigned to Heather's blog, Girlichef. When I first started blogging six years ago, Heather's blog was one of the first I found. I've followed, admired, and envied her photography skills for all of these years. She had just started blogging a few months before me and we share a passion for Mexican food. I really felt a connection when I found her blog.
Heather is the Super Hero Action Figure of our food blog world. I have no idea how she has time to raise a family, blog practically every day, be involved in every blogging group out there and with most of them volunteers her time to help organize, round up and mentor new bloggers. Wonder Woman watch out, Heather's formidable competition.
With her army of recipes, I knew I had my work cut out for me. But back to connections. I somehow quickly landed on a post she did about one of my favorite all time favorite movies, Sideways. Wine Country, adventure, drama, romance and disfunction…this movie is one we've watched ten times since it's release. Hubs and I even took a trip to the Santa Barbara/Solvang area and traced the paths of wineries and restaurants that were featured in the movie.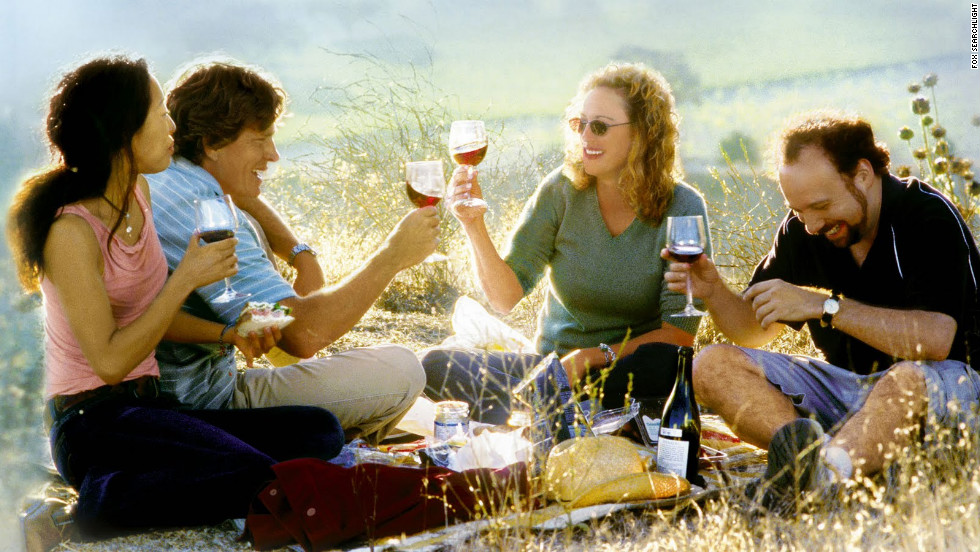 Bingo! Prosciutto, Parmesan Arugula Sandwich is from a scene in the movie where the characters take a break from the drama and enjoy an idyllic picnic with bottle of wine on a blanket enjoying conversation, wine and food smack dab in the middle of California wine country and I knew my search for a no-cook recipe was over.
Another little coincidence in this post is that bottle of Dreaming Tree Chardonnay that Heather featured. My good friends in Denver have just introduced us to this Dave Matthews wine. We've really enjoyed every bottle we've had. A lack of minerality in the flavor of this Chardonnay just happened to be a perfect pairing for this sandwich. Thank you Heather!
Chewy ciabatta, salty prosciutto and peppery arugula come together for a great sandwich with a generous drizzle of truffle oil. I splurged on a tiny little bottle of black truffle oil and I'm so glad I did. Even with all of those wonderful ingredients, I really felt it stole the show.
This sandwich is so good it rivals everyone's favorite, The Best Sandwich In The World.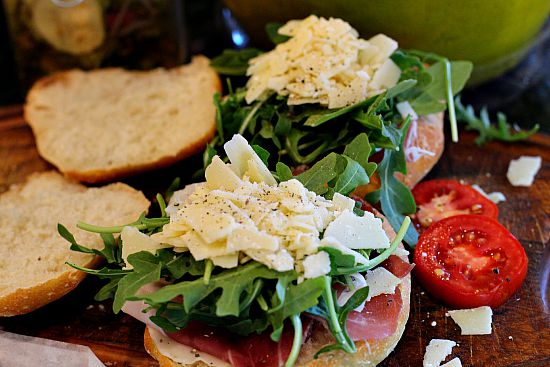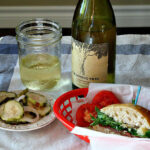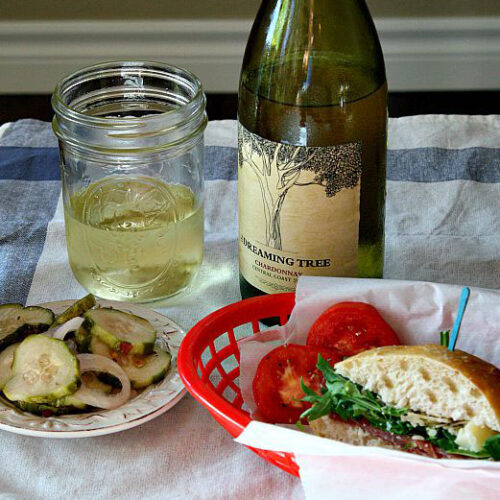 Prosciutto, Parmesan, & Arugula Sandwich
A great sandwich to enjoy with a crisp Chardonnay. The perfect picnic sandwich
Ingredients
2

Ciabattini/Ciabatta Rolls

2

ounces

Prosciutto

thinly sliced

1

ounce

Parmesan

thinly sliced

2

small handfuls baby arugula

truffle oil

to taste

freshly ground black pepper

to taste
Instructions
Slice the fresh ciabattini (ciabatta rolls) in half. Divide the prosciutto between the two bottoms of the rolls. Do the same with the Parmesan. Divide the baby arugula between the two buns and drizzle with a little truffle oil. Grind some black pepper over the top. Set the top half of the roll on top of everything.
Prosciutto Parmesan Arugula Sandwich…It's what's for a Summer Dinner.
Looking for more Picnic Sandwich Ideas? How about: