Roasting fresh tomatoes and peppers and topped with a tomato cream sauce and baked until bubbly. Try our favorite chicken enchiladas with Tomato Cream Sauce recipe.
Today we're cooking indoors, using our indoor voices, because it's 19 DEGREES  in Denver. I didn't know traditional fall colors of gold, rust, and yellow would also include white. Yes, a dusting of snow covers my beautiful summer, now dead, flowers.  They've even cancelled the Rockies Playoff Game tonight because of inclement weather.  We've gone from Summer, one week of Fall and smack dab into Winter.  I doubt Alaska has even dipped below 20 degrees yet this year.  Puff the Magic Weber didn't even have time to frolic in the Autumn mist, he's all icy.
Before we get started, I'd like to climb on my soapbox and talk a little about Mexican Food. I love Mexican food. I'm NOT a fan of Americanized Mexican food joints. You know those places that bring you a huge plate of steaming greasy glop that's covered in two cups of a greasy melted yellow cheese product covering up  greasy fried ground beef that's wrapped in a greasy fried white flour tortilla served with a side of odd looking bland tasting creamed beans also served with melted cheese…Messy and gross.  There, I've said it and I'm glad I did.
Let's talk about authentic Mexican Food. I'm a big fan of Rick Bayless, who has spent many years living in Mexico and brings to us his fresh, delicious creations inspired by authentic Mexican cuisine.  The following recipe is adapted from a recipe I found in one of his cookbooks. I've included an affiliate link for your convenience.
So, pour yourself a glass of wine and let's get started, I'm making Chicken Enchiladas with tomato cream sauce: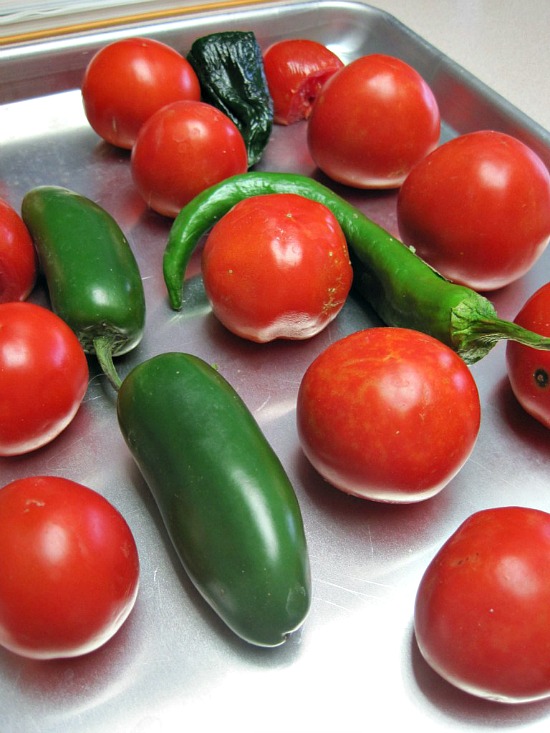 First, let's make the tomato cream sauce.  Place about 15 medium sized tomatoes and 2 jalapeno peppers on a baking sheet.  Broil in oven about 5 inches from heat for five minutes.  I threw in one little Anaheim pepper. You can also use canned tomatoes, which skips this step altogether, but you'd still need to roast the jalapeno.  I would suggest when in season, use fresh tomatoes and this method.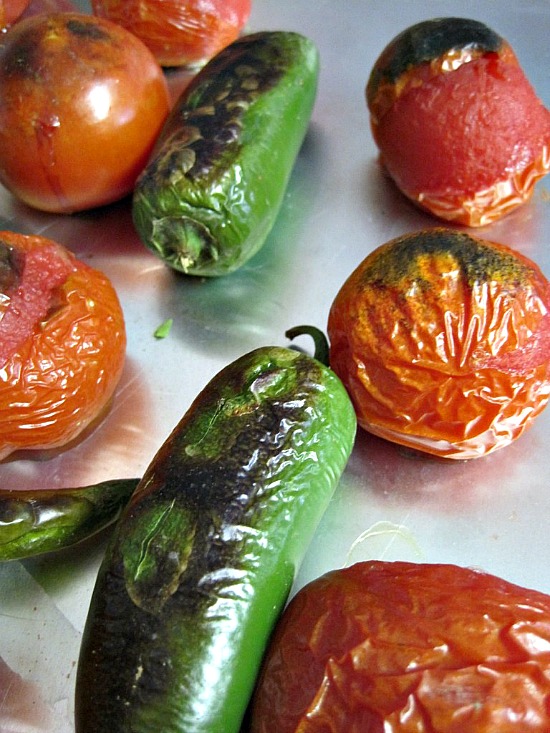 When you start to see charred spots, turn the tomatoes and peppers over and broil another 5 minutes.  Remove from oven and cool.  Working over the same baking sheet, remove skins and cores from the tomatoes and remove skins from the peppers.  I'm a fraidy cat so I also removed veins and seeds from the jalapeno.  Leave them if you like the heat.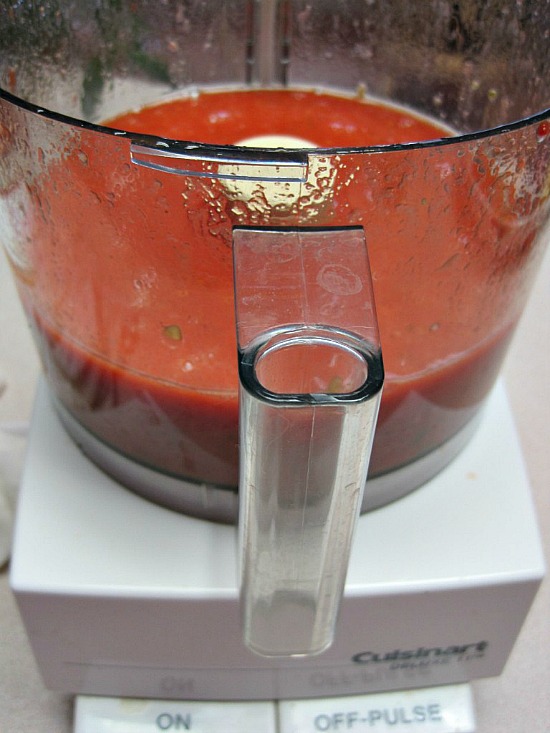 Place tomatoes and peppers along with the juices from the baking sheet into a food processor and puree.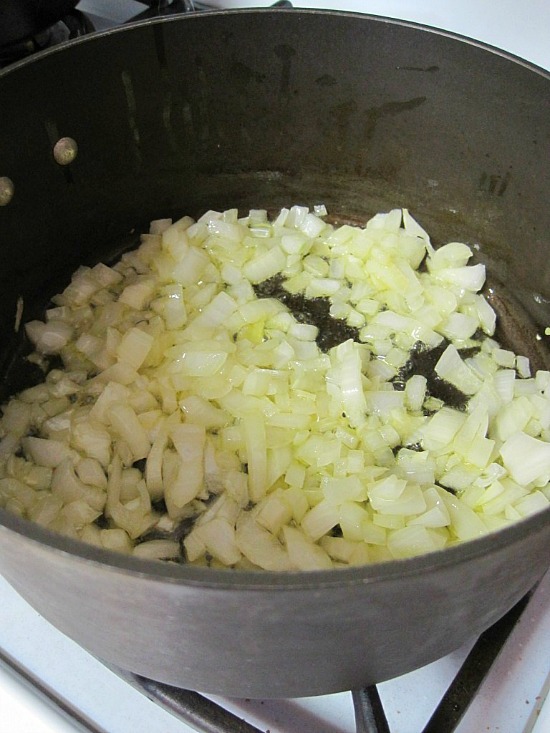 In a Dutch oven saute one chopped onion in olive oil until tender, about 7 minutes.  Lard or bacon fat is better here.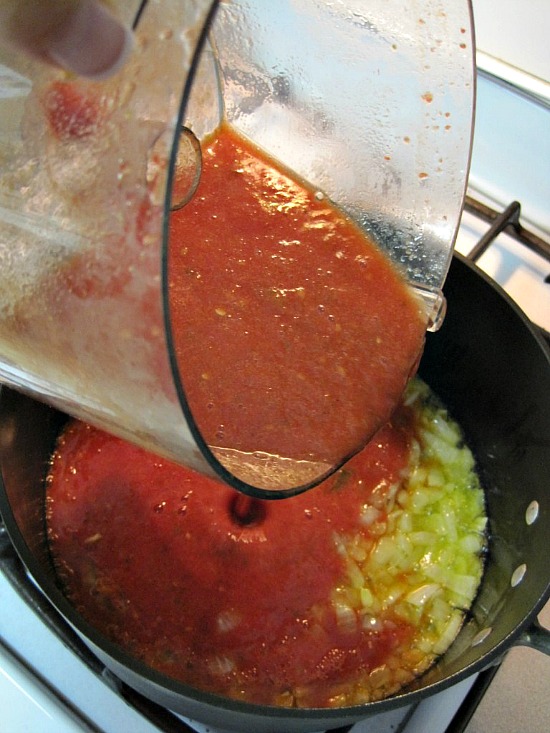 Turn up heat to medium high and add pureed tomato/chili mixture to onion. Add chicken broth.  Partially cover and simmer for 15 minutes.  When done, texture should be soupy.  If too thick add a little more broth.  Add 1/2 C. cream, set aside and keep warm.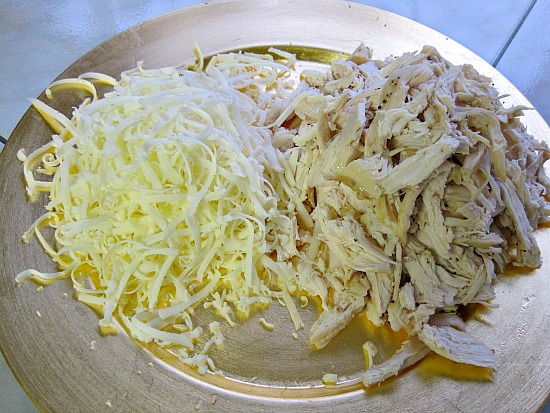 Meanwhile, coat three boneless, skinless chicken breast halves in olive oil and roast for about 30 minutes at 350 degrees.  Cool and shred the meat.  Set aside.
Grate two cups of Monterey Jack cheese.  I prefer Mexican melting cheese, but Safeway doesn't offer the brand I like and I didn't want to make a special trip up to Whole Foods.  So, Monterey Jack it is!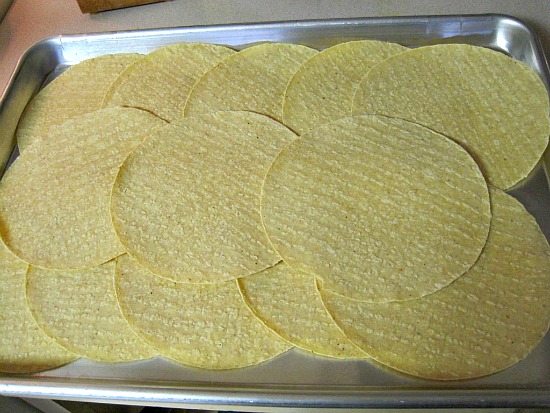 On a baking sheet, place 12 corn tortillas.  Bake for 5 minutes. Remove from oven and cover with a towel to keep warm.
Spoon 1/2 of the tomato cream sauce into a baking pan.  Working fast, so tortillas don't cool, place shredded chicken inside a warm tortilla and roll.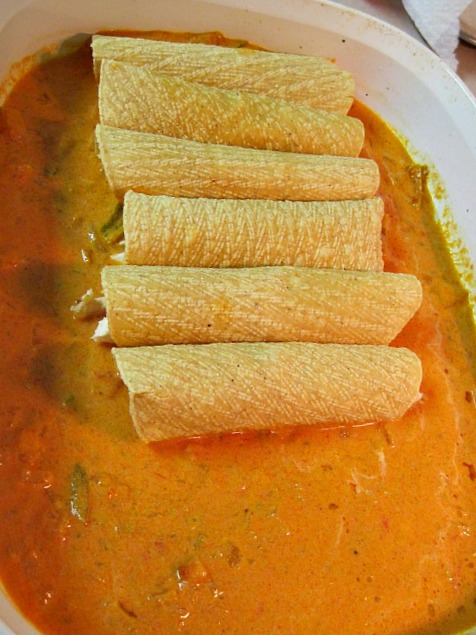 Start placing enchiladas seam side down into the sauce.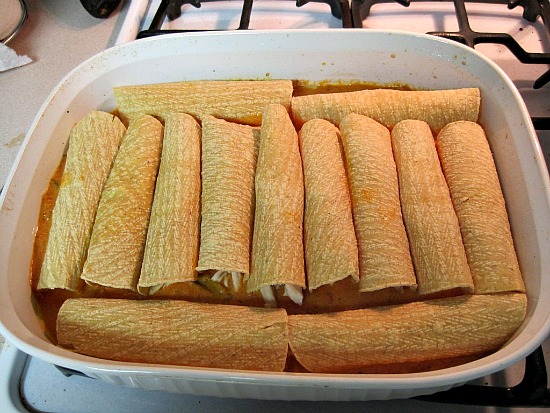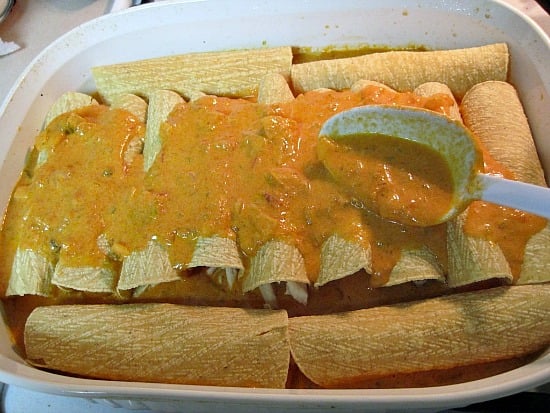 Spoon the remaining sauce over the enchiladas.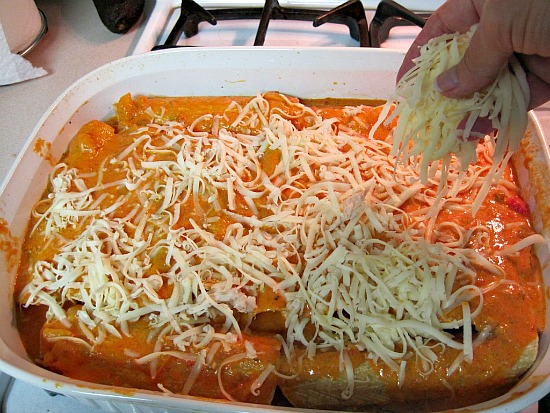 Sprinkle with Monterey Jack Cheese.  Bake at 350 degrees for 15 minutes or until bubbly and cheese just starts to brown. You've got yourself some creamy chicken enchiladas with a beautiful tomato sauce.
To serve, place Enchiladas on a plate, garnish with onion rings and cilantro.
Chicken Enchiladas with Tomato Cream Sauce
These seriously are the best chicken enchiladas ever. And it's all due to a very special (and easy) homemade tomato cream sauce that will knock your socks off.
Ingredients
Fresh hot green chiles to taste

roughly 3 serranos or 2 jalapeños, stemmed

1

medium

yellow onion

chopped

2

cups

chicken broth

plus a little extra if needed

1/2

cup

Mexican Crema, or creme fraiche, or heavy whipping cream

3

pounds

fresh tomatoes, or 2-28 ounce cans good quality whole tomatoes, drained

1 1/2

Tablespoon

vegetable oil or pork lard

Plus a little for brushing or spraying the tortillas

2

cups

coarsley shredded chicken breast

preferably grilled, roasted, or rotisserie

2/3

cup

shredded Mexican Cheese

Monterey Jack or Chihuahua, quesadilla, asadero or the like

12

corn tortillas

6

slices

yellow onion

separated into rings for garnish

Fresh Cilantro

for garnish
Instructions
Step 1:

For fresh tomatoes: Roast the tomatoes and chiles on a baking sheet 4 inches below a very hot broiler, until they're darkly roasted (they

Step 2

For canned tomatoes: In a small dry skillet, roast the chiles over medium heat, turning regularly, until they're soft and splotchy-black, about 5 minutes. Place in a blender or food processor along with the drained canned tomatoes. Blend to a smooth puree.


Step 3

In a medium-size (4- or 5-quart) pot (preferably a Dutch oven or Mexican cazuela), heat the oil or lard over medium heat. Add the onion and cook, stirring regularly, until golden, about 7 minutes. Raise the heat to medium-high, and, when noticeably hotter, stir in the tomato puree. Cook, stirring, until darker in color and thickened to the consistency of tomato paste, about 10 to 15 minutes. Stir in the broth, partially cover and simmer 15 minutes. Taste and season with salt, usually about 1/2 teaspoon. The sauce should be a slightly soupy consistency—not as thick as spaghetti sauce. If it is too thick, stir in a little additional broth. Keep warm over low heat.


Step 4

Other preliminaries. Stir the crema (or one of its stand-ins) into the sauce. Put the chicken in a bowl and stir 1/2 cup of the sauce mixture into it. Taste and season with additional salt if you think it needs it. Have the cheese at the ready.


Step 5

Heat the oven to 350°. Smear about 1/4 cup of the sauce over the bottom of 4 to 6 nine-inch individual ovenproof baking/serving dishes or smear about 1 cup of the sauce over the bottom of a 13x9-inch baking dish. Lay the tortillas out on a baking sheet (2 sheets if you have them, for more even heating), and lightly brush or spray both sides of the tortillas with oil. Bake just to warm through and soften, about 3 minutes. Stack the tortillas and cover with a towel to keep warm.


Step 6

Working quickly so the tortillas stay hot and pliable, roll a portion of the chicken into each tortilla, then line them all up in the baking dishes. Douse evenly with the remaining sauce, then sprinkle with the cheese. Bake until the enchiladas are hot through (the cheese will have begun to brown), about 15 minutes.


Garnish with onion rings and cilantro sprigs. These are best served piping hot from the oven.
We paired this with a Borsao Ciranza.  It has a cherry red color with touches of garnet and an elegant, deep ruby background. In the nose, we perceive its great intensity where fruity and varietal tones are combined perfectly with vanilla and smooth oak tannins. Intense in the mouth, fleshy and well-structured with an ample and pleasing aftertaste.  (I didn't write that, that comes directly from the web site – but yes "what they say").