You can't beat a "quick middle of the week, I'm tired from working all day" easy meal. You have to have a few of these in your back pocket, or you'll find yourself sitting in the drive through lane behind people who take forever digging for the right amount of change to pay for their meal at Window One.
I've had this recipe for too many years to count. I was watching a salmon demonstration one Saturday afternoon at a local supermarket. The fish counter guy was searing a chunk of salmon filet that had been topped with a sprinkle of cumin, some lemon zest, a slice of lemon and topped with a pat of butter. So over the years it's evolved into this.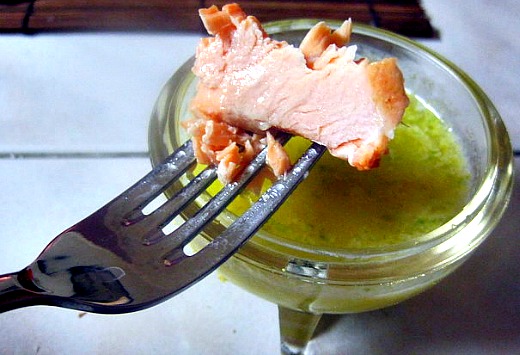 And a simple lemon butter for dipping makes this a tasty little dish. I used a salmon steak for this one…let's take a look.

Lemon Lime Salmon with Lemon Butter
Author:
www.highlandsranchfoodie.com
Prep time:
Cook time:
Total time:
Ingredients
1 lemon
1 lime
½ t cumin
½ t garlic — minced
1 T olive oil
3 T butter — softened
2 salmon steaks
Instructions
Zest the lemon and lime, then thinly slice ½ of each. Juice the other halves. Combine 2 Tablespoons of the lemon/lime juice, cumin, garlic and olive oil. Place salmon on a sheet of parchment paper. Sprinkle with some of the lime and lemon zest, and pour the lemon-lime juice mixture over top. Sprinkle with some salt and pepper then arrange lemon and lime slices over the filet. Wrap up with the parchment paper. Place in a baking dish and bake at 350 degrees for about 15 minutes or until fish is flaky and done.
Mix butter, remaining juice and peel in a bowl. Microwave for a few seconds to melt.
Lemon Lime Salmon…It's What's for Saturday Dinner.