Print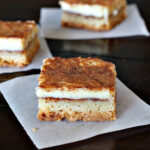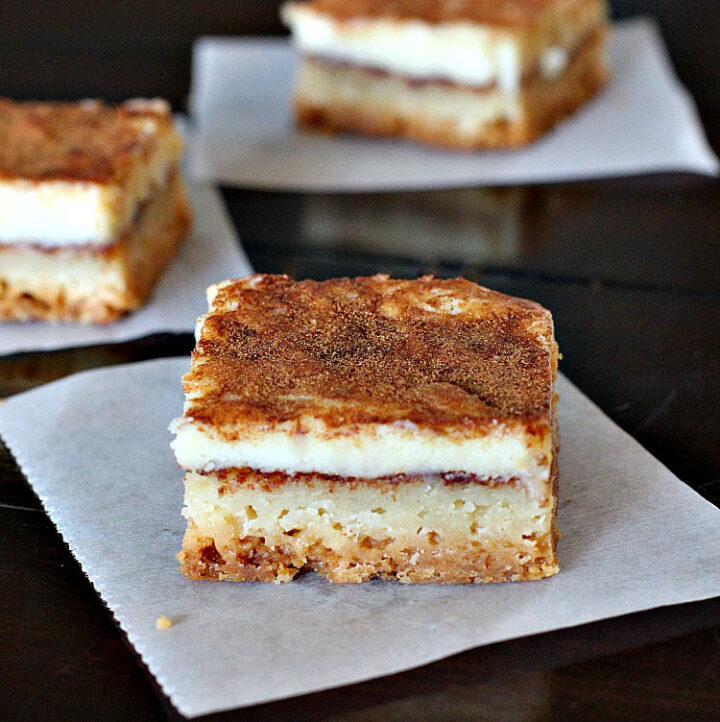 Churros Cheesecake Bars
These Churros Cheesecake Bars are Killer. Easy and addicting, a great kid dessert.
Base:

1 1/2

cups

butter

2 1/2

cups

flour

1

cup

sugar

2

Tablespoons

cornstarch

Cheesecake:

2

packages cream cheese

softened, 8oz each

1

egg

1

tsp

vanilla

1/2

cup

sugar

Cinnamon Sugar:

1/2

cup

sugar

2

Tbsp

ground cinnamon
Preheat the oven to 325 degrees F. Line a 9 by 13 pan with parchment.

In a food processor combine the 1 1/2 cups butter, 2 1/2 cups flower, 1 cup sugar and 2 Tablespoons cornstarch. Pulse until the dough comes together nearly in a ball. Press the dough into the prepared pan and bake for 25 minute or until the edges just begin to brown. Remove from the oven and let cool for 5-10 minutes.

Mix the cinnamon sugar in a small bowl. Use about half of the mixture to top the shortbread. The shortbread will not be cooled yet-- that is fine and even helpful because the cinnamon sugar layer will melt into it and adhere more easily. Set the remaining cinnamon-sugar mixture aside.

Now create the cheesecake layer: with an electric mixer or a stand mixer, beat the cream cheese and sugar until smooth then add in the egg and vanilla. Make sure your egg is at room temperature before adding or else your mixture will break apart and appear to curdle. Pour the smooth cheesecake mixture into the pan. It may be easier to scoop out the mixture and to place small lumps of it over the pan then use a spatula to even out the layer. Top the bars with the remaining cinnamon sugar to completely cover the cheesecake layer.

Bake at 325 for 35-40 minutes. Let cool completely then refrigerate before cutting and serving.