This is a recipe for Muffaletta Sliders. Looking for Super Bowl Party Food Ideas?  These Muffaletta sliders might just help you cheer on your favorite team.
I like everything about Super Bowl Sunday, the hype, the food, the commercials and most of all the excuse for good friends to come together over food and beverage. A good football game is the icing on the cake and the Saints and Colts did not disappoint. I'm so glad to see the Saints win.
Our house was the scene for the big game gathering this year and here's the recap of our evening.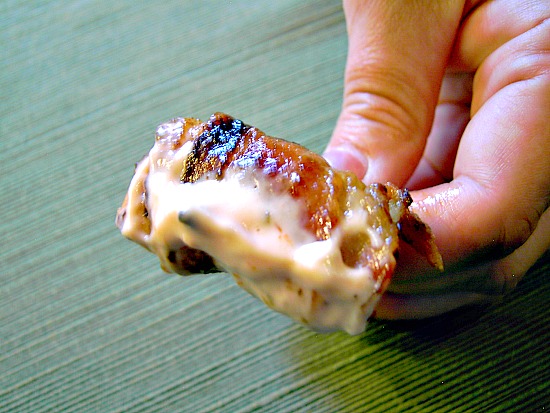 Let's start with the finger food and the recipe "find" of the century. We all love Bacon Wrapped Shrimp Stuffed with Jalapeno.  L-O-V-E love it.  We beg Kathy to bring this to all of our gatherings and it's devoured within minutes of being plated. For your convenience, this post contains affiliate links.
It's simply a slice of  jalapeño tucked into the crook of a shrimp, wrapped in bacon and then broiled. If all of those flavors aren't wonderful enough you dip this appetizer into a delicious sauce.
No party would be complete without relish plates and no relish plate in this house is ever void of pickled beets . And don't forget the hot pickled okra. My favorite brand is Talk o' Texas. Nice and spicy and crispy.
 Mandatory Super Bowl party dips, chips and crackers. Starting top left and continuing clockwise, Maralee's delicious guacamole, and home-made Spicy Sun-Dried Tomato Basil Chickpea Spread. Cauleen brought some wonderfully sinful warm crab dip that we gobbled down on some crackers and toasted baguette rounds. Thank you ladies!
Teri brought a WONderful New Orleans themed salad called Louisiana Sunburst Salad. It's very easy to make and it's a recipe from the famous Palace Cafe in New Orleans. This recipe is definitely going into my database to serve again and again.
Since Cajun/Creole foods are some of my favorite dishes, how could I resist not serving a couple of traditional classics for my Saints Themed Football Party.
Let's start with my Muffaletta Sliders. First of all, I was so proud of this idea. And I must admit they turned out pretty good.
How many of you have ever been to Central Grocery in New Orleans and had one of their world-famous Muffalettas? I've never found another as good. But, if you do it just right you can come somewhat close.
I've made my own olive relish before, but this time relied on a local speciality and fine meats grocery and purchased Olive tapenade in a jar.
Tony's makes a good Muffaletta, so when we purchased the deli meat for my sandwiches, we asked the deli guy what he would recommend for the tapenade. He recommended the same that they use for their Muffalettas.  It's Olive Harvest Olive Tapenade and it really was quite good.  What I really liked about this brand is that pickled cauliflower is included in the ingredients. I can't find pickled cauliflower in Denver to save my life. Thanks Deli Guy at Tony's!
My Muffaletta sliders were built on slider buns with alternating two layers each:
Mortadella
Smoked Ham
Cotto Salami
Provolone Cheese
Swiss Cheese
I topped the each sandwich with 1/2 Pepperoncini pepper, veins and seeds removed, and a slather of the olive tapenade.
I also served a big steaming pot of Jambalaya.  I'm naming my Jambalaya, "Who Dat Jambalaya". The reason it's Who Dat is because it's a combination of three recipes.
I not only consulted Chef Paul for the Jambalaya but also made his Creole Sauce that he recommended be served as a topping to Jambalaya. Easy, delicious and I'm glad I took the time to make that sauce.
And then John Besh's My New Orleans was a great source for the Jambalaya.
Did I mention the beverages?  I guess I didn't.
The beer.  A collection from  local brew pub,  Breckenridge Brewery Beer…thank you to Greg.
The wine.  Dan brought a 2007 Columbia Crest H3 Cabernet Sauvignon (right).  The H3 stands for Horse Heaven Hills.  A highly rated Washington Cab and an excellent bargain at $13 or $14. Our Superbowl tradition is to start the game with a sparkly. This year we served a sparkling Prosecco (left)  and then the filler (center), a good Black Box Shiraz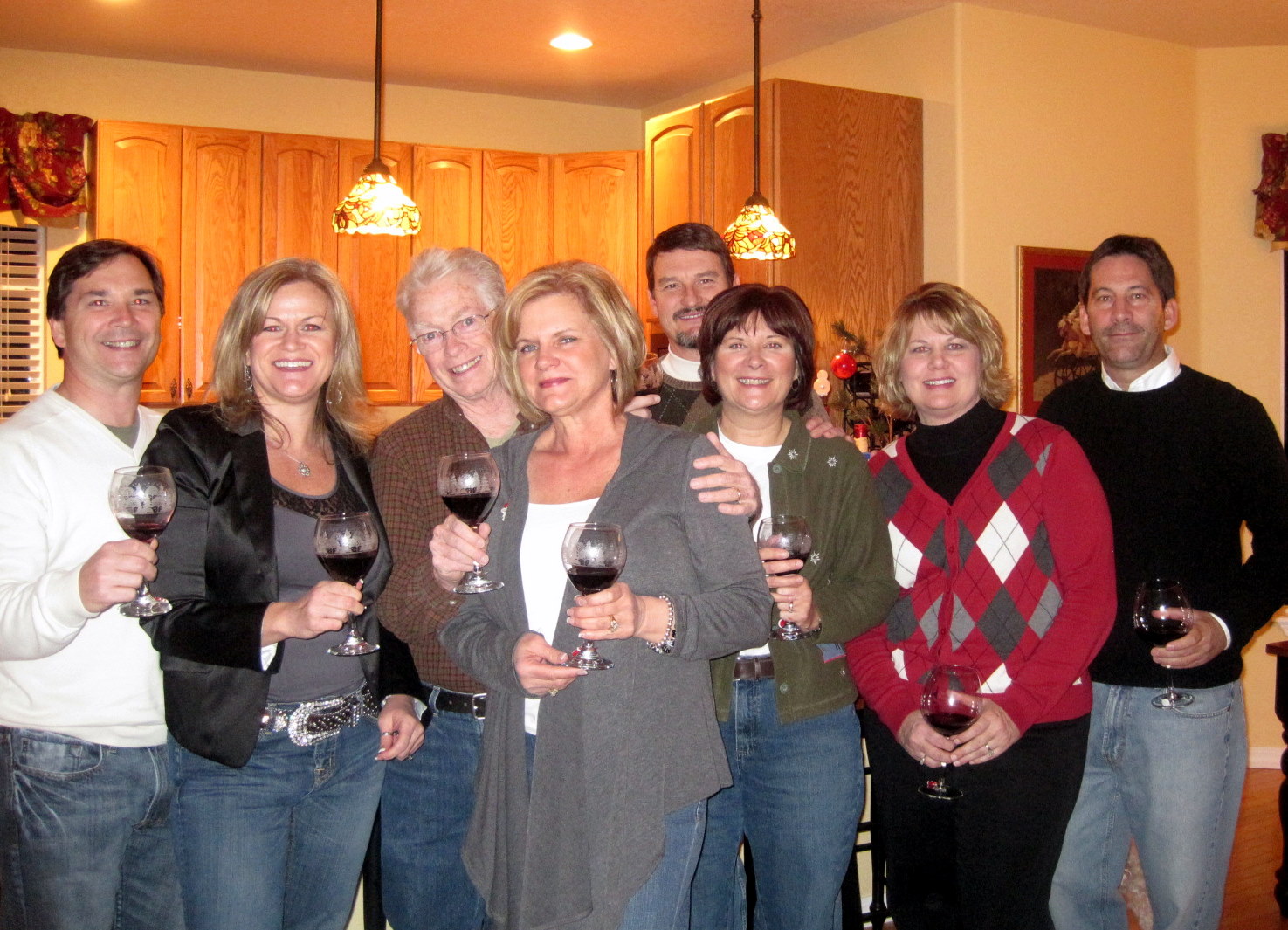 Happy Super Bowl..here's the crew.  From left:
Greg who brought the beer
 Maralee, hummus and guac queen
 Bob the hubby,
me, the blogger
Tom, the only Colts fan
Kathy, the  Jalapeno Shrimp maven
Teri the salad guru,
and Dan wine connoisseur and chief heckler
This photo was actually taken at Christmas at Dan and Teri's house, so we're minus Greg, Cauleen and Conner.
As with any of our gatherings, Bad Santa is always looking over us. And of course, he's a Saint's Fan. Here's the shrimp recipe.