A menu of Tapas Style Appetizer Back Deck Party Recipes.
In Rocky Mountain National Park
Our rock and roll loving, wine drinking, bird watching friends Nancy and Neal (California) and Thomas (Ohio) descended on Colorado last week. A couple of days spent in Denver included a lovely dinner at Ja Ja's a great little French Bistro, and a tapas-style dinner on our back deck the next evening. Throw in a week-long trip to the high country where we stayed at a rustic cabin at the base of Rocky Mountain National Park on a sleepy little mountain lake, complete with moose, marmot, mink, otter, chipmunk, chickoree, ptarmigan, elk, deer, bats and miscellaneous riff-raff (racoon), and you've got a fabulous little vacation. "Paradise" as one of us coined it.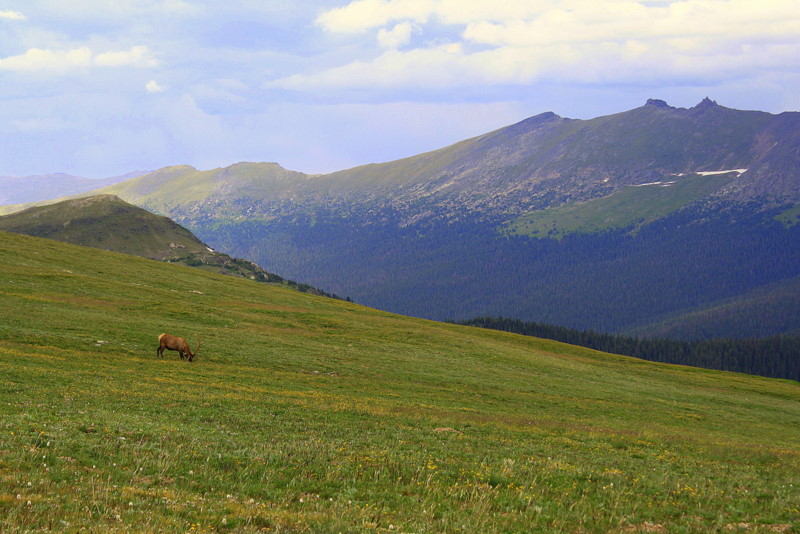 The 10-day extravaganza included many memorable culinary moments:
Foie gras at Ja Ja's French Bistro in Littleton.
Elk medallions at The Rapids Lodge.
An evening meal on the porch at Grand Lake Lodge complete with a rainbow over the lake and spectacular views of craggy mountain peaks.
A grilled chicken dinner on the back deck of our cabin.
Huevos rancheros and a mouth-watering cinnamon roll at The Sagebrush BBQ and Grill.
Near fist fights over my spicy orange chocolate brownies.
A picnic lunch at Lake Irene on Milner Pass, Rocky Mountain National Park.
Yogurt and granola breakfasts on the back deck while watching hummingbirds buzz around our heads.
Peanut butter and jelly sandwiches on the pontoon boat trip on Grand Lake.
Of course it wasn't all about food. Lots of hikes, visiting, scenic drives over cliff-hanging Trail Ridge Road, and for you birdwatchers, a hike out onto the tundra produced views of the elusive White-tailed Ptarmigan, one male and a female with three chicks. We topped the week off with a serene pontoon boat ride on Grand Lake with Nautical Neal at the helm.
With all that said, let's take a look at my tapas meal here at the house. Our Colorado evenings have been so lovely that I opted for a casual meal on the back deck rather than stuff everyone around a dining table. I really enjoyed the mostly no-cook offerings with my new favorite discovery being a shiitake mushroom bruschetta dish that I found from a fellow food blogger. I'll post that recipe tomorrow. Let's take a look at the starters.
First up was platter of Amadeus cheese, fig jam, grapes and water crackers. Amadeus is a pasteurized cows' milk cheese from Austria. It's pale yellow, smooth, creamy, and rich in texture. It's one of my favorites with fruit and crackers.
An idea from Vickie over at Part Three was a large plate of assorted skewers made a colorful and filling addition to our outdoor meal. Double stuffed garlic and jalapeno olives, dry salami and sun-dried tomatoes complimented traditional caprese skewers of cherry tomatoes, basil and small fresh mozzarella pearls. You can find these small mozzarella pearls at Costco, along with the double stuffed olives. I really liked how the flavors on this plate flowed. The briney olive and salty salami were complimented with the next bites of cool creamy mozzarella, the fresh basil and sweet tomato skewers.
Stay tuned over the next couple of days for the rest of the story. A couple of great recipes coming up that you'll want to save for your next tapas style, appetizer party and some more photos of the trip.
Tapas…It's What's for Dinner on the Deck.