Thanks to the American Shrimp Processors Association for sponsoring my writing! When making the decision to cook with shrimp, be sure to check the sourcing. Shrimp purchased at a retailer should proudly state "wild-caught" or "Wild American Shrimp." For a list of retailers, please visit www.americanshrimp.com/for-the-home.
We Americans love our shrimp. Each of us eats, on average, almost four pounds a year, making shrimp more popular than tuna. We eat about three times more shrimp than we did 35 years ago, thanks to massive importers who make shrimp readily available. Over 90 percent of our shrimp comes from huge farming operations in countries such as India, Indonesia and Thailand where conditions and practices are far less than desirable from a health standpoint. Take a look at this Consumer Reports article for so many reasons to only purchase shrimp with labels that indicate Wild American Shrimp.
Hands down, Gulf shrimp have better flavor and a texture you're going to love biting into. This past weekend I took an American Wild Caught chilled shrimp appetizer to a friend's house and they commented several times about the quality of that shrimp. I don't think they even noticed the two homemade aioli dipping sauces that accompanied the dish.  Simply stated, Wild Caught American Shrimp are a delicacy.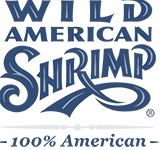 And a big nod to The Bluewater Shrimp Company out of Dulac, Louisiana who were kind enough to ship me 3 pounds of Louisiana White "Chickie Lou" head-on, wild-caught Louisiana shrimp for this post. Like many other shrimpers in the gulf, The Bluewater Shrimp Company is a small, family owned business that works hard to maintain the integrity of their product. There is a big difference between these shrimp and the imported ones we're used to. These shrimp actually taste like shrimp! They're sweet and slightly briny with a firm, snappy texture.  You can try them for yourself as they ship anywhere in the country!
Included in this bonanza was a shipment from The Bacon Jams.  They sent a jar of their Pepper Bacon Jam with the challenge of creating a combo bacon jam shrimp recipe.
The Bacon Jams are the newest and tastiest way to enjoy BACON! The perfect addictive blend of savory and sweet! Their flavor profiles offer a bacon complexity to every meal from breakfast, lunch, dinner, snack time, and even dessert. Always and only made with quality ingredients. One flavor that really caught my eye was their Red Chile and Garlic. I can see that one coating some chicken wings.  How about you?
I decided to take a big scoop of that bacon jam and make a vinaigrette for a fresh shrimp salad. With blanched broccoli, avocado, bibb lettuce and some basil leaves for garnish, this healthy salad got a big dose of flavor with that bacon jam vinaigrette.
Shrimp, Broccoli, Avocado Salad with Bacon jam Vinaigrette
Ingredients
1/4

cup

extra virgin olive oil

1/4

cup

cider vinegar

2

tablespoons

black pepper bacon jam

1

tablespoon

dijon mustard

1

tablespoon

fresh thyme leaves

1

teaspoon

sugar

salt and pepper to taste
Instructions
For the vinaigrette: Place all ingredients except oil in a food processor with metal blade. With machine running slowing drizzle in the oil until emulsified.

For the salad: Peel and devein shrimp and cook in boiling water seasoned with Old Bay for two minutes. Drain in colander and pour a big glass of ice cubes on top of the shrimp to stop cooking. Chill for one hour. Fill a large saucepan with water and 1 tablespoon salt. Bring water to a boil Separate 1 medium head of broccoli into smaller flowerettes. Place in boiling water and cook for two minutes. Drain in a colander and pour a generous glass full of ice over broccoli to stop cooking. After about 15 minutes, dig through the broccoli and remove any remaining ice cubes.

To serve, place big leaves of bibb lettuce on two plates. Sprinkle with shrimp and broccoli and divide avocado and mound in the middle of each salad. Drizzle with bacon jam vinaigrette.
Shrimp, Broccoli, Avocado Salad with Bacon Jam Vinaigrette…It's what's for Dinner.