Mouth Watering Prime Rib Roast on a bed of Brussels Sprouts and Blue Cheese Potatoes
I have been compensated and provided with product by Sprouts Market for this article. My opinions are my own.
Thanks so much to Sprouts for inviting me to a special event hosted by Sprouts Farmers Market and the Colorado Beef Council.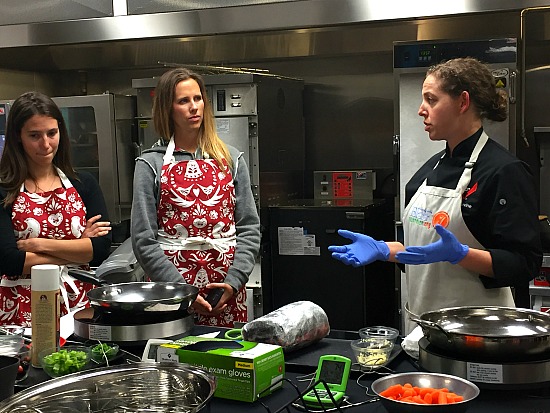 We were welcomed into the test kitchen of the National Cattleman's Beef Association offices. Located in an office building in Centennial, one would have absolutely no idea that hiding inside is not only the offices for the Cattlemen's Association but also an impressive state of the art kitchen facility. A test kitchen with on-staff chefs who work hard developing beef recipes, while the Colorado Beef Council works with local cattlemen and educates the public about our Colorado beef industry. I could hang out with those chefs in that kitchen ALL day! Beautiful facility.
Prime rib on a bed of Brussels sprouts, and a wedge of Blue Cheese Potatoes. Don't you love the onions rings for a nice food styling garnish?
The evening included a tour of the offices, an insightful prime rib cooking lesson, tips on food styling and presentation, and a full blow buffet that included 3 prime rib dinners complete with potatoes, vegetables and dessert.
And did I mention wine pairings for each meal? I was reminded that cooking a prime rib is not as daunting as we think.
The Chefs were so complete with their hands-on prime rib cooking demo that even a novice cook could have walked away with the confidence that a beautiful prime dinner is not all that complicated.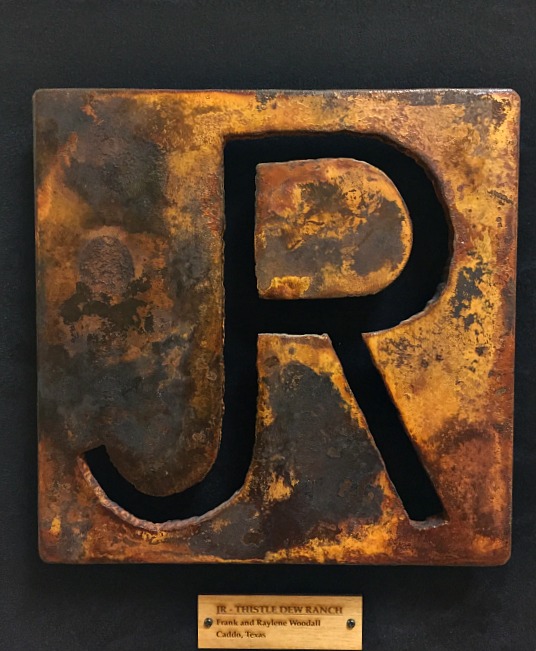 The hallways of their office were lined with tiles displaying brands from beef ranches across the Western United States. This was one of my favorites, art if you ask me.
All three Prime Rib Recipes were absolutely wonderfully impressive. But being a pepper fan, the Peppery Beef Roast was my favorite.
This recipe will be my choice for our special New Year's Eve dinner.
Thanks to Sprouts for the invitation and the Cattleman's Association Test Kitchen for the recipe.  The #SproutsHolidayMeatup was truly a very special event and I left feeling educated and pampered.
And enjoy that prime rib roast this Holiday Season.
Peppery Beef Rib Roast
Ingredients
1

beef Rib Roast

bone-in. small end, chine (back bone removed (6 to 8 pounds), 2 to 4 ribs

14

ounces

beef broth

canned

2

teaspoons

fresh thyme

chopped

Salt

For the Rub:

2

tablespoons

pepper seasoning blend

2

tablespoons

minced garlic
Instructions
Heat oven to 350°F. Combine rub ingredients in small bowl; reserve 2 tablespoons of the rub for the au jus. Press remaining rub evenly onto all surfaces of beef roast.

Place roast, fat side up, in shallow roasting pan. Insert ovenproof meat thermometer so tip is centered in thickest part of beef, not resting in fat or touching bone. Do not add water or cover. Roast in 350°F oven 2-1/4 to 2-1/2 hours for medium rare; 2-1/2 to 3 hours for medium doneness.

Remove roast when meat thermometer registers 135°F for medium rare; 145°F for medium. Transfer roast to carving board; tent loosely with aluminum foil. Let stand 15 to 20 minutes. (Temperature will continue to rise about 10°-15°F to reach 145°F for medium rare; 160°F for medium.)

Combine broth and reserved rub in small saucepan; bring to a boil. Reduce heat; simmer 5 minutes. Stir in thyme; continue simmering 2 minutes.

Carve roast into slices. Season with salt, as desired. Serve with au jus.
Peppery Beef Rib Roast … It's what's for dinner!