Peaches and Cream Pie. Fresh peaches and cream team up to bring us a wonderful Summer dessert.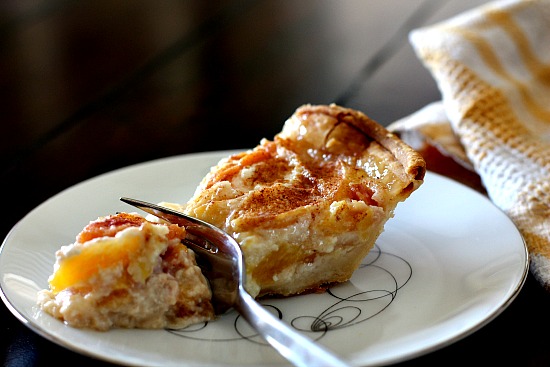 This week's Sunday Supper theme is all about peaches. We're getting all peachy to celebrate National Peach Month in August…and did you know that today is National Peach Ice Cream day? If you're not familiar, the #SundaySupper Movement was started by Isabel over at Family Foodie as a project for "bringing back Sunday supper around the family table." Who can argue with that??? And a big thanks to Sue over at A Palatable Pastime for hosting our event this week.
Our Colorado Western Slope turns out some of the juiciest, sa-weetest, peaches around. The best I've ever tasted. And once those peach vans are on the move, delivering fruit to our Front Range markets, it's an event! Let's get this party started.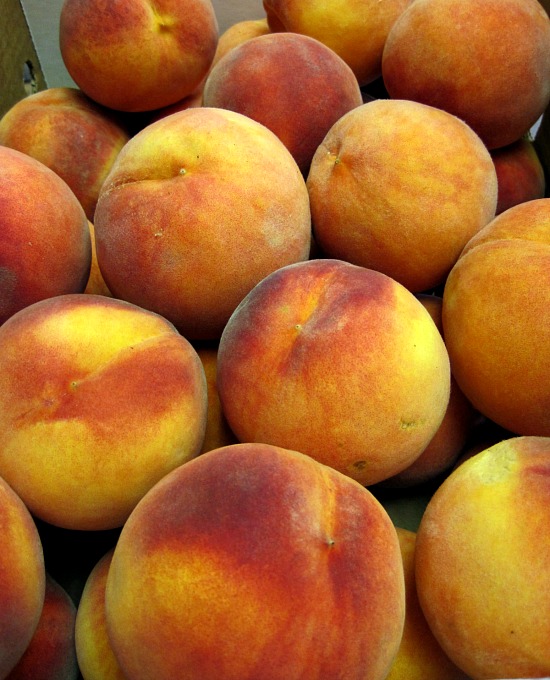 Each year, I buy at least a case from our local Rotary Club and savor each and every fruit until the last bite. I dig out recipes like Peacho-de-gallo, Peach and Burrata Salad…and for today's event this Peaches and Cream Pie.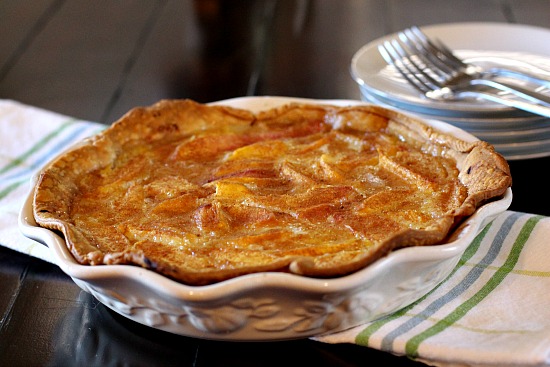 I've wanted to try this recipe for years and years. It's from my mom's recipe box and it's a recipe from an old friend of hers, Vera. Now that my mother has passed, I find myself constantly reminded of questions I wish I would have asked her. And one of those is about her friend Vera Rich. As a very young child I have a dim memory of Vera, but would love to know for sure if she was a high school friend or a friend from church? What happened to Vera? Where did she live? Who was she married to? I tried a Google search that returned absolutely nothing.
This is a wonderful peach pie recipe. Peaches and cream unite to deliver a perfect Summer dessert. A little flour and egg yolk serve to firm things up and a touch of vanilla, cinnamon and brown sugar bring it all together.
And please take the time to make your own pie crust. It's tastier and far more rewarding that buying a pre-made crust at the store. It's a skill that every home cook should take the time to learn.
And if you're looking for more cream pie recipes, take a look at this Coconut Lemon Cream Pie. Aways a crowd please.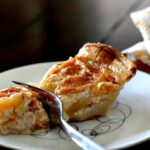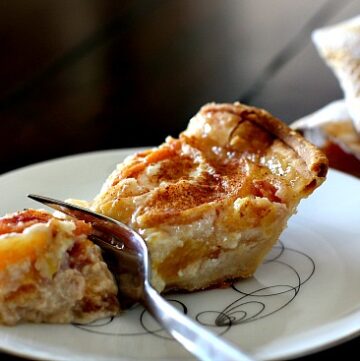 Vera's Peaches and Cream Pie
Ingredients
3-4

peaches

peeled and sliced thin

1

cup

sugar

4

tablespoons

heaping flour

1/4

teaspoon

salt

1

cup

half and half

1

egg yolk

1/2

teaspoon

vanilla

1

t

. brown sugar

1

t

. ground cinnamon

1

inch

unbaked 9- pie shell

4-cup volume

Directions:

in

Place peaches unbaked pie shell.

in

Mix sugar

flour and salt. Blend half and half.

Pour over peaches and sprinkle with cinnamon and brown sugar.

Bake 1 hour at 350 degrees.
Instructions
Preheat oven to 350 degrees.

Place unbaked pie shell in pie pan.

Peel and thin slice the peaches and place in the pie shell.

Mix sugar, flour and salt. Blend in half and half, egg and vanilla.

Pour over peaches and sprinkle with cinnamon and brown sugar.

Bake 1 hour at 350 degrees.
Looking for more Peach Pie Dessert Recipes? How about:
Vera's Peaches and Cream Pie …It's what's for Dessert.