Roasted Leg of Lamb with braised garlic, sherry and thyme au jus. A very special meal for a special occasion. Especially perfect for Easter dinner.
I prepared this meal years ago for a mid-winter dinner party. I've been wanting to recreate it ever since I started this blog and nothing like Easter to inspire an elegant and delicious meal featuring leg of lamb.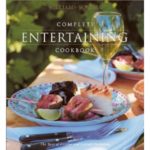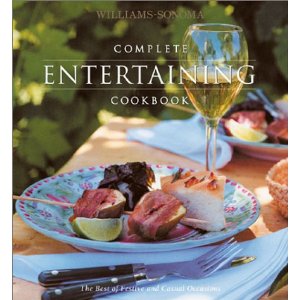 This all comes from Williams and Sonoma Complete Entertaining Cookbook. Published in 1993, it's beautifully photographed and offers complete menu ideas for about any occasion. I've enjoyed having the book in my collection and reference it quite often. It also has great table decorating ideas for your themed events.
Let's start with lamb. With just an hour roast for a boneless leg, this really is quite easy. The hardest part is peeling all those garlic cloves…but wait…I just read about a new microwave method. Just pop a head of garlic into the microwave for 30 seconds, let it cool, separate cloves and the skins practically fall off. Tedious just turned into easy.
It is best to insert the garlic and thyme into the leg the day before roasting to flavor the meat more intensely, but this step can also be done the day of. Be sure to remove the lamb from the refrigerator about an hour before putting it in the oven.
Side Dishes, Herbed Mashed Potatoes
and Glazed Carrots. Let's take a look.
Roasted Leg of Lamb with Garlic, Sherry and Thyme Au Jus
Ingredients
For the Lamb:

1

leg lamb

about 6 pounds

6

cloves

garlic

peeled and cut into slivers

12 – 14

small fresh thyme sprigs

each 1/2 inch long

Salt and fresh ground pepper.

For the au jus and while the lamb is roasting

we"ll braise the garlic:

3

heads garlic

using microwave method, cloves separated and peeled

Beef stock to cover

3

fresh thyme sprigs

1

bay leaf

Finish the Au Jus:

Beef stock as needed

1

cup

dry sherry

4

t

. fresh thyme

Salt and fresh ground pepper
Instructions
For the Lamb:

Cut about 24 small shallow slits into the surface of the lamb. Insert a sliver of garlic and thyme sprig into each slit. Cover and refrigerate up to one day.

Preheat oven to 400 degrees. Sprinkle lamb with salt and pepper and place in a roasting pan.

Roast for about 1 1/4 hour for rare with the bone in, or until a meat thermometer registers 130 degrees. A boneless leg will take about one hour

For the Au Jus

In a sauce pan over medium heat, combine the garlic cloves, stock to cover barely, thyme and bay leaf. Cover, bring to a boil and simmer over medium heat until the garlic is tender. About 25 minutes. Remove from heat and using a slotted spoon, transfer the garlic to a small bowl. Strain the cooking liquid into a 2-cup measuring cup.

Finish the Au Jus:

Add stock to the strained liquid to measure two cups. Add the sherry and bring to a boil. Boil uncovered, over high heat until reduced by one-third. Add the chopped thyme and reserved braised garlic cloves. Adjust the seasoning with salt and pepper and keep warm.

When the lamb is done, remove from oven and cover loosely with foil. Let rest for ten minutes. Carve the lamb and place on individual dinner plates. Spoon some of the sauce along with garlic cloves over each serving of lamb. Serve immediately.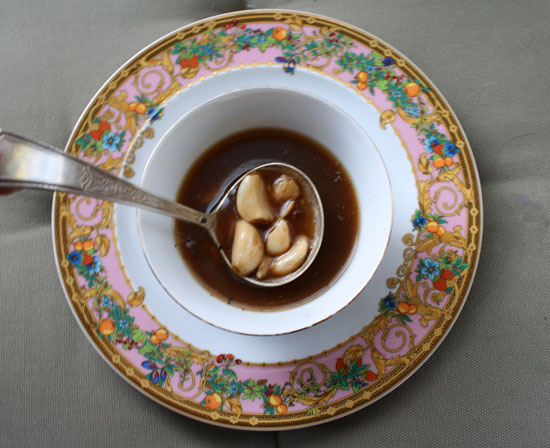 Sherry and Thyme Au Jus
Looking for other Roasted Lamb Recipes? Take a look at:
Roasted Leg of Lamb with Garlic, Sherry and Thyme Au Jus …It's What's for Easter Dinner