I'm famous for forgetting when it comes to cooking. I've been known to leave complete side dishes in the oven, salads in the fridge, and then there's the long lineup of ingredients that didn't make it into recipes.
Take a look at these beautiful wonton strips that I carefully sliced and gently fried into a crispy treat. Do you see them on top of my Chinese Chicken Salad? It must have been two hours after we ate when I remembered that I had forgotten to sprinkle them over the meal.
Years ago I had my first ever Chinese Chicken Salad at the most unlikely place, Champps, the sports bar chain where I should have been digging in to a big fat burger or picking at chicken wings. I fell in love with the flavors of the salad and began ordering it at every restaurant where I could find it on the menu. None compared to the combination of flavors that Champps had whipped up for the dressing. The next time I was there, I asked for the recipe and was quickly denied. I even took the low road and fibbed about allergies demanding to know what was in the dressing for health reasons. He was on to me, didn't think it was cute and smirked "sorry." It's been a very long time since I've been to Champps, and I just checked their menu on line and they no longer offer this entree salad.
I've tired a dozen or more recipes and with tweaks and combination, have come up with this version which is as close as I could get to the combination of sweet, sour and salty for a great oriental chicken salad. Champps served the salad in a chopped version, with small chunks of chicken, greens and vegetables, but I like to make a more dramatic presentation with larger chunks of food. And don't forget those crispy wonton strips for a welcome crunch to a great meal.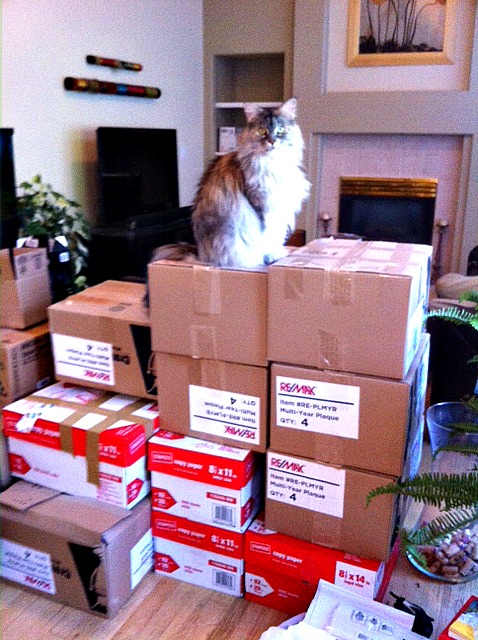 I need to let the cat out of the bag. The last month has been a hectic one. We're moving. After 22 years in our home, we've decided to downsize and move three miles to the east into a townhome complex, Tresana. We'll still live "On The Ranch" (Highlands Ranch), a community that we've grown to love and call our home. It's quite the undertaking, sorting through belongings, packing boxes, making hard decisions for trips to Goodwill, and the fun part, shopping for new furniture. It's been difficult to squeeze in time to blog and to read your blogs. We move in two weeks. In the meantime Queso, our Maine Coon Cat thinks this is great fun. Everyday the boxes, her new jungle gym, grow taller and more plentiful.
Chinese Chicken Salad
Ingredients
1

in

whole bone- chicken breast with skin

3

green onions

cut into chunks

1-

inch

piece of peeled fresh ginger

thinly sliced, plus 1 1/2 teaspoons finely grated ginger

salt

3

tablespoons

vegetable oil plus more for frying

8

inch

wonton wrappers cut into 1/3- strips

3

tablespoons

rice vinegar

1

tablespoon

toasted sesame oil

2

teaspoons

soy sauce

freshly ground pepper

2

leaves

baby bok choy stems halved

cleaned and left whole

2

cups

field greens

1

cup

bean sprouts

1

medium carrot sliced or julienned

1

tablespoon

chopped cilantro

2

green onions

white and green parts thin sliced

1/4

cup

chopped roasted salted peanut
Instructions
In a medium saucepan, cover the chicken breast with water and bring to a simmer over moderately high heat. Reduce the heat to low and skim. Add the 3 whole scallions, the sliced ginger and a pinch of salt. Simmer until the chicken breast is cooked through, about 25 minutes. Transfer the chicken to a plate and let cool to room temperature. Discard the skin and bones and shred or slice the meat.

In a medium saucepan, heat 1/2 inch of the vegetable oil over moderately high heat until shimmering. Add a small handful of the wonton strips and fry over moderate heat until crisp and golden brown, about 10 seconds. Drain on paper towels and repeat with the remaining wonton strips.

In small bowl, whisk the rice vinegar with the sesame oil, soy sauce, grated ginger and 3 tablespoons of vegetable oil. Season with salt and pepper.

In a large bowl, toss the sliced green onion, bok choy, bean sprouts, carrot, cilantro and peanuts. Add the chicken, wonton strips and dressing; toss and serve
Chinese Chicken Salad…It's what's for Dinner