Los Olivos Cafe Chicken Couscous Salad…made at home. Have you seen the movie "Sideways"? It's one of those movies that you either love or hate.
We happen to fall into the "love it" category so a few years ago we headed to the Santa Barbara area for combination bird watching and wine tasting trip. Yup, we did the Sideways Wine Tour that led us through the Santa Ynez Valley and beyond.
We lunched at the Los Olivos Cafe, in Los Olivos.   For all of you familiar with the movie, this is the sight of the first date dinner where Miles "drank and dialed".  It's a fabulous restaurant with dining on one side and a wine bar and wine store on the other. The atmosphere was so lively and comfortable we fell in love with Los Olivos Cafe.
This is actually a historic event for us because it's the first time I remember loving our food so much that we actually took our first food photo. Seems odd now, since I now photograph food on a daily basis.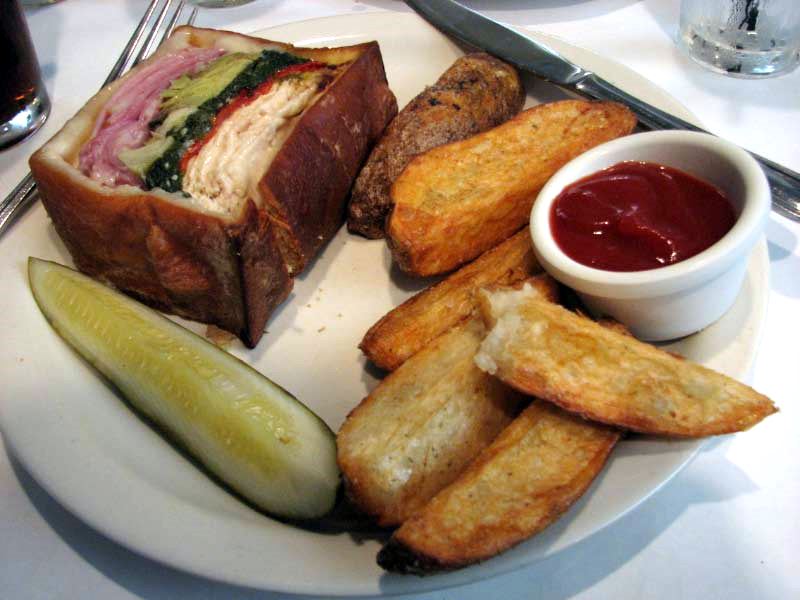 Here's that first food photo. Take a look at this sandwich that Bob ordered. Here's what I remember about it. A brioche type bread, hollowed out and layered with meats, cheeses and peppers. This was served warm and perhaps fried and it resembled an open-faced Monte Cristo somewhat. Out of this world.
I didn't take a photo of my lunch that day,  but I did make notes so I could try to recreate it at home. Just this week, and four years later, here's my attempt. First of all let's review the description of this dish from their web site: Field Greens, Toasted Couscous with Vegetables, Roasted Free Range Chicken with Curry Remoulade and Toasted Almonds.
Curry Remoulade[/caption]
Heading over to Google, I quickly found a curry remoulade recipe and went to work. Great recipe and I know I'll find other uses for it.
It's been too long ago to remember my exact lunch at Los Olivos Cafe to know how close I came to their version. But I do know what I served up was delicious and will go into my database carrying its namesake. Here's what I did:
Los Olivos Cafe Chicken Couscous Salad
Famous Los Olivos Cafe Chicken Salad Recipe.
Ingredients
1

roasted chicken breast — sliced

Cup

Cooked Israeli couscous

1

tablespoon

olive oil

5 – 6

Broccoli crowns

steamed

2

cups

field greens

6 – 8

cherry tomatoes

halved

Feta cheese and toasted almonds for topping

Toasted almonds

For the Curry Remoulade:

2/3

cup

mayonnaise

2

teaspoons

curry powder

1

tablespoon

capers

drained

1

tablespoon

cilantro

chopped

1

pinch salt
Instructions
Roast the chicken breast in the oven for 30 minutes. Let the chicken breast sit for 10 – 15 minutes and then slice.

Cook the broccoli stove top or steam until bright green and tender. Set aside.

In the meantime, cook the couscous according to package directions. Drain. Heat a fry pan over medium high heat. Add olive oil. When the olive oil is hot, add the couscous and toast for about 5 minutes, shaking pan as you cook.

In a medium bowl, add the ingredients for the curry remoulade. Mix well until all flavors are blended. Add the sliced chicken and gently stir to coat.

On a plate, place a hand full of the field greens. Add a scoop of the toasted couscous then arrange chicken slices, tomatoes and broccoli. Sprinkle with feta and almonds and dig in.
Did you see the movie Sideways? Love or hate it?
Los Olivos Curry Chicken Salad … It's What's For Dinner.