This Jicama and Orange Salad is a breath of fresh air as we're making our way through Winter. Crunchy, fresh and with red onions and oranges, it was a bright and refreshing side dish for these heavy duty flavored Beef Brisket Tacos.
It's time I become more familiar with jicama. It's always in our markets here in Denver, you don't have to cook it, it peels easy, it easily absorbs flavors, and it's a great side dish for all the Mexican food that seems to frequent our dinner table.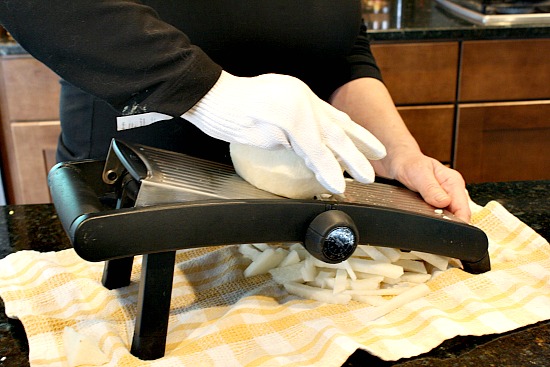 I learned how to make this salad using my mandolin at our recent Sur la Table cooking class. Through the class, I also learned that your hand makes a great mandolin guiding tool using this cut resistant glove made by Victornox. Taking it for a test drive, it worked like a charm. I'm here to say, I love my new glove as no hands were harmed while making this salad.
Jicama and Orange Salad
Ingredients
Salad:

2

medium

navel oranges

cut into wedges

1/2

cup

thin sliced red onions

1

medium

jicama

peeled and cut into 3 inch long matchsticks

Dressing:

1/4

cup

fresh orange juice

2

tablespoons

vegetable oil

1/4

teaspoon

cayenne pepper

1/2

teaspoon

medium heat Ancho chile powder

1/2

cup

coarsely chopped cilantro leaves

salt and pepper to taste
Instructions
In a large bowl, combine the orange with onion and jicama and toss until well combined.

For the dressing: In a medium bowl, whisk to combine the orange juice with the oil, cayenne, Ancho chile and cilantro. Taste and adjust seasoning with salt and pepper.

Drizzle the dressing over the salad and toss until well coated. Taste and adjust seasoning with salt and pepper. Cover with plastic wrap, transfer t the refrigerator and allow to marinate for 1 - 2 hours.

To serve: Transfer to a platter or bowl and serve cold.
Jicama and Orange Salad…It's what's for a Side Dish.