As if the Honey Butter and Horseradish weren't enough deliciousness for these grilled wings, we add a parsley puree to finish. Making this one special grilled chicken wing recipe that you must try soon.
Don't you love Summer and eating large chunks of food with your hands? Ribs, burgers, watermelon…corn on the cob…and really, aren't our hands more practical and convenient than utensils? All Winter long we perform balancing acts with tiny forks and spoons…poking and scooping small bites. And, experts believe that when we touch our food before putting it into our mouths millions of nerve endings on the tips of our fingers are getting a temperature and texture reading that is immediately sent to the stomach, warning it that nourishment is on it's way.
Those nerve endings will jump with excitement when they feel these Honey Buttered Grilled Chicken Wings with Parsley Sauce. During grilling, the wing pieces and drumettes are basted with a buttery glaze of horseradish and honey. After first bite, those fingers will suggest that you dip that wing into the vibrant garlic-spiced parsley sauce waiting nearby. A great Summer hand held treat.
And by the way, do you eat pizza with your hands? I always do, even those big thin sloppy slices can be folded into a bite-able snack. Last night as I removed a slice of pizza from the pie with my hands, I watched Bob and Goddaughter Stephanie using a spatula, and then a knife and fork. Peculiar.
Looking for more Chicken Wing recipes? Grab this one: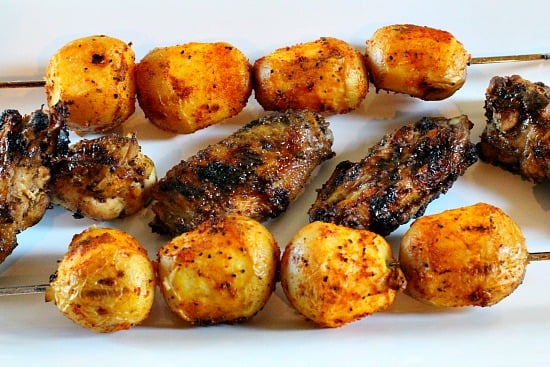 or this Baked Chicken Wings Recipe
Honey Butter Grilled Chicken Wings with Parsley Sauce
Ingredients
1

stick unsalted butter

2

cloves

small garlic

finely chopped or grated

2

Tablespoons

fresh lemon juice

1 1/2

Tablespoons

honey

1

Tablespoon

prepared horseradish

2

Tablespoon

finely chopped parsley

plus 1 cup packed parsley leaves

salt and pepper to taste

1/3

cup

extra-virgin olive oil

plus more for brushing

20

chicken wings separated into wings and drumettes
Instructions
In a microwave safe bowl, gently melt the butter. When melted, stir in half of the garlic, 1 tablespoon of the lemon juice, the honey, horseradish and chopped parsley. Season generously with salt and pepper.

In a small saucepan of salted boiling water, blanch the parsley leaves until bright green, about 1 minute. Drain and cool under running water. In a blender, puree the parsley with 2 tablespoons of water and the remaining garlic and 1 tablespoon of lemon juice until nearly smooth. With the machine on, gradually add the 1/3 cup of oil until incorporated. Season the parsley sauce with salt and pepper.

Light a grill. Brush the chicken wing pieces with oil and season with salt and pepper. Grill over moderate heat, turning occasionally, until charred in spots and just cooked through, 20 to 25 minutes. For the last 10 minutes baste the chicken with the honey butter as you grill and turn. Transfer the chicken to a platter or plates and serve with the parsley sauce.
Honey Butter Grilled Chicken Wings with Parsley Sauce …They're what's for Dinner.