Cream Cheese Chili Dip. Yes, easiest appetizer recipe ever. And very tasty!
After spending hours preparing and arranging food this December, on this Monday before Christmas, I can actually say that I'm feeling "cooked out". I'm not complaining nor even bragging for that matter, but I'm noticing the wear and tear on my energy from entertaining and being entertained this season.
We all have to draw the line somewhere, and sometimes thinking little is a good thing. So for one more pot luck this week, I'm pulling out the easiest appetizer dip recipe – EVER. And it's delicious! It takes all of 5 minutes to make and 15 seconds to arrange and present.
It's so easy that I'm already feeling re-energized for our Christmas Eve Prime Rib Dinner that I'll be hosting.
Tis the season for appetizers, and this one will coast you through Super Bowl. 2 ingredients. Cream Cheese and a can of chili. Boom. We really think Hormel Chili with No Beans is your best bet. Serve with corn chips and a bowl of your favorite salsa. Thanks to my friend Karen Cicone for this great find.  'Ole! I've provided an affiliate link for your convenience.
Easiest Dip Appetizer Ever, Cream Cheese and Chili
The easiest dip appetizer recipe ever.
Ingredients
1 15 1/2-

ounce

can beef chili with no beans

1 8-

ounce

package cream cheese
Instructions
Let cream cheese come to room temperature. Place both chili and cream cheese in a sauce pan over medium low heat until everything is hot, creamy and blended. About 5-8 minutes. Stir often. Serve with corn chips and a bowl of your favorite salsa.
Love easy, delicious and crowd pleasing? Take a look at this: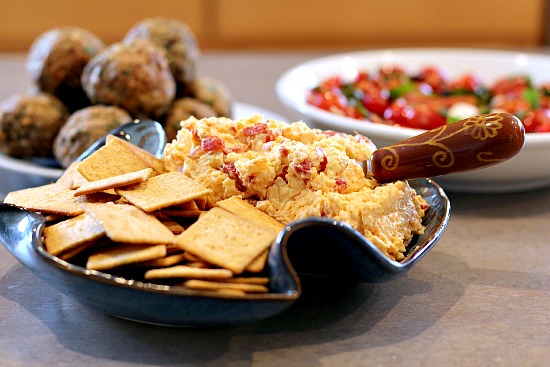 Cream Cheese and Chili Dip … It's what's for an Appetizer