Caramelized garlic and dry sherry make a luscious sauce for this simple but delectable braised chicken dish.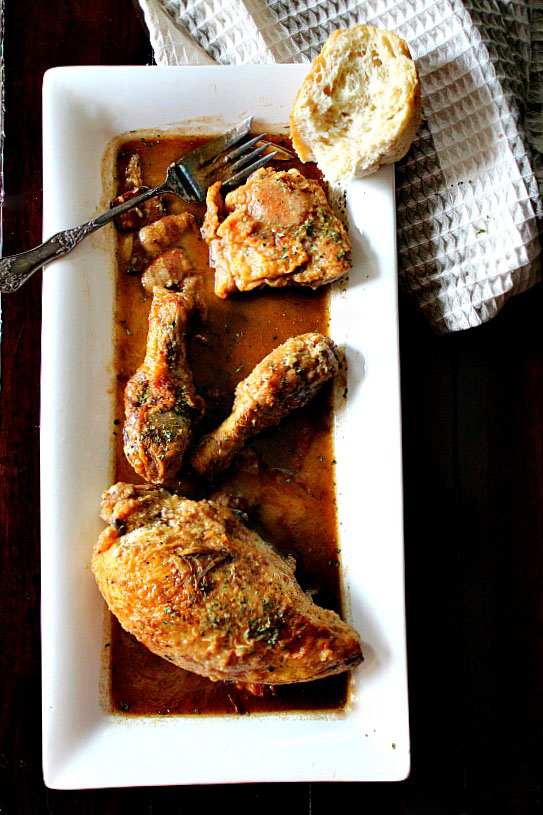 This recipe was first published in Saveur Magazine in 2012. We're big fans of Saveur at our house, and have been subscribers for years. I like to describe it as the National Geographic for food lovers.
We're also big fans of braised chicken dishes. Crispy browned chicken pieces that have been slow roasted in a savory sauce = gimme a slice of bread to sop up every single scrumptious bite.
This recipe comes with a story, giving it its curious name.

"I'm Dolores. So, Alejandro, what happened? I've watched you sulking around in here for a couple of days like a monk in an abbey, and you never buy anything." I choked up instantly. "Oh dear, sorry I asked." She waved her hands. "Oh dear, don't worry." Suddenly this lusty-looking lady sounded like a nurse. "I'm sorry. I really am. Hey, how's about we get some lunch after I close my stall?"
Why did I say yes? Dolores's smile, maybe, and the fluttering frilled red silk carnation she'd tucked behind an ear. It was both pretty and ironic…..
You can read all about Dolores and her broken heart over at Saveur, My Spanish Sanctuary, by Alexander Lobrano. It's a story about a traveler who heals a broken heart in the ancient market of Cadiz.
But for now, let's talk about this wonderfully savory braised chicken dish. Floured and browned in bacon fat, the chicken then bakes in a sauce of sherry and garlic. Don't forget some fresh baked bread to mop up that unforgettable sauce.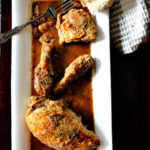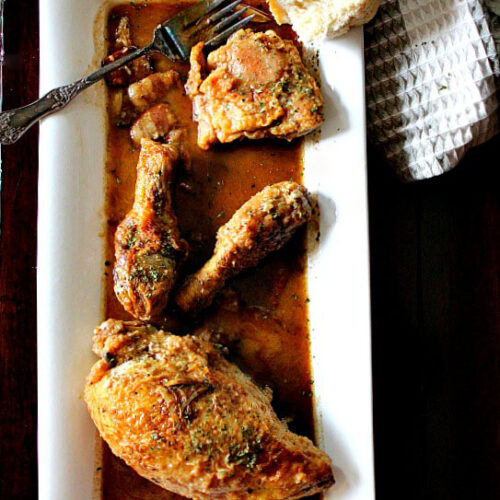 Dolores's Broken Hearted Chicken
Ingredients
1/2

cup

flour

1

3-pound

whole chicken

cut into 8 pieces

2

slices

bacon

roughly chopped

3

Tablespoons

olive oil

5

cloves

garlic

thinly sliced

1

cup

chicken stock

1/2

cup

dry sherry

2

Tablespoons

parsley

rough chopped

2

Tablespoons

unsalted butter

cut into 1⁄4″ cubes

Country bread

for serving

Kosher salt and freshly ground black pepper

to taste
Instructions
Heat oven to 350°. Place flour in a bowl; set aside. Season chicken with salt and pepper, and dredge in flour; set aside. Heat bacon in a 12″ ovenproof skillet over medium-high heat, and cook, stirring, until its fat renders, about 4 minutes. Using a slotted spoon, transfer bacon to a bowl; set aside. Add oil to skillet, and working in 2 batches, add chicken, and cook, turning once, until browned on both sides, about 12 minutes. Transfer to a plate and set aside.

Add garlic to the skillet, and cook, stirring, until golden brown, about 2 minutes. Add stock and sherry, and return chicken to the skillet, skin-side up; sprinkle with reserved bacon along with parsley, and then dot with butter. Transfer skillet to oven, and cook, basting twice during cooking, until chicken is cooked through and tender, about 40 minutes; serve with country bread.
Dolores's Broken Hearted Chicken…It's what's for Dinner.