Unfortunate cafeteria appearances with instant mashed potatoes, greasy soirees with an 80/20 burger blend, mingling with too many bread crumbs and you've got a tainted reputation to mend.  It seems we've all had a bad experience with meatloaf, but if flavored just right, blended correctly with binders and treated with care, it can live up to being a classic comfort food.
Let's talk about that blend. Meatloaf seems to be finicky. I blame that on the generic description "bread crumbs." What exactly does 1 1/2 cups of bread crumbs mean? Fresh bread? Stale dry bread? Do you smash bread into the measuring cup to get 1 1/2 cups or is a  loose measurement? How big do you tear the pieces of bread? Does that mean you can use those fine canned crumbs from the supermarket? Even following directions from some of our beloved experts, I find myself tweaking the recipe to get the perfect "feel" before I form that loaf. How do you interpret bread crumbs? And with that said, my mom always used crushed Saltines.
Here's a different and spicy version of our American classic. Rich with chili powder, sassy with cumin, sweet with creamed corn, this is a dinner suitable for our Southwestern lovin' palates. This recipe makes two loaves, cook one and freeze the other. And, of course, left overs make wonderful cold sandwiches.
You'll find the recipe below, but first let's drink a little wine.
We've been crazy about Orin Swift wines since we first tried his Prisoner several years ago. 2012 Machete, a recent addition to his lineup, has quickly become our new favorite. Made of Petite Sirah, Syrah and Grenache, it challenged any preconceived ideas of how wine ought to taste. While it finished typically strong I got a unusual sense of iced tea on the easygoing open. In all, it's one of the most different wine adventures we've ever had.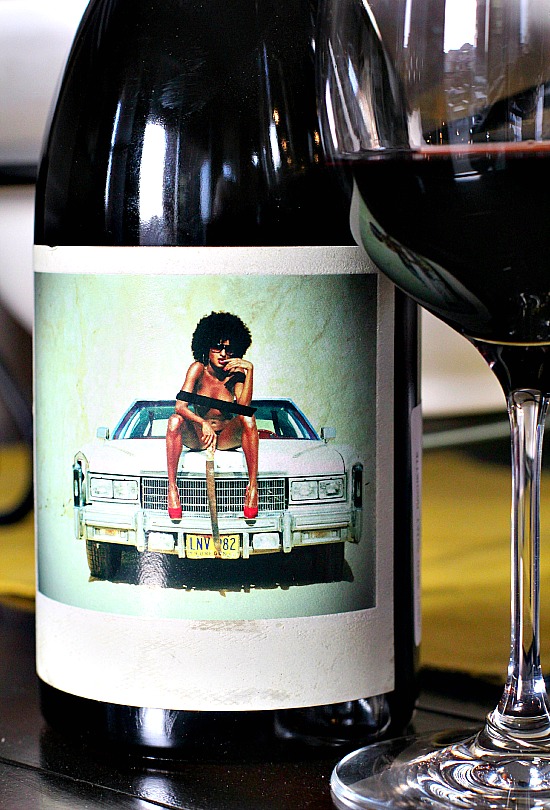 I'd be remiss not to mention that Machete, like all Swift wines, features a unique front label. Actually there's several related labels that star leggy models and at least one big sixties car. Price point: $45.
Colorado Chili Meatloaf
Ingredients
2

tablespoons

olive oil

1

large onion

peeled and fine chopped

1

red bell pepper

cored, seeded and fine chopped

2

cloves

garlic

minced

4

Hatch green chile

roasted, skin removed, seeded and rough chopped

2

tablespoons

chili powder

2

teaspoons

salt

2

teaspoons

oregano

Mexican if you have it

2

teaspoons

cumin

1 28-

ounce

can tomatoes

drained, chopped

1 1/2

pounds

lean ground beef

1/2

pound

ground sausage

1

cup

very fine bread crumbs

adjust if needed to get consistency

2

eggs

lightly beaten

1-15

ounce

can creamed corn

8

ounces

cheddar cheese

grated
Instructions
In a large hot skillet heat olive oil over high heat. Add onions, bell pepper, Hatch chiles, chili powder, salt, oregano and cumin. Turn down heat to low and cook, stirring occasionally until vegetables are soft, about 10 minutes. Add garlic and cook until fragrant. Add tomatoes and cook covered, stirring occasionally, for 10 minutes. Remove from heat and let cool to room temperature.

Preheat oven to 350 degrees. In a large bowl, combine beef and sausage. Add cooked tomato mixture, bread crumbs,eggs, corn and green onions and mix well. Press into two 9 x 5 loaf pans.

Bake 50 minutes or until meat thermometer into center registers 160 degrees. Pour off any pan juices. Sprinkle cheese evenly over meat loaf and rerun to oven until cheese melts.
Colorado Chili Meatloaf…It's what's for Dinner.