Floured and sauteed chicken cutlets with garlic red bell pepper cream sauce. Roasted garlic, roasted red bell pepper and a dreamy creamy sauce. An easy and elegant recipe easy enough for a weeknight and snazzy enough for entertaining.
Please don't tell Colorado …but I'm having a love affair with Oregon. Let's talk some Oregonese.
Our two last vacations have been to the Northern Willamette Valley region of Oregon. What a foodie and wine lover's paradise. The Willamette Valley is in the heart of Oregon Wine Country and contains two-thirds of the state's wineries and vineyards. And the Pinot Noir…world class in my humble opinion.
And where there's wine there's always an abundance of impressive cuisine. From wonderful restaurants, to farms where you pick your own bounty, to wineries offering up world-famous chefs to prepare winemaker's dinners, to famous cheese factories like Tillamook. In Oregon you'll find a culinary discovery around every bend in the road.
So with all that said, I've recreated this wonderful chicken cutlet recipe, and idea that comes from an idea an Oregon Cookbook, The Vintner's Kitchen.  I've included an affiliate link for your convenience.
The original recipe calls for making your own Chicken Hazlenut Sausage. Which I did. And I wasn't crazy about the flavor, but very satisfied that I made my own sausage.
Following the recipe from The Vintner's Kitchen, I used my food processor to mix the egg, ground chicken, hazelnut mixture into a pasty texture to form into tubes. I've never done this before and it was quite fun and rewarding. Using plastic wrap to form the tubes, you just drop them into simmering chicken broth and they cook up like a charm. Look at my first roll, perfect! I have absolutely no explanation why the other two rolls became unruly. The lengthy recipe, which I won't post, then instructs you to slice and saute the sausage until brown and lay on top of this recipe for garlic and red pepper cream sauce.
Totally impressed with the garlic and red bell pepper cream sauce, I wanted to come up with a chicken recipe that was much less time consuming than sausage. I've simply floured and sauteed chicken cutlets. Delicious and a much more manageable meal.
How to roast garlic. Roasted garlic adds a an amazing depth of flavor to any recipe. And elevates this sauce to an over the top experience. Roasting garlic is so easy.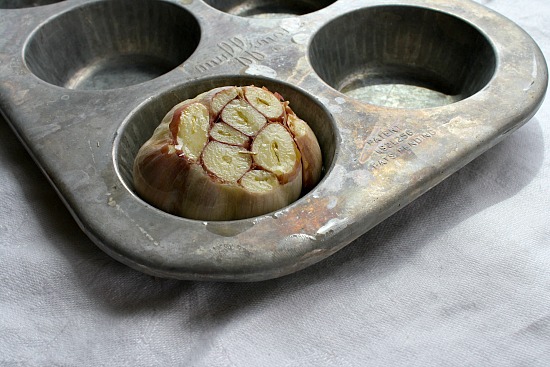 Preheat oven to 400 degrees. Get out your muffin tin pan. Cut the end of the garlic bulb off to expose the cloves. Rub the inside of the muffin tin with olive oil. Drizzle olive oil over the exposed end of the bulb and then rub the garlic head with the oil.
Place the garlic clove in the muffin tin and bake for 30 minutes.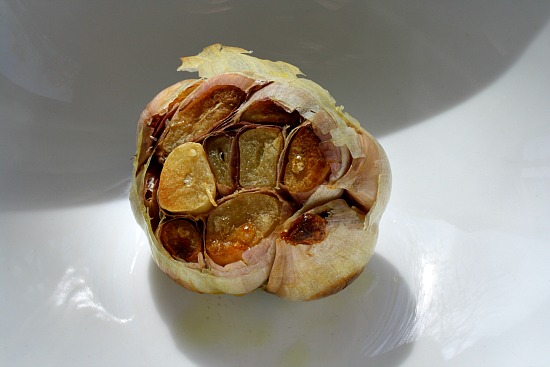 The cooked garlic cloves easily squeeze out of their papery shells. Amazing flavor.
Chicken Cutlets with Garlic Red Bell Pepper Cream Sauce
Sauteed chicken cutlets resting in a rich and flavorful cream sauce. Easy and snazzy enough for entertaining.
Course:
Main Course Chicken
Ingredients
1

Cup

Chicken Broth

10

cloves

garlic

roasted

3

Cups

Heavy Cream

1

Red bell pepper

roasted and chopped

Salt and pepper to taste

chives

chopped, for garnish

4

Chicken breast cutlets

2

Tablespoons

flour

1/4

cup

canola oil
Instructions
For the Sauce: combine all of the ingredients and simmer to reduce the liquid to 2 cups. About 30 minutes.

Meanwhile, heat oil in a fry pan. Dust the chicken cutlets with flour. Salt and pepper to taste.

Sautee the chicken breasts until browned and cooked through.

To serve. Pool the sauce on a serving plate and arrange the chicken cutlets over it. Pour additional sauce over the top of chicken and scatter chopped chives to garnish.
Recipe Notes
Don't substitute half and half or milk for this recipe, or the sauce won't thicken property. If you do want to substitute, add a flour/water mixture to the sauce for a thickening agent. In a small bowl, mix 2 tablespoons flour with 2 tablespoons water. Add to the sauce mixture once it's hot.
Chicken Cutlets with Garlic Red Bell Pepper Cream Sauce … It's what's for Dinner
Interested in Oregon Wine Country? Take a look at my write-ups on our trips:
INTERNATIONAL PINOT NOIR CELEBRATION, LUNCH AT ERATH WINERY, OREGON WINE COUNTRY, DAY 2