Avocado and Artichoke Eggs Benedict. An unlikely but delicious combination for Hollandaise Sauce and a Poached Egg.
Just a quick post to talk about a version of Eggs Benedict that found it's way to our breakfast table this past Sunday. Meteorologists had predicted a blizzard which was to bring a foot of snow to Denver. The storm was to begin early Sunday morning and not clear out until Monday morning. Correct in their forecast, we were snowed in all day Sunday. Armed with groceries and recorded episodes of Downton Abbey, we loved every minute of being snowed in.
I had planned ahead for food and made my trip to the grocery store on Saturday. Breakfast was an English Muffin topped with two slices of avocado, about three artichoke hearts (canned packed in water, drained), my Blender Hollandaise Sauce and of course a poached egg. Sided with some colorful kiwi and blueberries it was a very special breakfast.  The lemony sauce was a nice compliment to the tart artichoke and the creamy avocado.
A runny egg story wouldn't be complete without an action shot. I must say the orange of the egg yolks and the juice brought sunshine to the snowy scenery outside our kitchen window.
Poor wittle Weber.
Looking for more Eggs Benedict Ideas?  How about: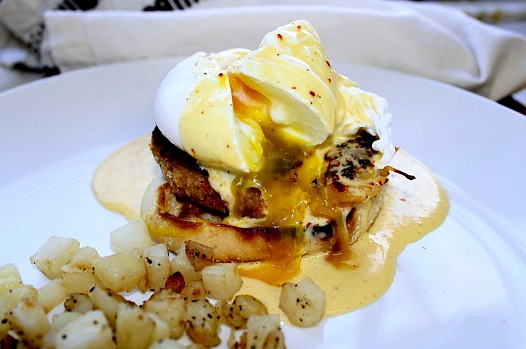 Avocado and Artichoke Eggs Benedict …It's What's for Breakfast.