This month's Wine Night party found us celebrating one of the best wines I've ever sipped. A Barolo from Italy. Barolo wines are derived from the Nebbiolo grape and are produced in Italy's Piedmont region. Nebbiolo is a black-skinned red wine grape variety most famous for creating the 'tar and roses' scent that is prominent in Barolo wines. This is truly one of the world's best red wines and is a prime example of a wine that gets better and better with age.
The usual suspects were in attendance, Tom, Kathy, Dan, Teri, Bob, me, the dogs and the Cheetos.
But the guest who mastered the table was the bottle of Renato Ratti, 2005. Garnet red in color, with traces of tobacco and licorice, it was full-flavored, full-bodied and elegant.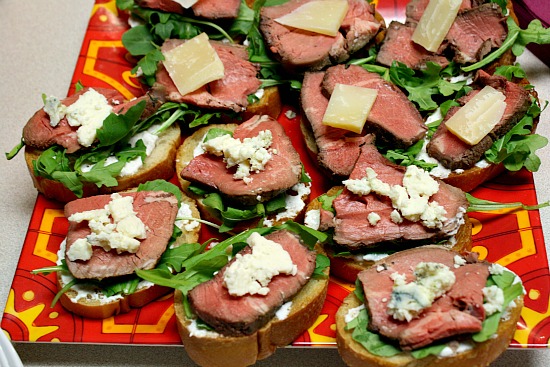 Common sense dictated that red meat would be the perfect appetizer to serve alongside this generous wine, and Kathy was spot on with this wonderful platter of room temperature perfectly cooked beef tenderloin served on a sliced baguette that had been smeared with horseradish sauce, a sprinkle of arugula and then topped with either blue cheese or a shaving of Parmesan. A wonderful choice. The rich hearty flavors held up nicely with the full-bodied wine.
To our surprise, the smoked salmon platter seemed a great compliment to this wine, as well. I don't know if this is more about the versatility of a Barolo wine, or the versatility of our group being world class snackers and sippers.
The rice crackers served as a great platform for a swipe of horseradish cream sauce, followed with a slice of Tillamook mild cheddar cheese and a chunk of smoked salmon.
Both of these dishes worked very well for appetizers for Italian Wine.
Dan and Teri brought a chaser bottle of a high scoring wine, Rivetto Barolo, 2007. Vivacious and packed with sweet berry, laced with leather and tobacco, long on the finish, we all raved. Thanks Dan and Teri.
From the kitchen of Lea Ann Brown