Lemony, caper studded pearl couscous, savory white beans topped with Achiote shrimp makes for a fabulous little big-time recipe. Achiote Shrimp with Lemony Couscous and White Beans is a healthy dinner choice.
What is Achiote Paste? – Give It A Try
If you've not cooked with achiote you should put it on your culinary bucket list. Just look at the brilliant color it adds to the shrimp, not to mention the zest of earthy flavor.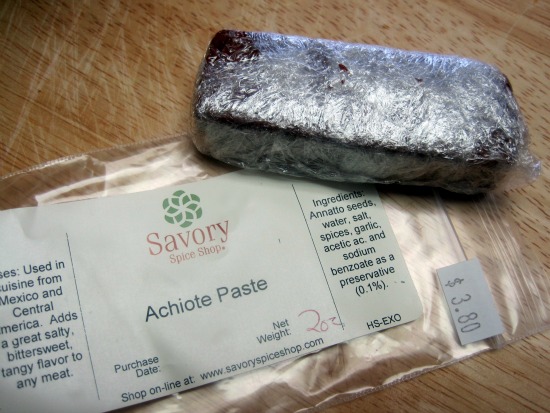 Achiote comes in two forms, paste and powder. I've always used the paste which I purchase from Savory Spice Shop in Downtown Littleton. Made from ground annatto seeds, this bright orange-red spice has a peppery aroma and a subtle flavor that's been described as nutty, sweet, and earthy. To me, it's not a hot spice at all. It's native to tropical areas in the Americas and most commonly used in Mexican, Central and northern South American, and Filipino cooking.
This bright hued powder also turns foods brilliant shades of yellow, orange and red depending on cooking method and other ingredients. In fact,  achiote is used commercially to color things like butter, cheddar and cheese.
I store my bar of achiote in an airtight container in the pantry. You can also store it in the refrigerator. Keep it wrapped in plastic wrap so it will retain its somewhat oily texture and flavor. On my last trip adventure to the Mexican Market across town, while browsing their huge bottled sauce selections I spotted a bottle of Achiote Sauce. I couldn't resist the purchase and used it for this recipe.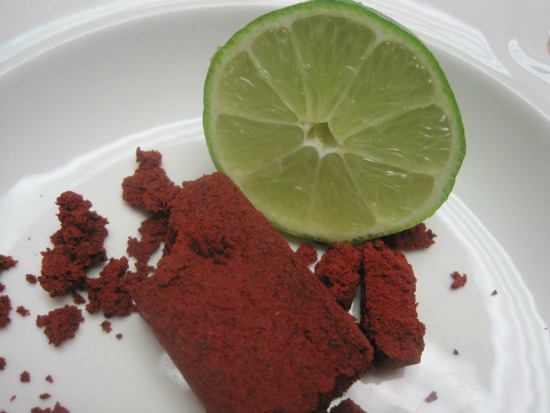 I'm fairly certain this bottle of sauce might be hard to find, so simply diluting achiote paste in lime juice will also work. I've indicated the amounts in the recipe below.
This recipe combines beautiful pearl couscous and white beans that have been flavored with lemon, capers and parsley. And topped with the beautiful earthy shrimp, this is a fresh and lovely dish.
Spicy Shrimp with Couscous and White Beans
Ingredients
2/3

cup

pearl couscous

3

tablespoons

extra-virgin olive oil

1

pound

shelled and deveined medium shrimp

1

ounce

achiote paste dissolved

1/4

cup

lime juice *see note

2

tablespoons

unsalted butter

ounce

One 15- can white beans

rinsed and drained

2

tablespoons

capers

1 1/2

tablespoons

fresh lemon juice

1

tablespoon

chopped parsley
Instructions
In a bowl, stir the couscous with 3/4 cup of boiling water. Cover with a lid and steam for 5 minutes. Fluff with a fork.

Meanwhile, In a bowl, combine the achiote paste and lime juice. With a fork, stir well until mixed together. Add the shrimp and mix well to coat with the achiote mixture. In a nonstick skillet, heat 2 tablespoons of the oil. Add the shrimp and cook over moderately high heat until golden, 2 to 3 minutes; transfer to a plate. Add the butter to the skillet. Add the beans, capers and lemon juice and cook, stirring, for 2 minutes.

Fold the bean mixture, parsley and remaining 1 tablespoon of olive oil into the couscous; season with salt and pepper. Serve topped with the shrimp.

You can also use about 2-3 tablespoons of bottled achiote sauce found in the hot sauce aisle at a Mexican Market. Just sprinkle over the shrimp and mix well to coat.
Looking for another way to use Achiote? Take a look at this Rick Bayless recipe for: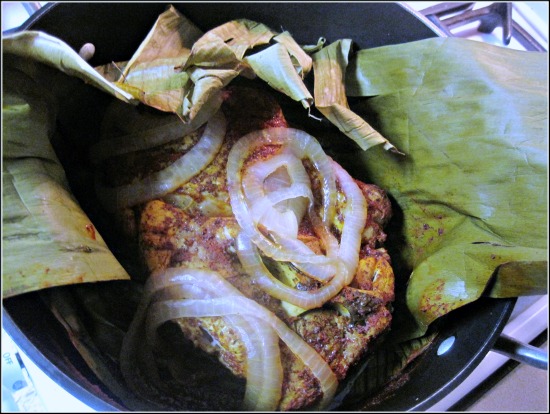 Achiote Shrimp with Lemony Couscous and White Beans…It's what's for a Colorful Dinner.