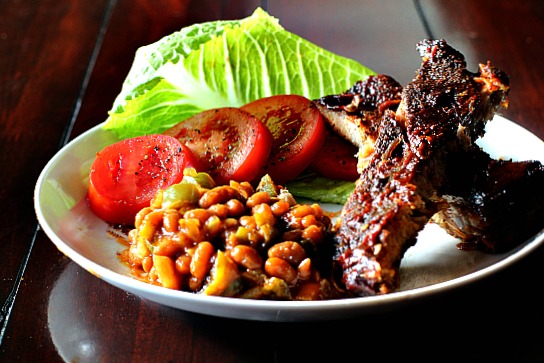 Happy 2nd Wednesday to all, and that means we're joining in the Blogger's Clue fun for June. Blogger's Clue is a monthly party created by Liz over at That Skinny Chick can Bake. For each assignment, we're given a clue, and a blog and we're to take that clue and find a recipe to make. This month that clue was BBQ!
I was assigned to a blog who I've been following for some time.  Elliot's Eats. Elliot lives in Tulsa, and is a stray kitten who wandered upon a doorstep and found his way into the hearts of a non-cat loving couple. Named after the author's favorite poet, Elliot is a great channel for some great food, travel and enjoyable reading. Her philosophy is to patronize small and local owned businesses, to grow her own veggies, extend the growing season with a green and hoop house and visit local farmer's markets. Her clever style of writing, (English major-driven, her, not the cat) makes for a great read with some delicious food thrown in.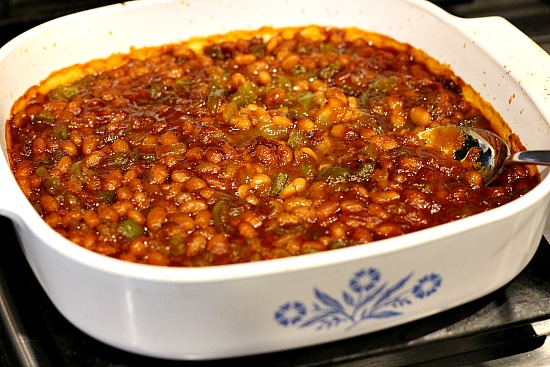 Her BBQ Ribs and Spicy Baked Beans post caught my eye for this month's project. Reason? One of the first things I learned to make were baked beans. And it was my own special recipe using a can of pork and beans and doctored up with catsup, mustard and brown sugar. At my young age, I thought it was brilliant. Eliot's Eats takes my simpleton idea and turns it into a masterpiece of a side dish. Baked until bubbly and caramelized, let's take a look at this Junior League Oklahoma bean recipe.
Oklahoma Spicy Baked Beans
Ingredients
Spicy Baked Beans

1/2

c

. ketchup

1/4

c

. Worcestershire Sauce

1

t

. chili powder

1/2

t

. Liquid Smoke

1

T

. prepared mustard

1/4

c

. brown sugar

1/4

t

. fresh ground pepper

1

oz

can pork and beans

28 ., fat "pork" pieces removed

1

large onion

chopped

1

large green bell pepper

chopped

2

T

. extra-virgin olive oil

2

T

. flat leaf parsley

chopped
Instructions
Preheat oven to 350 degrees.

In a 2 quart mixing bowl, combine ketchup, Worcestershire sauce, chili powder, Liquid Smoke, mustard and brown sugar. Whisk until smooth.

Add the beans and mix with a spoon.

Heat olive oil in skillet and sauté onions for 4 minutes. (Onions should be transparent.) Add peppers and sauté another 4 minutes or until onions begin to brown.

Add onions and peppers to bean mixture—do not drain. Add parsley. Stir.

Prepare a 2 quart casserole dish by wiping sides and bottom with 1 T. Olive Oil. Pour mixture into dish and back for 45 minutes.
With Chili Powder, Worcestershire Sauce and Liquid Smoke, you won't even notice that there's no bacon in the recipe. In her post, Eliot's Eats indicates she wanted to try this recipe with black beans, as well. I'm wondering if she did? I'd love the know the result. Thanks for a great recipe! This Oklahoma Spicy Baked Beans recipe will be a staple side for my BBQ slabs.
'Tis the season for the BBQ. Take a look at what the rest of our group chose for their Summer treat.