I got it in my head that I couldn't live without pickling cauliflower. Since I was too lazy to head to the basement to dig out my Ball Canning Cookbook I went a-Googling for a recipe.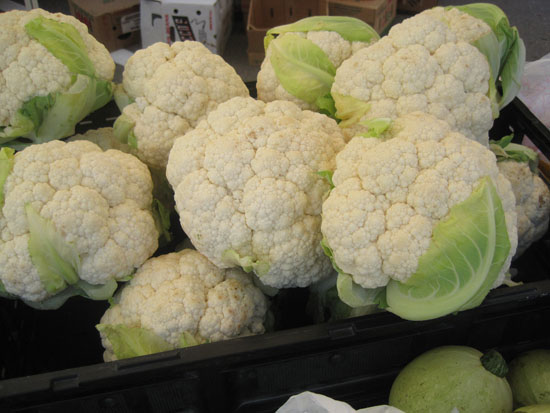 And the stars must have been aligned just right, because after deciding on a recipe, the next morning I ran across this bin of these beautiful clouds of Colorado grown cauliflower at the Farmer's Market.
I had no intention of adding curry powder to my pickled cauliflower, but couldn't resist after seeing a couple of recipes touting it's grandeur. I combined recipes because one had too large of a water to vinegar ratio for my taste, and the other didn't have any sugar. I've also added red bell pepper for color and sliced red jalapeno for a kick of heat.
This pickled cauliflower isn't officially canned. It's easy to make, cured in the refrigerator for five days and voila, you've got elegant flavored and pretty colored cauliflower. Even though we think this is very good, it's not enough flavor for me…as far as I'm concerned, if your mouth isn't puckered it's not pickled.
Pickled Cauliflower with Curry
If you like to pickle, you'll love this pickled cauliflower recipe.
Ingredients
1

lbs

head cauliflower

sliced into bite sized pieces, about 2

2

red jalapeno

sliced

1

large red bell pepper

thin sliced

8

C

. water

2

Cups

white vinegar

1/2

Cup

sugar

2

Tablespoon

salt

2

Tablespoons

pickling spice

2

Tablespoons

soy sauce

2

cloves

garlic

minced

1

Tablespoon

curry powder
Instructions
In a large bowl, combine water, vinegar, sugar, salt, soy sauce, garlic, pickling spice, curry powder. Whisk until fully combined, then add curry and blend.

In jars, layer cauliflower and jalapenos to the top of the jars. With a cup, fill jars with pickling brine to cover vegetables.

Place lids on jars and refrigerate. Allow pickles to brine for 5 days.
I totally trust the Ball Canning Cookbook people and will be making their recipe soon.
Cauliflower…It's What's for Pickling.