Have you ever grilled thin slices of Mexican-seasoned beef, alongside whole jalapeno peppers (tops trimmed for serving) and rolled them up in a warm fresh flour tortilla? If not, you don't know what you're missing.
This is a trick I learned from our next door neighbor Miguel. The gringo in me sliced open the grilled jalapeno and scraped out the seeds and veins, but other than that, the whole process was quick and easy and within a few minutes we were standing next to the grill with rolled carne asada tortillas in our hands, just like were were enjoying street food in Mexico.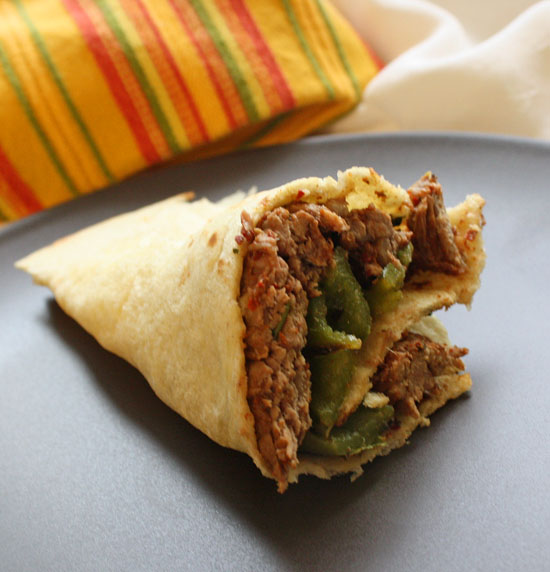 I'm lucky to have three nearby markets who sell pre-seasoned Carne Asada. Which makes it a super easy thing to pick up for a quick weeknight meal. One offers flank steak, one skirt steak and the other flap steak. I prefer the skirt or flap, nice and thin. Each of them also season the meat a little differently, and it's all wonderful. In the American markets it's labeled carne asada, and at our Mexican market it's labeled carnicerías. The photo above is prepared with flank steak (closest market to home), thin sliced against the grain after grilled.
I've also discovered a great little bottle of spice mix called, Don Sazon Meat Seasoning. A quick marinade for about 30 minutes with some of this dry spice and orange juice and you've got a great seasoned piece of meat to throw on the grill for Carne Asada.
If you're looking to be pure and want a recipe for Authentic Carne Asada, this recipe from the site Mexico In My Kitchen is the only way to go.
Carne asada literally means grilled meat. The meat is sliced thin, marinated and used in tacos, burritos, or quesadillas. Carne asada is often served with fresh guacamole, grilled onions, black beans or frijoles charros, and fresh salsa. And actually, When describing an event in Mexico and the American Southwest, the phrase "carne asada" is the equivalent of describing the backyard barbeque. (Thank you Wikipedia.)
This is even better if you purchase fresh made flour tortillas from your local Mexican Market. Can you spell d-i-v-i-n-e?
Switching gears for a moment, pull up a chair for some short term barking.

I'd like to introduce you to Ruby.  Ruby is the first dog to appear in my new feature, Paws on the Ranch…Every Paw…Has a Story. I'll be posting photos of the pups I run across here in Highlands Ranch. That is, those who agree to pose for a photo. You see, I have this huge soft spot in my heart for our furry friends. I hope you enjoy meeting some of my neighbors.
Meet: Ruby, mixed breed.
What's my story? My mother was pregnant with us and lived in the 9th Ward. She was saved from the flood waters and evacuated to a Colorado shelter where I was born shortly thereafter.  We are Katrina rescues.
Not a bad story for my first encounter. I was a little reluctant to ask a total stranger if I could photograph her dog, but when I explained my plan, all parties, including Ruby were very cooperative. Note to self: strong shadows at 6:30 a.m. Hopefully my canine photography will improve in time just as I hope my food photography has.