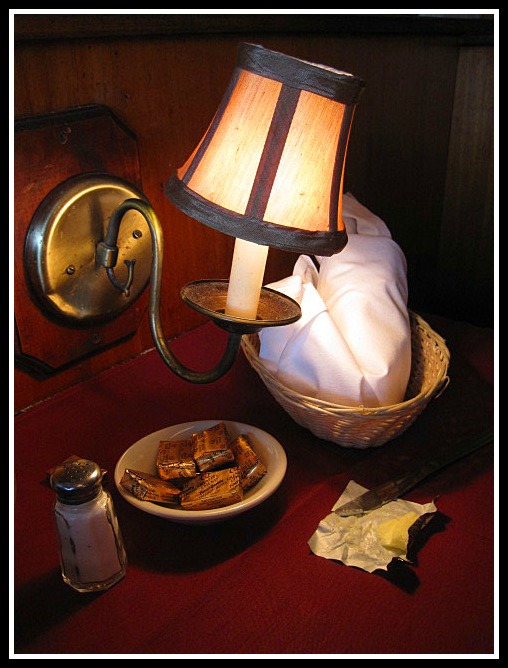 A shot at our booth, a lunch outing at Patsy's Inn, the oldest Italian Restaurant in Denver.
My husband is a Denver native and grew up in what we affectionately call "the old country" and officially known as  the "Little Italy".  In recent years, the area has undergone a renovation and now is part of  "The Highlands".  Rich in Denver history it's located just West of Downtown.
Winding your way through this partially renovated and unique neighborhood you'll find historic brick bungalow homes next to upscale boutiques, next to run-down liquor stores, next to a razed modern loft projects and then you get to Patsy's.  Let's take a look.
Smelling garlic as we got out of the car, we entered walking past the long mirrored bar with round red vinyl backless bar stools, to the rustic dining room. You quickly realize you're taking a trip back in time. When we sat down, the first thing  Bob said was "Isn't this great to see a restaurant just as Mary and Spence would have seen it in the 40's". Mary and Spence are his parents.
At mid day, the dimly lit dining area sits against a hand painted mural which guides us through Venice, an erupting Mt. Etna and God touching Adam at the Sistine Chapel. Old black and white photos from the late 40's of men dressed in suits and women in fine dresses, finish out the decor and spark the imagination that you are dining at the same table as the family that started the restaurant. I wouldn't call the decor retro, I suppose it's just plain old, yesteryear in a traditional and charming way. In just a few minutes, all of these tables were filled with a lively and eclectic crowd.
Over an incredibly flavorful bowl of minestrone soup, let's learn more about Patsy's.
Patsy's opened in the early 1920s by the Aiello family, (just say I-L-O)  and was originally named Aiello's Italian kitchen. "Chubby" Aiello stepped in as owner during WWII, renamed the restaurant Patsy's Inn and became the patriarch of a what would become a Denver restaurant legend. A colorful character all of his long life, he lived to be 97 and did many things besides running a restaurant. He was a fight promoter, a race horse owner, a Little League Baseball sponsor, a hotel and nightclub owner, a Realtor, and President of the Optimists Club. In 1997, Chubby finally relinquished his reign. He passed away on his birthday in 2002.
But Patsy's lives on.  Ron Cito and Kim Delancey, Denver natives are the new owners and vow to keep Patsy's unique charm and character alive.
Which was evident when our large plate of homemade spaghetti and Italian sausage arrived. Billed as their "specialty" we couldn't pass it up.  Strands of spaghetti almost as big around as a pencil were a perfect canvas for the incredibly thick and rich red sauce. I can't imagine a thinner noodle successfully hosting such bold and strong flavors. Even the delicate cheese raviolis that came with the meal, delicious on their own, didn't pair as a good match. The spicy Italian sausage was the best I've ever had. Inquiring about the brand, we learned it was Polidori's.  Bob went to high school with one of the Polidori boys. We Googled it when we got home and now know where to buy it.
Did we like it?  LOVED it!  Bob ate the whole thing, I ate a portion of my spaghetti and we had enough for a small dinner for the both of us that evening.
I loved Patsy's as much for the "experience" as a destination for good food. You won't find clever panini sandwiches or pesto portabello fried ravioli type dishes on the menu, just authentic, original, hearty Aiello family Italian meals. The service was excellent. We were cheerfully greeted at the door by the glass polishing bartender and our waiter was attentive and entertaining.  We really enjoyed our trip to the Highlands to Patsy's.
Patsy's Inn
3651 Navajo Street
Denver, CO 80211
(303) 477-8910