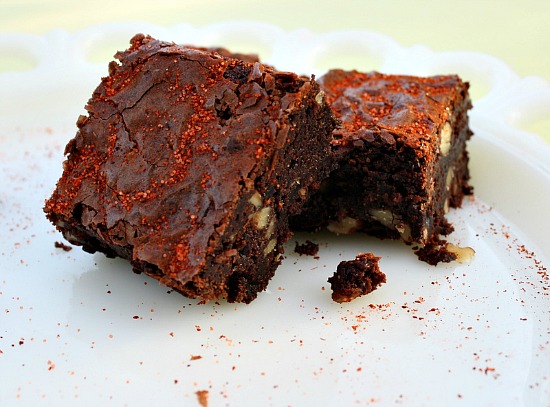 Aside from a batch  I made in the 60's, this is hands down my best brownie creation ever.
You happily share recipes don't you? As food bloggers that's pretty much what we do. Type them up and throw them out to the world to whomever is looking for a great brownie recipe. They can simply Google it, turn on their oven and share the love.
Have you ever run across someone who flat out refuses to share? Someone that replies "no" so quickly that it literally stops you in your tracks? And even the slightest attempts to negotiate fail?
Years, ago, there was the incident of co-worker, Joan,  who brought in some of the best green chile I've ever tasted. An impressive combination of Mexican flavors. She refused to share the recipe. After days and days of  hounding, she finally agreed, only if I signed a contract stating that I wouldn't give it to anyone else. I didn't enter into the agreement.
And then there was the case of Office Manager Syd, and her homemade Honey Mustard. Hands down, the BEST Honey Mustard I've ever tasted. It's perfect addition of spicy heat had me clamoring for the recipe only to hear "I don't share the recipe."  I spent the next few hours guessing ingredients, each guess greeted with a "smug smile and a "no."  I could tell that even if I guessed right, she was still going to say "no."  I'll never get that recipe.
With all that said I'm sharing my brownie recipe, but do have to admit I considered keeping it top secret… just so I could act smug. After many test batches, I unveiled the brownies back in August at my Summer Dinner Tapas Menu. After reading my post and recipes about the party, one of the attendees sent an email which simply read "What about the f#*@*#* brownies?  🙂  Let's take a look.
I'm not a baker and will make no apologies for using a box mix for my recipe. Baking at our high altitude requires adjusting and tinkering and for me can be tedious, if not frustrating. When I retire and have the time,  I promise I'll learn to bake. For now, I have found that Ghirardelli triple chocolate brownie mix is delightful. It's a perfect blend of rich chocolate and the high altitude instructions on the box turns out a perfect Colorado brownie.
My additions are simple. Remember those wonderful pure citrus oils that Vickie over at Part Three sent me a few months ago? Boyajian is the brand and I've found so many good uses…vinaigrettes mostly. The pure orange oil is my secret ingredient for the brownies. Sprinkled with Znax2go, a salt and chile powder mixture and you've got a good combination of flavors. Znax2go , a chilito chile powder can be purchased at Mexican markets or online.
Affectionately referred to as "Fist Fight Brownies", I'm officially sharing the recipe.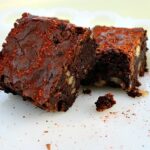 Orange Chili Brownies
A Mexican Brownie Dessert Recipe
Ingredients
1

Box Ghirardelli Triple Chocolate Brownie Mix

2

teaspoons

Boyajian Pure Orange Oil

1/2

cup

chopped walnuts

2

teaspoons

Znax 2go Chile Powder Mix
Instructions
Prepare brownies mix according to the instructions on the box.

To the mixture add 2 teaspoons of the Boyajian Orange Oil and the chopped walnuts.

Blend and bake according to instructions.

Remove from oven. While still hot liberally sprinkle on the Znax 2go Chile Powder Mix.

Gently press the powder onto the top of the brownies.

Let cool then cut into squares and serve.
Chocolate Orange Chile Brownies…They're What's for Dessert!