An easy Summer Fruit Salad side dish of cubed yellow watermelon, sprinkled with Hawaiian Sea Salt, black pepper, a squeeze of lime and garnished with torn mint leaves.
This past Sunday, the melon truck was offering up some smaller seedless yellow-fleshed melons. The samples were sweet, crunchy and delicious so I decided to grab one. But the real superstar of Mumm Farms Melon Truck is always the famous Rocky Ford Cantaloupe. Let's take a look at some Rocky Ford Melons.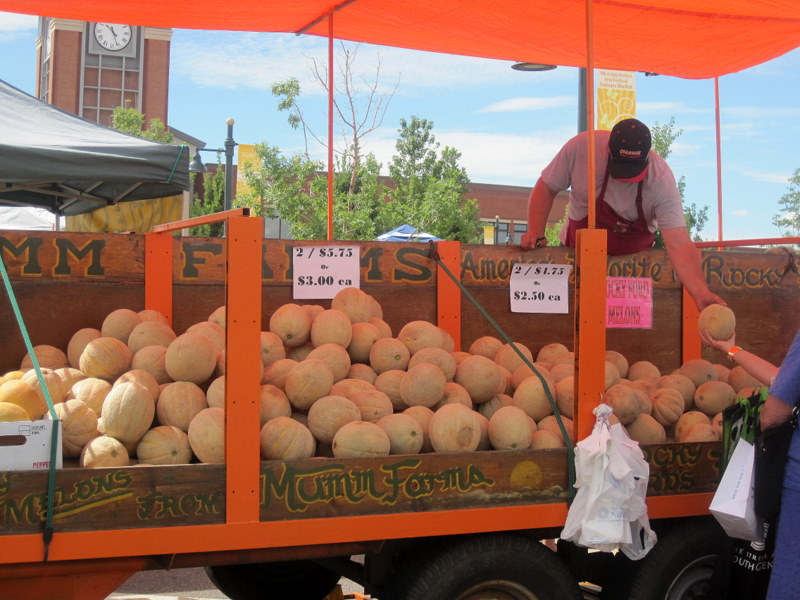 Our delicious mouth-watering Rocky Ford watermelons and cantaloupes have been available in our Farmers' Markets for a couple of weeks now. They are grown around the little Southeastern Colorado town of Rocky Ford, in the Arkansas Valley of Colorado which refers to the River Valley which runs from near Leadville through Colorado, continuing through Kansas.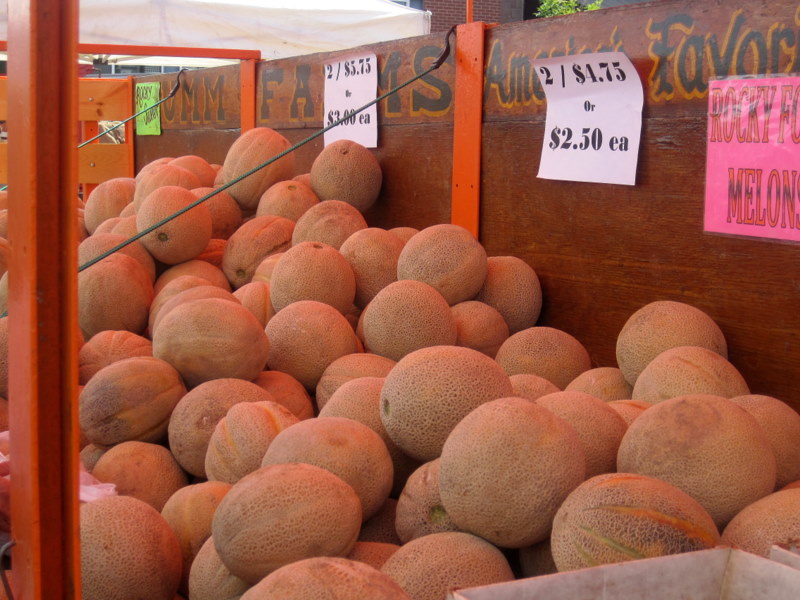 The small town of Rocky Ford hails itself as the "Sweet Melon Capital of the World". That's because hot days, cool nights and a relatively high elevation help farmers grow some of the sweetest cantaloupe on the planet  And believe me, every single bite is lush and cherished. You can visit the web site of the Rocky Ford Grower's Association for more information on our famous fruit.
Did you know that most of the Rocky Mountain Region and the United States receive their melon seeds for planting from here? Rocky Ford melons recently gained international notoriety with Barack Obama's public endorsement.
Plain and simple, you just haven't lived until you're tasted the super sweet juicy Rocky Ford Cantaloupe. The orange meat of these melons is "perfecto".
Easy Watermelon Salad with Lime and Mint
Ready in 10 minutes, this easy watermelon salad is a perfect Summer side dish.
Ingredients
4

cups

fresh watermelon

cubed, preferably a yellow variety

Juice of one lime

Fresh ground pepper

to taste

4

Tablespoons

fresh mint

torn

Pink Hawaiian Specialty Salt

to taste, or Pink Himalayan
Instructions
Peel and cube the watermelon. In a bowl arrange the melon and sprinkle with ime juice salt and pepper. With a large spoon, gently stir the melon. Sprinkle with torn mint leaves and serve immediately.
Looking for more watermelon salad recipe ideas?  How about:
Rocky Ford Melon,
It Screams Colorado Summer!