A rack of lamb is seared, then coated with Dijon Mustard and a crunchy layer of a ground pistachios and bread crumbs. Roasted in the oven until tender and juicy gives you a restaurant quality dinner. Dijon and Pistachio Crusted Rack of Lamb is easy and impressive.
When I was growing up, having a chop for dinner meant you were having a pork chop, fried. It wasn't until I was an adult that I first ordered lamb chops at an upscale restaurant. So beautifully cooked, I thought cooking lamb at home would be fussy and difficult. Then we had grilled lamb chops at a friend's house, I knew if David could cook it, I could cook it. I've learned that the best thing about lamb is that is so forgiving. Lamb is good rare, medium, and well-done, and its exterior develops a crispness that rivals that of the skin of pork and chicken, or the exterior of perfectly grilled beef. And it will do this all without much fuss.
This Summer at Cooking School, we prepared rack of lamb. New for me. After being handed a rack of lamb we were instructed to clean the bones using the "frenching" method. It truly was a labor of love, and a very difficult task. I wrestled with that chunk of meat for over an hour, and I swear there was a moment where I thought I'd cry out of frustration. Frenching means to strip meat and membrane away from the bone to give it a clean appearance. See that beautiful little clean handle – that takes a lot of work. Our knife skill training at school was extensive and I'm very glad for that. Here's a link from Serious Eats if you're interested in learning Knife Skills, How to Clean and French a Lamb Rack.
To recreate this recipe, I gladly paid the extra dollars for an already Frenched rack of lamb at my local grocer. After all, my boning knife and I still aren't speaking over the whole ordeal.
Let's take a look at the process for this beautiful Lamb Chop Dinner.
First, coat the lamb with olive oil, fresh thyme leaves, fresh rosemary leaves and salt and pepper. Marinate in the refrigerator for two hours. Bring the lamb to room temperature. Heat a skillet over medium high heat. Add neutral oil such as vegetable oil. When oil is hot, add lamb and sear on each side until you get a good brown crust. Remove from heat.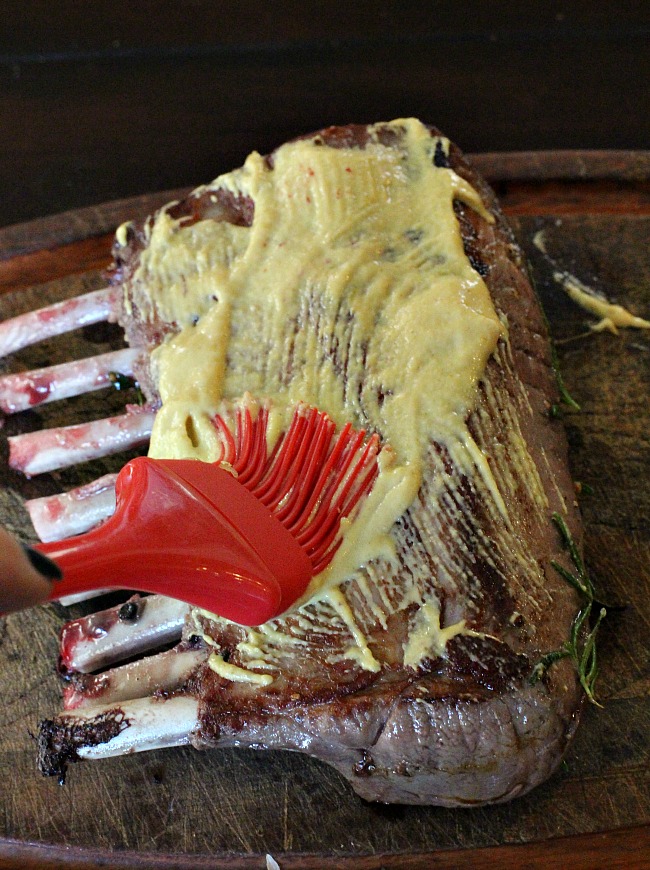 When the lamb has cooled slightly smear generously with Dijon Mustard.
In the meantime, in a food processor add the pistachios and pulse until rough chopped. Add Panko bread crumbs and some butter. Gently pulse again until mixed. Press the mixture onto the lamb until well coated. Roast the lamb in the oven until thermometer reaches 160 and enjoy.
I served this with puy lentils and a variety of roasted squash for a lovely Fall dinner.
Dijon and Pistachio Crusted Rack of Lamb
Ingredients
1

8 chop

Rack of Lamb

Frenched

2

tablespoons

vegetable oil

1

tablespoon

fresh Rosemary leaves

12

tablespoon

Fresh Thyme leaves

1

tablespoon

Olive oil

Salt and Pepper to taste

1/2

cup

shelled pistachios

1/2

cup

Panko bread crumbs

1

1

tablespoon

unsalted butter

softened

2

tablespoons

Dijon mustard
Instructions
In a small bowl, mix together the rosemary, thyme and olive oil. Salt and pepper the rack of lamb and them rub the olive mixture on the lamb. Let marinade in refrigerator for 2 hours. Bring to room temperature before cooking. (let set at room temperature for at least 30 minutes, preferably 1 hour)

Preheat oven to 350 degrees.

In the meantime, pulse the pistachios in a food processor until coarsely chopped. Add the softened butter and bread crumbs and pulse until just mixed.

Heat a skillet over medium high heat. Add the vegetable oil. When oil is hot sear lamb on both sides until browned.

With a pastry brush, coat the lamb with the Dijon mustard. Pat the pistachio mixture onto the lamb with your hands until well coated.

Place the rack of lamb in a roaster. Roast in oven until thermometer ready 160 degrees.

Remove from oven and tent with foil and let rest for 10 minutes. Slice the chops into 4 servings. (two chops remain together)
Looking for more elegant impressive lamb dinner ideas?  Take a look at:
Pistachio Crusted Rack of Lamb … It's what's for Dinner.
I'm sharing this over at Hearth and Soul Link Party