BBQ Grilled New Potatoes and Sweet Black Pepper Chicken Wings. A great pair for your next tailgating adventure.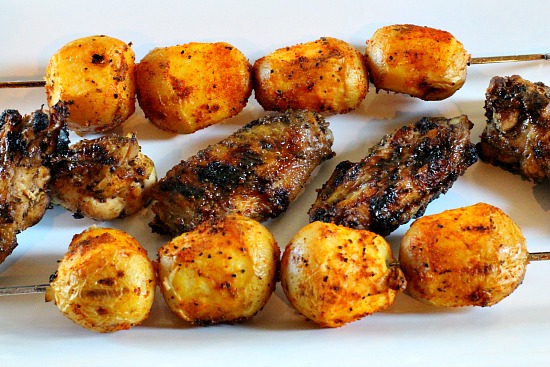 Tailgating is a uniquely American tradition. A practice of gathering, eating and drinking before ones favorite team heads into battle. Tailgating has gotten pretty involved. No longer just sitting on the back of your pickup with a sandwich and a beer, parties have become an elaborate entertaining affair, all taking place in ones parking space.
Thanks to Stubbs and their rubs and sauces, transporting food to the parking lot just got easier.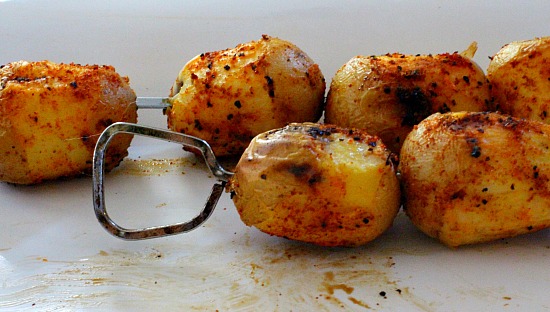 I've been grilling potatoes all Summer. The fresh sweet flavor of these small potatoes takes on a hint of smoke on the grill. I simply take a knife and remove a strip of skin making a circle around the middle of the potato. This leaves a strip of bare potato flesh so the flavor of the BBQ rub will season the potato better.  I par-boil the potatoes for 15-20 minutes until they're soft enough to insert a skewer. Don't cook them too long or they'll fall apart when you skewer. Before skewering I put them in a bowl and coat them with canola oil. Then I give them a generous coating of Stubbs Original BBQ Rub. Grilling the potatoes until browned and cooked through takes about ten more minutes. The BBQ rub makes these beautiful little potatoes sing with flavor. The rub was crafted by Stubbs himself, and is a perfect blend of sea salt, paprika and black pepper.
I'm operate under the notion that all wings should be grilled. And these wings took on a fabulous flavor by first sprinkling with Stubbs Chicken Spice Rub and then basting with Stubbs Sweet Black Pepper Anytime Sauce while grilling. To cook the wings, place on a medium hot grill and baste with the sauce. Let them cook for five minutes and then turn. Baste again and repeat this step 4-5 times or until the chicken wings are nice and crispy and cooked through. Stubbs Sweet Black Pepper Anytime Sauce is a balance of sweet and spicy flavors with the hearty, rich flavors of pepper, soy sauce, and brown sugar in every bite.
A plate of grilled new potatoes, grilled Sweet Pepper Sauce Chicken Wings and roasted Harissa Tomatoes. Finger food at it's best.  Stubb's sauces, marinades and rubs are a great way to add flavor to all kinds of grilled meats and vegetables for tailgates and any game day get-togethers.
Thank you to Stubbs for sponsoring my post, all opinions are my own.