Campfire Ribs is a great recipe for your backyard BBQ or an easy transport for a camping trip.
Weather has thrown a monkey wrench into our grilling season here in Colorado. April found us knee deep in snow and May has shown us drizzly rainy days with temperatures in the low 40's…hardly inspiration to fire up that grill. But this week the sun is shining on my Weber and it's time to get outdoors and enjoy seasonal grilled foods.
How about some grilled country style pork ribs, fall off the bone tender and dripping in tasty BBQ sauce.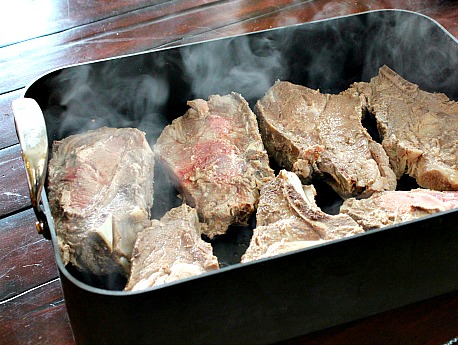 I call these Campfire Ribs, a name that comes from our camping days and the meal planning around those trips. These country-style pork ribs are a hearty entree to please hungry campers, and easy to transport and cook once you're at your campsite. The ribs are par-boiled stove top, then left to marinade before a quick finish on a grill, 0r if you're experienced at cooking over a campfire, even better.  And boiling the ribs prior to cooking them completely will make for a succulent dish, the meat falling right off of the bone.
Thanks to Stubbs Legendary Bar B-Q for sponsoring my post. When grabbing for a bottle of BBQ sauce in a bottle, I never pick anything else. Every one of Stubb's sauces we've tried has returned a great flavor. Actually perfect in our books.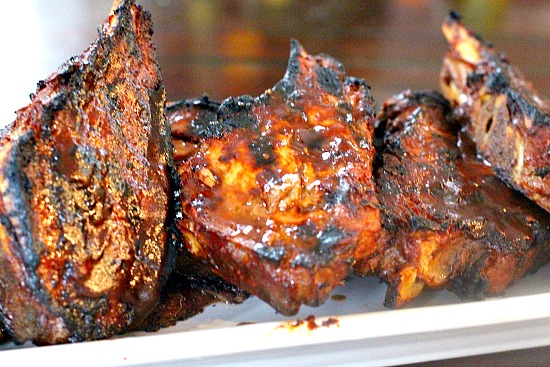 So pick up a package of country style pork ribs and a bottle of your favorite Stubbs Bar B-Q sauce and enjoy a great platter of goodness this Memorial Day. For this recipe I used Stubbs Sweet Heat. Molasses and brown sugar balance perfectly against chipotle peppers. Starts out sweet but ends with Texas-style heat. Stubb prided himself on making the best barbecue around, and he knew that the only way to do that was to use nothing but quality ingredients. That's why Stubb's line of sauces, marinades and rubs are made right with quality, gluten free ingredients, and contain no high fructose corn syrup.
Campfire Ribs
Ingredients
6

pounds

country style pork ribs

For the marinade:

3

Tablespoons

olive oil

1/3

cup

Hoisin sauce

1/3

cup

soy sauce

4

teaspoons

fresh minced ginger root

3/4

cup

whisky

zest of one orange and the juice from that orange

1/2

cup

light brown sugar

6

cloves

garlic

minced

2

cups

barbeque sauce
Instructions
In a large Dutch oven, parboil ribs in water to cover for 20 minutes. Drain immediately.

Combine the ingredients for the marinade. Place ribs in a roasting dish and pour the marinade over. Cover and refrigerate for at least 24 hours and preferably two days. Turning occasionally.

If you've taking these camping, marinade in 2 - 3 heavy duty gallon storage bags. Turning the bags occasionally.

Grill ribs over medium hot flame for 15 minutes, turning frequently and basting with barbeque sauce.
Campfire Ribs…It's what's for Dinner.