Pumpkin Bread Made with Pumpkin Ale is our new family favorite. Super moist and flavorful.
I'm not going to tip toe around the pumpkin patch with this one, I'm just coming right out and saying…this is the best pumpkin bread I have ever had. And adios, rest in peace, to the pumpkin bread recipe I've made for 30 years. This recipe uses Pumpkin beer. I'm not an expert with the chemistry of what happens when you mix beer and flour, but even the great Heisenberg would stop the burners for a bite of this bread.
Happy October and happy 2nd Wednesday of October. That means that it's time for Blogger's Clue. Blogger's Clue is a monthly party created by Liz over at That Skinny Chick can Bake. For each assignment, we're given a clue, and a blog and we're to take that clue and find a recipe. This month that clue was "Autumn." I was assigned to Anna Dishes to sneak around and find something to celebrate this colorful season.
I will be trying her Pumpkin Goat Cheese Spread with Caramalized onions on Raincoast Crisps very soon. And her Seared Pork Stack will be hitting my Sunday Table before the holidays. But for now, I couldn't resist her Pumpkin Beer Bread. I wished I would have taken her advise and doubled the recipe. This recipe rocks. It's so moist and it calls for cloves, which did not make an appearance in my old recipe.
Before we get to this quick bread recipe, a little bit about AnnaDishes: She's all about flavors and flowers. You'll find a collection of her recipe creations, favorite dishes, restaurant reviews and floral designs. AnnaDishes is a homegrown, from scratch food blog with recipes ranging from cocktails to dessert, Paleo and vegan to decadent indulgences, there is something for everyone. Recipes are focused on using organic ingredients and ethically and sustainably sourced food. Head over and take a look!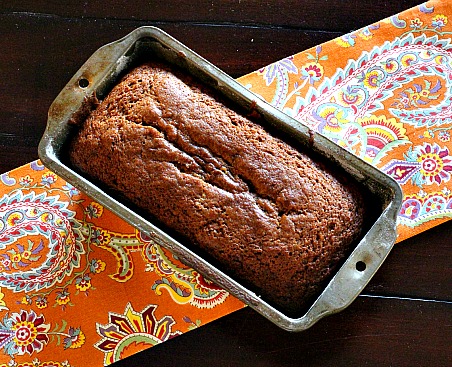 This bread is super moist and with a little layer of crispy crust, you'll be slathering more than one slice of this bread with creamy butter. Smooth in flavor, the clove flavor shines through for a delicious loaf of Autumn bread.
Pumpkin Bread made with Pumpkin Ale, #Bloggers Clue
Ingredients
1

oz

Can of Pumpkin

15 .

4

Eggs

1/2

Cup

Vegetable Oil

1/2

Cup

Olive Oil

2/3

Cup

Pumpkin Beer

lightly overflowing

1 1/2

Cup

White Sugar

1 1/2

Cup

Brown Sugar

3 1/2

Cups

All Purpose Flour

2

Teaspoons

Baking Soda

1 1/2

Teaspoons

Salt

2

Teaspoons

Cinnamon

1

Teaspoon

Freshly Ground Nutmeg

1/2

Teaspoon

Cloves

1/2

Teaspoon

Ginger

1/4

Cup

Raw Sugar

for topping
Instructions
Preheat oven to 350 degrees. Grease and flour 2 loaf pans. In a large bowl mix together the pumpkin, eggs, oils, beer and sugars until well blended.

In a medium bowl, sift the dry ingredients, grate nutmeg, then stir with a fork. Add the dry mixture gradually into the wet ingredients, about a cup at a time.

Blend until well incorporated but do not over mix. You can use a wooden spoon, stand mixer or a hand mixer. I went with a hand mixer and spatula since I doubled the batch, it was easier to contain in a larger bowl. Taste the batter and see if it has enough of the spice flavor you like. I sometime dash a bit extra of Pumpkin Pie Spice in at the end. Pour batter into the two pans and sprinkle top with raw sugar. The sugar is totally optional. I use it to get a sweet little crust on the bread. If you prefer a totally moist bread, skip it. If you don't have raw sugar you could use white sugar.

Bake for 45-55 minutes, checking with a toothpick or skewer after 45 minutes. I prefer a very moist bread so I take it out just as it has set and the skewer is no longer wet.

I try to remove it from the baking pans as soon as possible to stop the cooking and let it cool.
Looking for more pumpkin inspiration? Take a look at:
Pumpkin Bread made with Pumpkin Ale …It's what's for Snacking.