This Creamy Tomato Soup comes alive with the zest of an orange, orange juice and some cognac. We found this to be a very special bowl of late Summer goodness.

Even though it's been in the 90's here in Denver, I feel as if soup season is upon us. And my tomato plants are loving this extended warm weather. Therefore I have a counter full of beautiful ripe fruit. This recipe calls for four pounds of ripe tomatoes, and I couldn't think of a better way to use those vibrant garden-fresh tomatoes.
Add a little cream, a hint of orange, a touch of clove, this is one soup that you can be sure will please everyone.
Before we get to that recipe, let's take a little trip to the hills. A week ago made our annual Fall trek to Estes Park. In between hiking, picnicking and sightseeing, I usually take about a hundred photos of elk. At this time this year, the elk migrate from high elevations to the meadows of our Rocky Mountains. The males with their harems gather and the rutting rituals begin.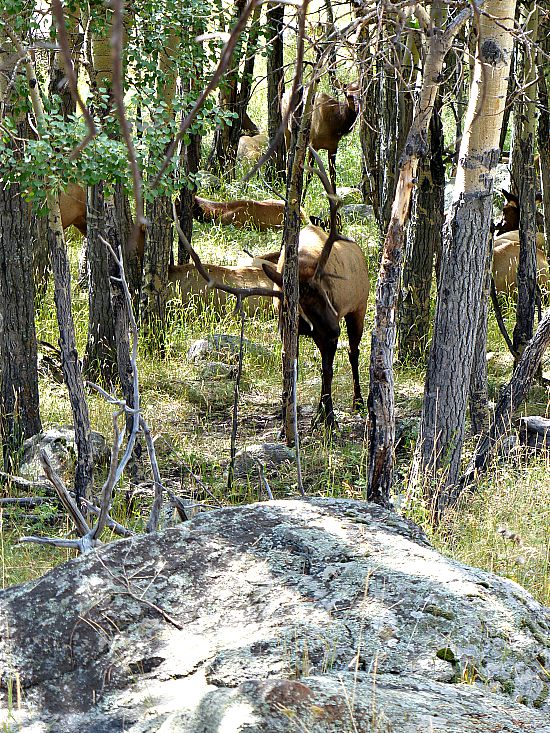 This year for about 15 minutes, I watched a male slowly and strategically sharpen his antlers…just in case a stray bachelor elk challenged his status with the herd of females.
Upon closer observation, he slowly angled the antlers across the trunk of the tree, moving back and forth making sure to sharpen even the smallest point.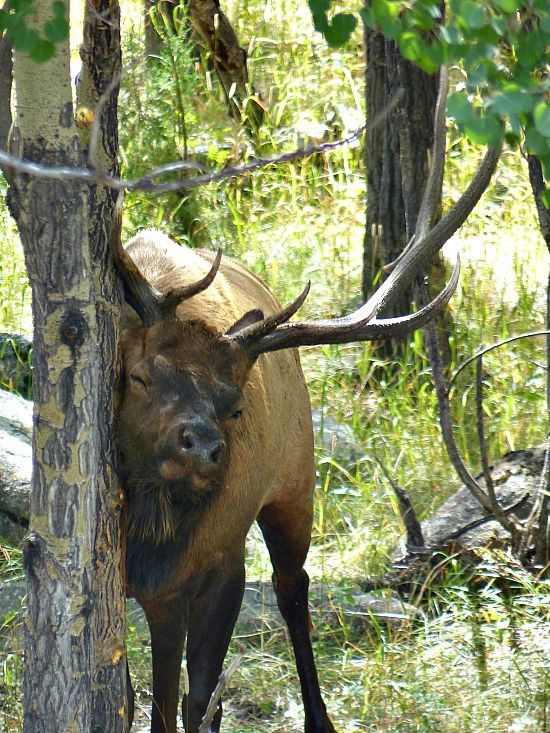 In between sharpening his antlers, he's rub his neck on the trunk to leave his scent. Protecting his territory is serious business.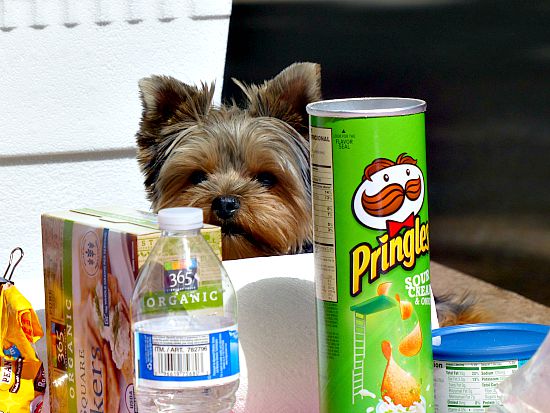 Picnics are always on the agenda. This is a photo of Remy settling in nicely in his new adventure. This is our favorite spot to picnic in Rocky Mountain National Park. Endovalley picnic area at the base of old Fall River Road.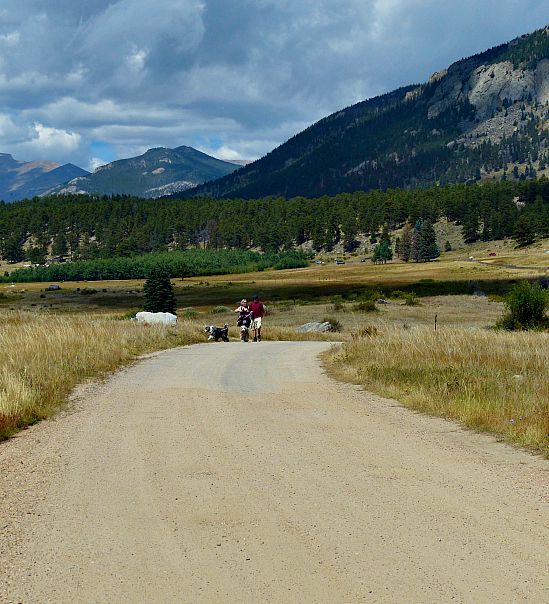 For very good reasons, the hiking trails in Rocky Mountain National Park do not allow dogs. It can be a tedious search to find a place to take your dog on a good long walk. One of our favorites is off Bear Creek Road. Just past the Moraine Park Museum you'll find a pullout on the right. This is a popular spot for fly fishing. Find a spot in the parking lot and then cross the bridge over the river. Dogs are allowed on areas accessed by vehicles. This road leads to private cabins and through a wide open space valley with fabulous views. Even though that open space might tempt you to let your dog run — keep them leashed. And park rules clearly state on a leash no longer than 6 feet. There are lots of opportunistic Coyote packs lurking in this area, Mountain Lions and elk are very common in this grassy valley. Be watchful.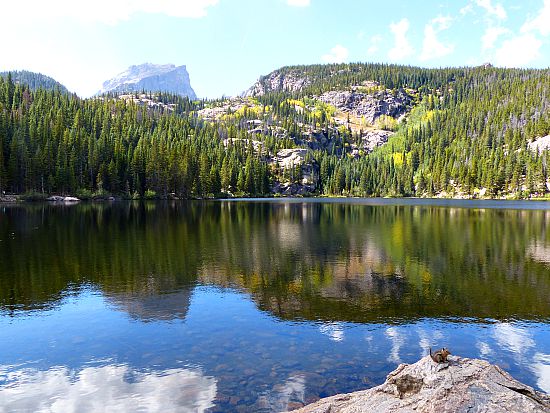 Bear Lake is one of the high points of the Estes Park side of Rocky Mountain National Park. Very picturesque. It's an easy hike around the lake, less than a mile. However since they don't allow dogs on the trail, we stayed at the trailhead and did a little bird watching and took advantage of the photo opportunities.
To see posts about past trips to this area see here and here.
Tomato Soup with Cognac and Orange
Ingredients
Cooking spray

3

tablespoons

butter

1

large onion

chopped

1

clove

garlic

peeled and put through a garlic press

1 1/2

teaspoons

dried basil

2

tablespoons

honey

3 - 4

whole cloves

4

pounds

perfectly ripe tomatoes

cores and coarsely chopped

Grated zest and juice of 1 orange

Salt and pepper to taste

1/2

cup

heavy whipping cream

3

tablespoons

cognac

Sour cream

Creme Fraiche or plain yogurt for garnish.

Basil leaves for garnish
Instructions
Spray a 5-quart heavy enameled soup pot with the cooking spray. In it, melt the butter over medium beat. Add the onion and sautee until it starts to soften. About 3 minutes. Turn the heat down, add the garlic, basil, honey, cloves and cook stirring for two minutes. Add the tomatoes and raise heat to medium high and cook to evaporate the moisture, stirring frequently. When the tomatoes begin to turn into a bubbling, chunky liquid, 5 - 10 minutes, add the orange zest. Lower heat and simmer for about 20 minutes. Stir occasionally.

Remove the pot from the heat. Let the mixture cool slightly. Pick out the cloves,. Add the orange juice and spoon the mixture into a food processor and puree in batches. Or you can use an emersion blender.

Return the puree to the soup pot. Reheat over medium low heat stirring often. Taste and adjust with salt and pepper. Add a dab of tomato paste if the soup seems to need more oomph. You might want to add a little more honey. When soup is hot, just before serving stir in the cream and the cognac. Do not permit the soup to boil. Serve at one garnished with a dab of dairy of your choice. Add a bright fresh basil leaf to each bowl.
Looking for more Creamy Tomato Soup Recipes? Take a look at:
Tomato Soup with Cognac and Orange…It's what's for Dinner.