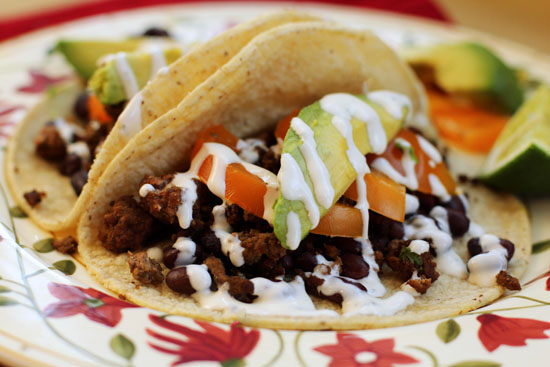 These unique beef and black bean tacos are flavored with Ancho Chile powder and Chipotle Tabasco Sauce. The black beans are simply tossed with lime juice, salt and pepper. Add some slices of avocado and tomato, a squeeze of lime juice  and the crowing glory…Cosmo's Classic Ranch Dressing.
"Absolutely!" was my answer when the folks over at Cosmo's Dressings offered me free samples of their all natural, gluten-free, vegetarian, no preservatives, made in Colorado dressings.  But what really got my attention was the fact that they've taken my all-time favorite classic Ranch and turned up the heat to make a Spicy Ranch product. And you know how much we like to turn up the heat here on The Ranch.
Before we tingle our tongues, let me say that Cosmo's Classic Ranch Dressing is the best bottled Ranch you'll find available for purchase. To me, it's a perfect blend of spices and creamy texture. And who doesn't love a little spice to liven up everyday snacks. Cosmo's Spicy Ranch was great with carrot and celery sticks and I came home from work one day and caught Hubs using it as a dip for corn chips. It's delicious and we couldn't stay out of it.
Their website has some recipe ideas and suggestions. Pizza topping, baked potato filling, chicken wings…classic ideas which will welcome the unique flavors of Cosmo's dressings. I simply could not resist trying their Spicy Mac and Cheese. Using Modelo Especial beer to flavor the cheese sauce is genius. It's crisp flavor blends wonderfully with the sharp cheddar and Monterey Jack cheese. The addition of Cosmo's Spicy Girl Ranch dressing kicked mac and cheese to a new level. Absolutely delicious.
Made in Boulder since 2001, Cosmo's Spicy Ranch is now available at Whole Foods and Safeway. Don't live in Denver or Boulder? Cosmo's has recently added an online store so you can order in two, four, and six-jar packages. You can also order 18-piece 2.5 ounce small packages, which I'm thinking has "picnic" written all over it.
Thanks Cosmo's for samples of your dressings and for adding a big splash of flavor to a couple of my already favorite recipes.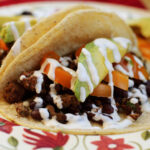 Ancho Chile and Black Bean Tacos
Unique ground beef tacos flavored with Ancho Chile Powder and Chipotle Tabasco.
Ingredients
1

pound

90-10 ground beef

2

Tablespoons

chopped fresh cilantro

1 1/2

Tablespoon

chipotle Tabasco

1

teaspoon

cumin

1/2

teaspoon

onion powder

1/2

teaspoon

garlic powder

1/2

teaspoon

ancho chili powder

1/2

teaspoon

smoked paprika

salt and pepper to taste

1

can black beans

drained and rinsed

2

teaspoons

lime juice

salt and pepper to taste

1

avocado

sliced into wedges

1

tomato

sliced

Ranch dressing to drizzle
Instructions
Place the ground beef in a hot skillet. With a wooden spoon, break up the beef while cooking to brown. While it's browning add the rest of the ingredients. Mix well while cooking until beef cooked. In the meantime rinse and drain black beans and in a small bowl toss them lime juice, salt and pepper. Cook them in microwave until hot. Set aside and keep warm. Warm soft corn tortillas by wrapping them in a damp (clean) dish towel. Place them in a large plastic bag but do not seal. Microwave for 3 minutes at 50% power level. Divide ground beef between tortillas, top with slices of avocado, tomato and drizzle with ranch dressing.
And for the Cosmo's Mac and Cheese: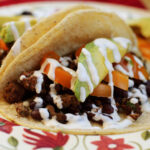 Spicy Ranch and Modelo Mac and Cheese
Ingredients
1 16

ounce

package elbow macaroni

1/4

cup

butter

1/4

cup

+ 1 tablespoon flour

1/2

cup

Modelo Especial beer

1/2

cup

milk

1/2

cup

reserved water from the cooked pasta

3/4

cup

Cosmos Spicy Ranch Dressing

4

ounces

sharp cheddar cheese

shredded

6

ounces

Monterey Jack cheese

shredded
Instructions
Cook pasta according to package directions. Drain, reserving 1/2 cup of the pasta water. In the same pan, melt the butter and cook until bubbly. Add the flour and start stirring to form paste. Alternate adding the milk, beer, and pasta water. When smooth and creamy stir in the shredded cheeses and Cosmos dressing. Add the pasta and stir until blended.