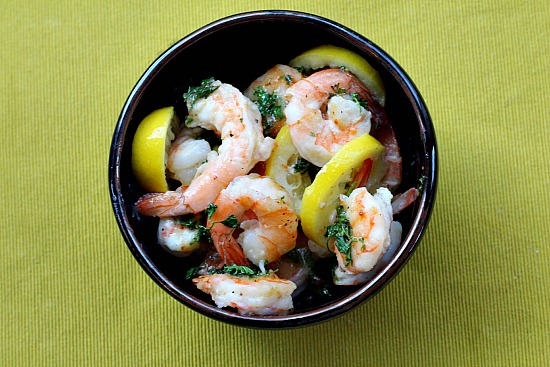 This easy Lemon Butter Baked Shrimp recipe is a "do not pass go" heading directly for the category in my recipe database dubbed "Finds of the Century". It's joining about fifteen other special recipes that are just flat out lip smacking good.
And just how did I find this recipe? It's Secret Recipe Club time and this month I was assigned to be a stealthy lurker over at A Little Bit Of Everything. Julie is from Omaha, Nebraska, is a fifty-something midwesterner who loves to cook, travel and garden. She collects spoons…a collection started by her mother. Her blog is a creative journey through her cookbook collection, which ranks over 100 books.  Well Julie, a very big thank you for digging through those books and finding this one. Delicious!

Easy as can be, let's get started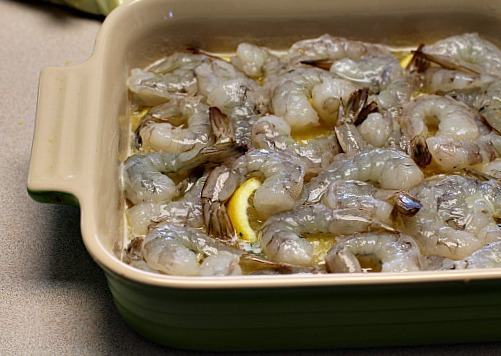 Just take one pound of large shrimp, peeled and deveined. I left the tails on. Melt 1/2 cup of unsalted butter in a 9 x 9 inch oven-proof casserole dish. Thin slice in 1-1/2 lemons and lay in the butter. Top with the shrimp.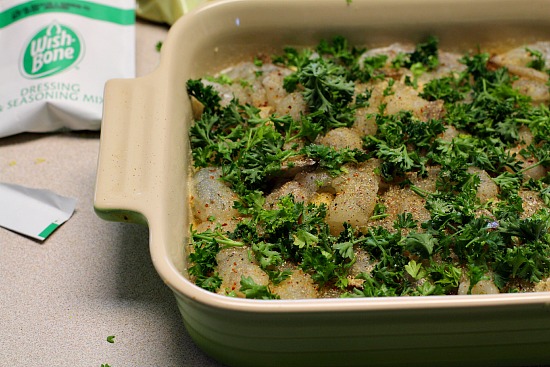 Sprinkle with 1/8 cup of Wishbone Italian Dressing and Seasoning Mix. Julie's recipe listed Good Seasonings brand, but none was to be found on my shopping trip. Then sprinkle with 1/3 cup fresh chopped parsley.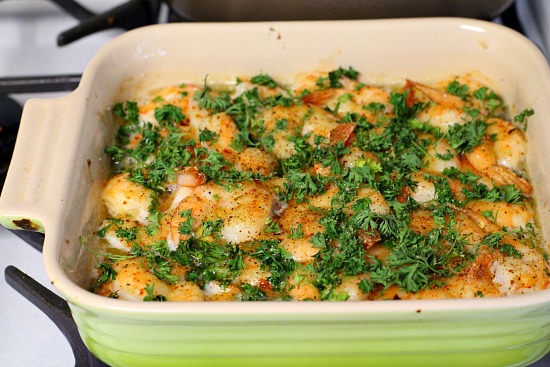 Pop it into a 350-degree oven for fifteen minutes. We enjoyed this as a main course for two. But it would make an excellent appetizer to precede a special meal. Buttery and full of lemon flavor the dressing mix adds a sweet and savory element that will surprise your palate. I hope you give this one a try.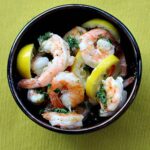 Lemon Butter Baked Shrimp
Ingredients
1

pound

raw shrimp

cleaned, peeled and deveined

8

Tablespoons

butter

melted, 1 stick

1/2

packet

Wishbone Italian Dressing

1/8 cup

1 1/2

lemon

sliced into circles

1/4

Cup

fresh parsley

chopped

1

teaspoon

black pepper

ground
Instructions
Preheat the oven to 350 degrees F.

Melt the butter in a 9×9 inch casserole dish, spreading it all over the bottom of the dish.

Arrange the lemon slices on top of butter.

Arrange the cleaned and deveined shrimp on top of the lemon slices.

Sprinkle the Italian dressing over the shrimp.

Sprinkle the parsley and pepper on top of that.

Bake uncovered in the preheated oven for 15 minutes.
Lemon Butter Baked Shrimp…It's what's for Dinner.