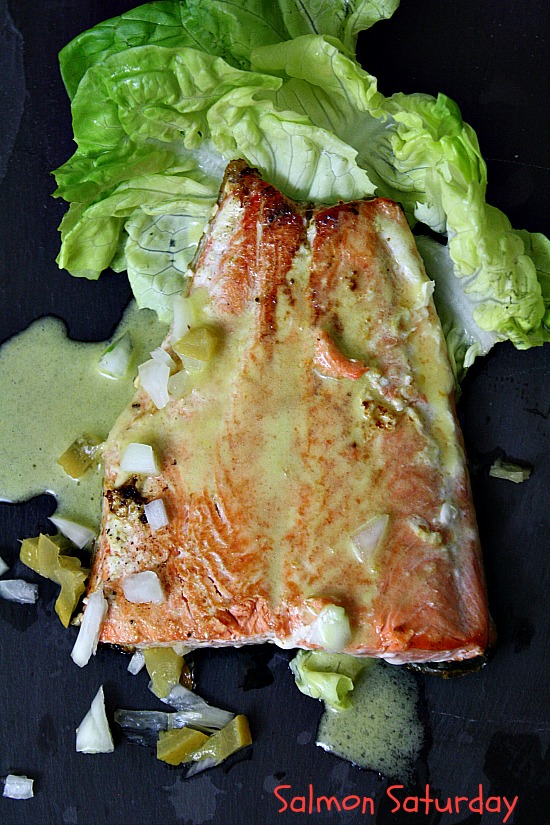 After a long creamy, cheesy, stewy Winter hiatus, Salmon Saturday is back.
If you're like me, I can feel myself moving away from Winter comfort foods and shifting towards lighter fresher meals. Even with a brand new layer of  a snow on the ground this morning.
A quick moving storm rolled through town last night leaving us with a heavy white blanket of fresh snow. But even this snow has a Spring feel to it. The dry powdery Ivory Snow Flakes we see from the frigid temperatures of Winter has now arrived as a much heavier product. Our grassy areas are soaking up the moisture and the sidewalks, streets and gutters are running full with slush and water. This was taken out our bedroom window early this morning. The sun will soon rise, this snow will melt by midday and my little crocus bulbs will have pushed stems closer to the surface of the ground to produce the first blooms of spring. Cue the Robins please.
From the latest issue of Food and Wine Magazine comes this Moroccan inspired recipe. Pan seared salmon (they featured Idaho trout), simply seasoned with salt and pepper, gets a lively boost of flavor from the Preserved Lemon Vinaigrette. A quick and easy meal with a very elegant feel and fresh flavors.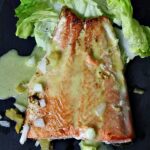 Salmon with Preserved Lemon Vinaigrette
Ingredients
3

T

. cider vinegar

2

T

. fresh lemon juice

2

T

. minced preserved lemon peel

1

T

. minced shallot

1 1/2

t

. fish sauce

1

t

. sugar

1/2

C

. grape seed oil

1

T

. fresh chopped parsley

Salt and pepper

4

salmon filets

butter lettuce
Instructions
In a bowl whisk the vinegar, lemon juice, preserved lemon, shallot, fish sauce and sugar. Whisk in 1/4 cup of the oil. Stir in the chopped parsley and season with salt and pepper.

Season the salmon with salt and pepper. In a large skillet heat 2 tablespoons of the oil until shimmering. Add the salmon skin side down and sprees with a spatula to flatten. Cook until the skin is crisp. Flip the fillets and cook until the fish is cooked and flaky.

Set the salmon on plates on a few leaves of the lettuce. Drizzle on the vinaigrette. Serve and pass the remaining vinaigrette at the table.
Salmon with Preserved Lemon Vinaigrette…It's what's for Dinner.