This short rib stew with hominy and potatoes is simple in seasoning relying on the unique flavor of Hatch Chile to flavor the dish.
Each Fall, we celebrate the arrival of Hatch Green Chile. Parking lots and roadside stands fire up their chile roasters with their huge rotating drums and the aromas of New Mexico fill the air. We evangelize and we obsess. We talk constantly about them and we add Hatch green chile to almost everything. We clear out our freezers to make room for as many packages of roasted Hatch Green Chile as we can possibly squeeze in.
It never fails when I post a Hatch recipe, I see comments with frowny faces indicating that many of you simply don't have access to this Western pleasure.

  So if you're one of those, or if you're like me and nearing the end of a freezer stash (a very sad day indeed), did you know you could order the real deal delivered to your doorstep?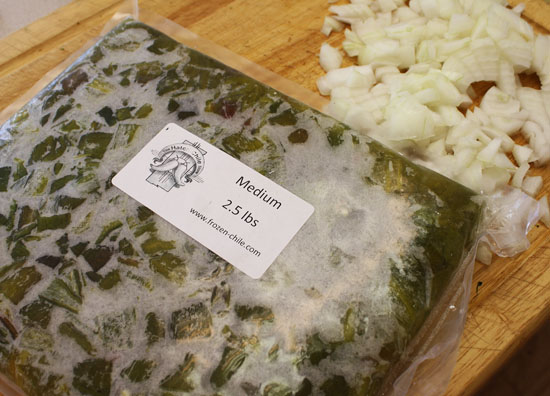 Thanks so much to The Hatch Chile Store for sending me samples of these frozen New Mexico beauties.
Let me tell you a little bit about this company.  They offer several different varieties of Hatch Chile, each with its own flavor and level of heat. Additionally, you can order their chile either Fresh (Not Roasted) or Frozen (Flame Roasted and Hand Peeled).
The Hatch Chile Store is the Berridge family owned operation. They currently farm over 300 acres of prime farmland in the New Mexico Hatch Valley, and have been in the produce business for over 60 years. Headquartered in Hatch, New Mexico, insures that when you buy green chile from them, you're getting the very best chile straight from a family farm. The Berridge Farm has served the Santa Fe market for more than fifteen years selling thousands of pounds of fresh hatch green chile. It's the real Hatch deal.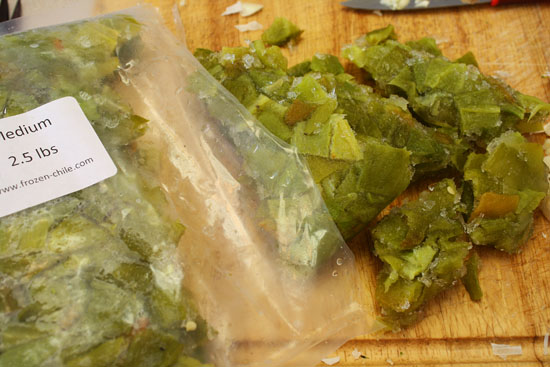 Yes, those packages are big, so unless you're feeding an army you'll only need a small portion of that 2 1/2 pound package for your recipe. Microwave the frozen package for three minutes. This makes the chile just soft enough to remove for the amount you need. Just pop the rest  back into the freezer for your next meal. Perfect.
The Chile Store green chile made for a delicious Southwestern stew. A simple stew of braised short ribs, chewy white hominy and chunks of potato. Perfect for a Winter night's meal.

Hatch Green Chile Short Rib Stew…It's what's for Dinner.